Basements typically lack windows and fun period features, so you might not think there's much room for character in your lower level. But that couldn't be further from the truth! Your basement ceiling can be the perfect place to experiment with paint, rustic features, or even a bit of art that the remainder of your house might not be able to handle.
Here are eight basement ceiling ideas that'll inspire you to take advantage of this often-overlooked design opportunity.
2. Opt for exposed beams.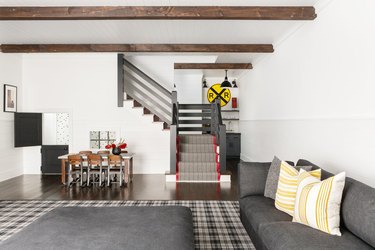 Exposed wooden beams can give a basement ceiling the perfect rustic architectural feature, and they'll make the space feel cozy when you want to snuggle up in front of a fireplace. The designers at Chango & Co. used wood planks sparingly in this remodel and paired them with white shiplap for a modern farmhouse feel.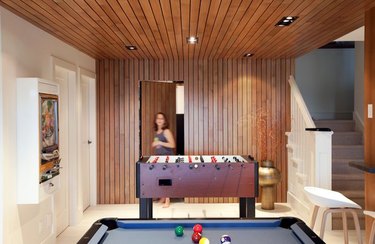 Wood paneling can feel both trendy and timeless, so there's no surprise that we're loving this modern basement game room from Devise Design. Covering both the wall and ceiling, the natural wood panels make the space feel warm and cozy (even though people will probably play lively games of foosball here). Add recessed or modern ceiling lights to avoid overshadowing the statement panels.
4. Embrace the industrial look.
While many basements feature low ceilings, not every space is the same. Take this high-contrast basement designed by Hunker-favorite Emily Henderson. The open, industrial ceiling showcases rafters coated in a slate gray paint which echoes the concrete flooring. And the exposed wires and pipes add even more character.
5. Create a man cave with metal.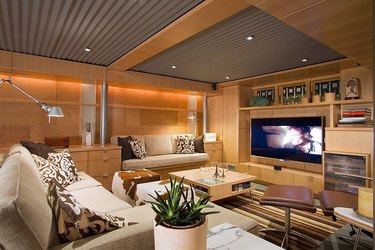 If you're looking for somewhere to spend the night entertaining, look no further than this basement design by Princeton Design Collective. It gives off subtle ​Mad Men​ vibes. Featuring a corrugated metal ceiling, the pine-clad room makes wood look fresh.
6. Use contrasting colors.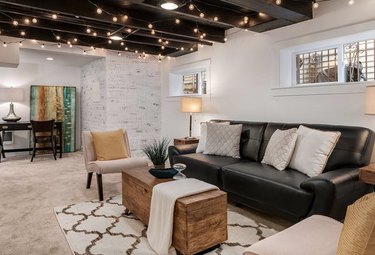 Opting for a contrasting color on the ceiling can make a room appear smaller. But when you're trying to create an inviting space, a little drama won't hurt. The folks at UNIQUE painted this ceiling a rich black and added string lights for extra whimsy. Don't forget, your basement lighting is important too!
7. Don't be afraid to be decorative.
Elaborate molding isn't just for walls, you know. Take a look at this chic design by Melyssa Robert for inspiration. The molded ceiling tiles add charm and character to the office space. They also help the basement mesh with the rest of the home.
Not satisfied with a decorative ceiling alone? Do something practical with it instead. This contemporary basement jungle gym by Magleby features a two-tier ceiling with a blue swing and monkey bars, not to mention the beautiful rug. You'll be swinging your way to a basement workout every morning in a space like this.