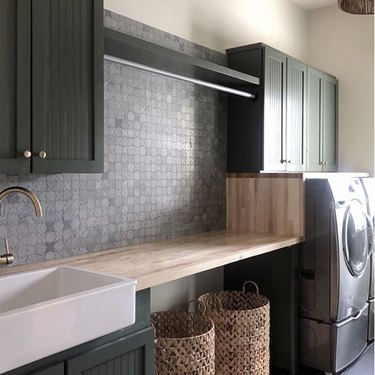 And if you need some inspiration to overhaul your own washing space, we'll help you get the creative juices flowing. Your revamp can be as simple as adding a few pieces of wall art. Or you can go in-depth by laying new tile and hanging wallpaper.
Whichever basement laundry room ideas you choose, though, will make your washer and dryer storage area feel a lot more appealing. You might even start looking forward to laundry day.
Here are eight of our favorite tips.
1. Use fun wallpaper.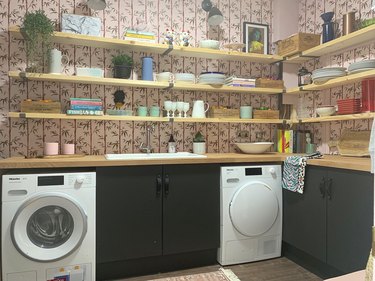 A fun wallpaper, with a bright color or a bold pattern, can really give your basement laundry room some life. The right design will make the space feel exciting. If your room is on the smaller side with less storage, accent only one wall in a bold peel-and-stick print. Then hang a few shelves to finish the space.
2. Include vintage art.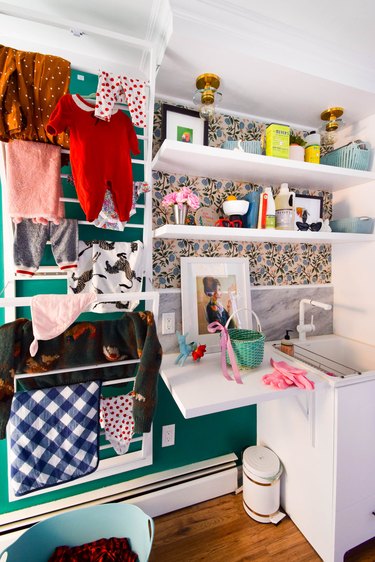 This basement laundry room idea is especially for antique lovers. Consider bringing vintage decor from other spots in the home into your washing area to create a sweet vignette. And don't forget a patterned laundry bag to add an extra dash of character.
3. Maximize the vertical space.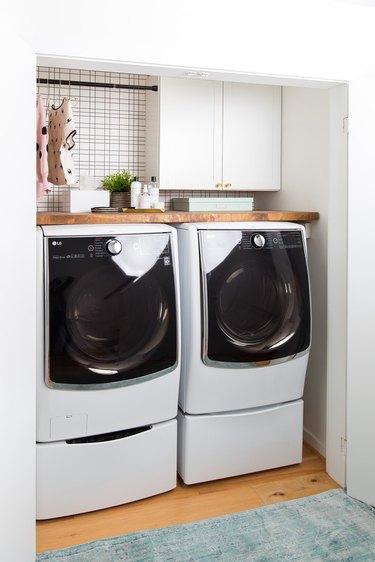 If you kept your basement laundry room small to make space for a family room or play area, think vertically so you can maximize the space you do have. In this petite closest, the washer and dryer also serve as a table for laundry necessities. You can also install a clothing rack over the machines to hang wet items. Keep things stylish with a fun rug.
4. Add a plant.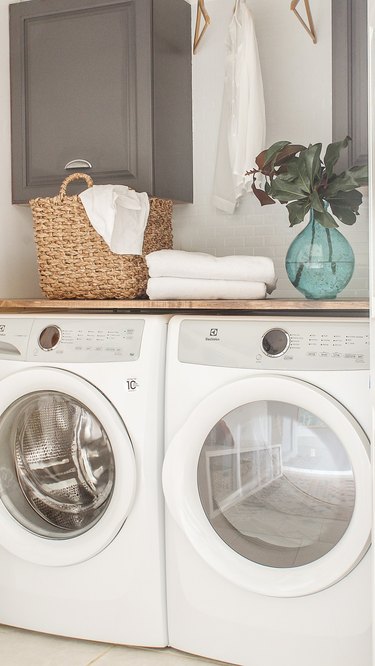 Even if your basement laundry room doesn't get much sun, you can still bring some greenery and life to the space. Try adding a hardy succulent to the room, or invest in a realistic faux option. A few leafy stems, like the ones Designing Vibes used, will look incredibly believable in the right vase.
5. Paint the cabinets.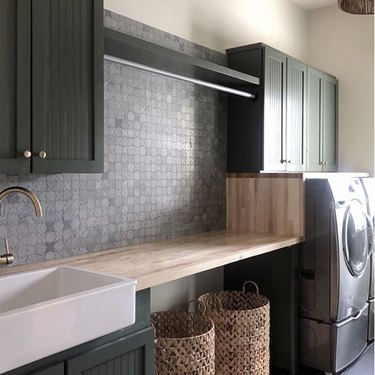 6. Try a chic farmhouse look.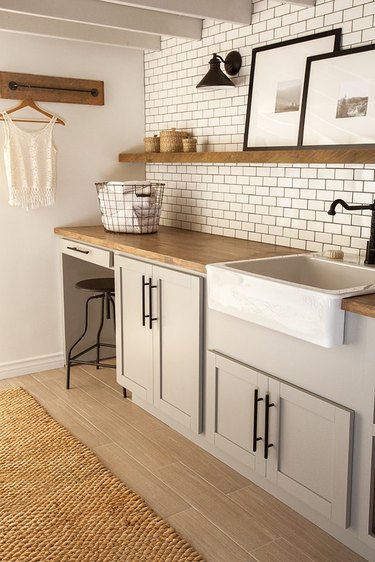 We love basement laundry rooms that actually feel warm and inviting. And it's even better when they're just as well-decorated as the rest of the house. How do you make a dank basement cozy, though? You load up on the farmhouse style. This modern farmhouse laundry room, for example, has an abundance of neutral (but trendy) paint tones and warm wood, making the space feel perfectly lived-in..
7. Use geometric floor tile.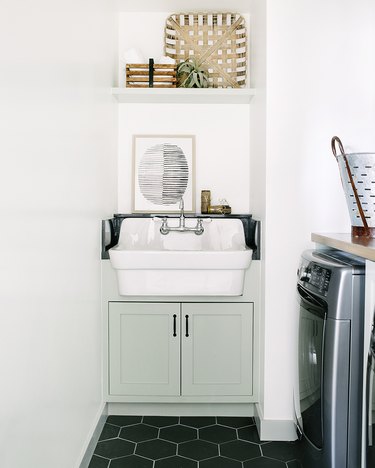 Don't forget about the floors! You can dress your laundry room up by starting at the bottom. A geometric or textured floor tile, like this black hexagon version, will be fun but so unexpected. Plus, if you're handy, you can lay the tile yourself.
8. Add a statement light.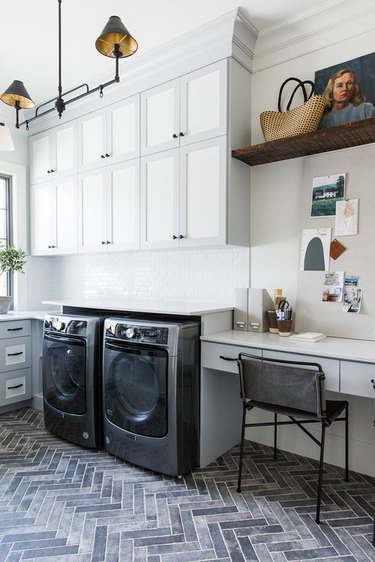 If you're not lucky enough to have natural light flooding into your basement laundry room, you can still use this epic space as inspiration. Follow the lead of Shea from Studio McGee, and add a dynamic ceiling light to brighten the area and make a statement.