A dream laundry room should host all your laundry needs: washing, drying, folding, ironing, and, in our opinion, hiding — as in, let's pretend it's not there, out of sight when we want it to be, but accessible when we do. (A door, curtain, or decorative screen helps for this.) Because, really, how many of us wake up each day thinking, I can't wait to do laundry today! We'd love to get you on track to feel just that by helping you overcome any obstacles to getting your laundry done efficiently. Here are some things to consider when designing a laundry room that's best for you.
1. To Stack or Not to Stack the Washer and Dryer?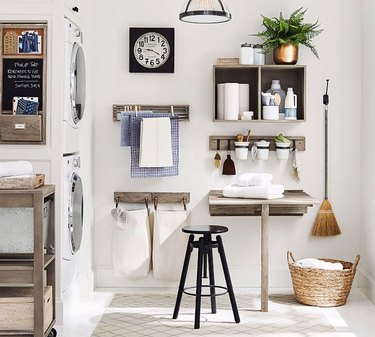 Space and existing hookups generally determine what kind of equipment you can have. For a lot of city folk with limited space, the all-in-one machine is often the only option, with the kitchen or bathroom also doubling as the laundry room. (If that's you, read on, because we have tips for you!) But for those of you with a separate laundry room, a stacked washer and dryer is a wonderful space saver, but know that they can be challenging to service. The top machine would have to be unstacked to repair, and could be more costly, as that is additional labor and time. If you have the space, consider having your equipment side by side, as their tops also provide additional surfaces for sorting and folding your clothes.
2. Lighten Your Load by Putting Your Laundry on Wheels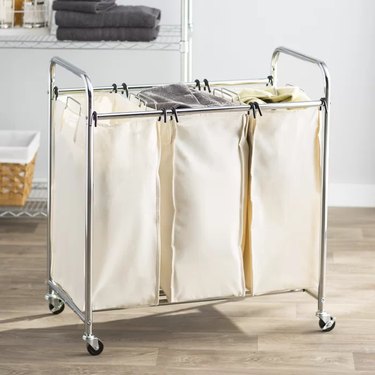 There is little joy in having to lug your laundry from point A to point B, whether you have a laundry room or have to head to the laundromat. Especially if you have a large household, this step can be labor intensive (aka heavy) and take several trips. Having your hamper on wheels can provide some relief. You can choose the DIY approach of adding a dolly to the bottom of your existing hamper using Velcro tape or other creative means, or purchase a rolling hamper. If you're shopping for one, do yourself a favor and choose one with separate compartments for presorting colors and whites to eliminate that step in your laundry process.
. . . and an Ironing Board!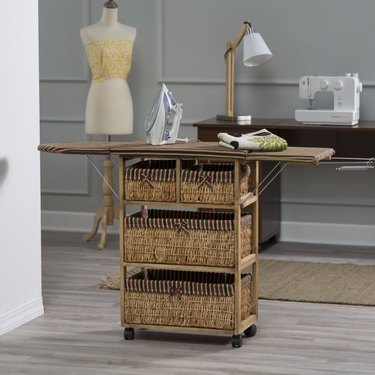 If you want to tick three boxes off your laundry room needs list, choose a laundry sorter on wheels with a built-in ironing board. Designers think of everything these days! There are surprisingly stylish offerings from such retailers as Hayneedle that have foldable ironing-board tops, which can also be used for folding clothes.
3. Create Enough Counter Space to Keep Laundry in Your Laundry Room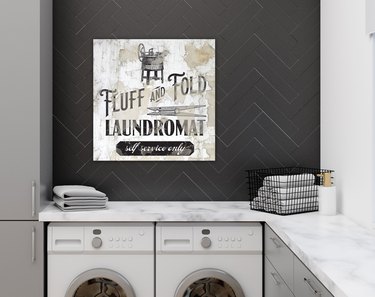 On that note, to minimize trips all over your home to fold and sort your laundry (and bending to do it), keep your couch for relaxing and dining table for meals by giving yourself as much counter space as possible in your laundry room. If you can build it in, use all the space you can get, installing counters directly over your machines and cabinets, including corners of the room, to give you a spacious, angled workspace.
For flexibility in smaller rooms, add counter space by using a table or ironing board that can be folded away (attached to the wall or freestanding) or a hamper with a table. A very DIY countertop solution is simply getting a piece of plywood cut to place over your machine(s) and beyond to extend your surface area.
4. Maximize Storage Space Using the Wall, Door, and Even Your Machines
Of course, counter space is often sacrificed to store goods, but it doesn't have to be. If you don't already have existing cabinets with ample space, use your walls for floating shelves, baskets (these white storage baskets with bamboo lids are some of our absolute favorites), and cabinets to provide easy access to your detergent, fabric softener, bleach, and other items (like these adorable DIY wool dryer balls).
If wall space is at a minimum, consider using the laundry room door for hanging organizers (like this easy-to-make solution), or consider additional storage on your machines themselves, by purchasing ones with built-in storage drawers or adding sleek pedestals with drawers to your existing equipment.
5. Consider These Creative Ways to Dry Your Delicates
Yes, there are days when it feels like laundry has taken over your entire home, especially when you have to dry delicates and beloved items that you would mourn if the dryer destroyed them. (We've all been there.) In our own home, we used to have items draped over every chair and hanging over doorways and outside railings. Not a pretty sight.
6. Keep Your Room Fresh with Smart Wall and Floor Designs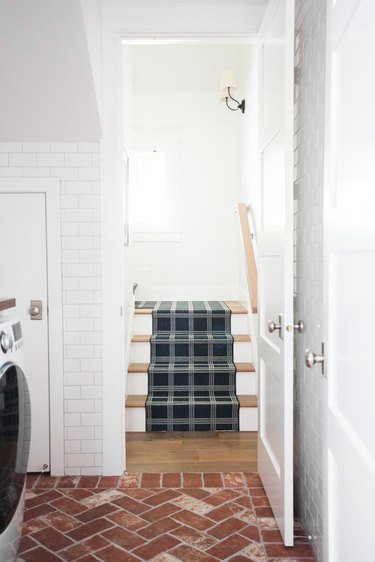 It's a good idea to treat your laundry room's floors and walls much like you would in the kitchen and bathroom: ensuring they can withstand moisture and even the occasional flooding. (Speaking from overloading washer experience here.) It's important to keep your floors dry for obvious reasons — we're dealing with electricity here — so opt for ceramic or vinyl tile flooring if possible. Bringing in a low-pile washable carpet is also friendly on the feet and can add a nice design element.
For the walls, make sure to choose wallpaper that is moisture resistant. If you're shopping for paint, a satin or eggshell finish can work well for the laundry room versus flat or matte, which is more difficult to clean. Satin sheens are especially favored by designers because they stand up to moisture best, which means greater resistance to mildew, and they have that nice shine. You know what other surface provides shine and is friendly to clean? Tile. We love the pattern play in this laundry room by Studio McGee that features white subway tile to contrast the brick floor.
7. Let There Be Light That Brightens Your Days and Nights
Laundry rooms with a window or skylight are wonderful. They allow natural light in, priceless for its health benefits and brightening up your space so you can actually see what you're doing — including reading that teeny-tiny text on care labels and seeing if you actually got pesky stains out. Take advantage of your natural light source, just as this design by Reena Sotropa In House Design Group does by boosting it with white cabinetry and tile.
For those without one, you have options. If your laundry room is small or has low ceilings, a flush or semi-flush ceiling light takes up less space above. Other options are to install retractable lighting on the wall that moves to where you need it, or adding lights under your existing cabinets. Even stick-on push lights are a nice and inexpensive option for various areas of your laundry room where an overhead one can't reach, including inside or underneath cabinets.
8. Finally, Add a Fun Factor!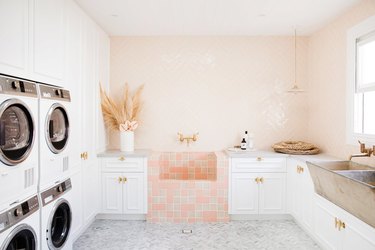 This laundry room by Three Birds Renovations is an absolute dream, and it's not just because it's the size of your average master bedroom — or, let's face it, our whole apartment. This is such a welcoming laundry room because it is designed also to uplift the mood of whomever visits it, with a bright, fun mix of tile, a little bling in the hardware, and a lovely and calming vase full of pampas grass and anthurium to bring nature in. With such elements, a trip to this laundry room feels more like a relaxing getaway than a chore.
Follow suit in yours by bringing cheerful patterns in via your walls, flooring, cabinets, or storage containers. Replace hardware on your cabinets or bring in a light fixture with a brass accent. And there are an array of indoor plants, small and smallest (succulents, we love you), which can easily find a home on your countertop, shelf, and windowsill, or hanging from the wall or ceiling. Excuse us while we do the same. It's laundry day.