Situated less than three hours from both Boston and New York, the Berkshires have a lot working in their favor. Nature. Culture. Art. Farm-to-table food. Space to breathe, literally and figuratively. It's no surprise that well-to-do city-dwellers are buying second homes here — and it's also not surprising that they have help putting these homes together, with a just-right mix of rustic and modern.
That's what Jess Cooney, owner of Jess Cooney Interiors, specializes in — well-appointed second homes in the Berkshires. Designing for a second home is a slightly different challenge than someone's day-to-day spaces. Cooney has lived and worked in the area for more than 15 years, and that helps her really understand the need for durable, modern amenities that work for all four seasons, as well as palettes that bring the outside in. She's also expert in the economy of BerkShares, a Berkshires-only currency that encourages people to spend money with local businesses.
That means a lot of the homes she designs, including this one in the more rural township of Alford, have wonderful, local touches. The family — a husband in tech, a wife in finance, and two teenage boys, all from New York — purchased the home somewhat unfinished, with a lot of hastily done trim, drywall, and cabinetry. And unlike many Berkshire second-home owners, they use the house more in the winter — as a ski home. Catamount and Butternut, two local hills, are just 10 minutes away.
To that end, certain things were key for Cooney — and her client. An unfinished entryway was transformed into a high-functioning mudroom, with radiant heating beneath the porcelain stone tiles to keep cold toes warm and melt snow right off, and an ample wall of storage for everything from gloves to dog leashes.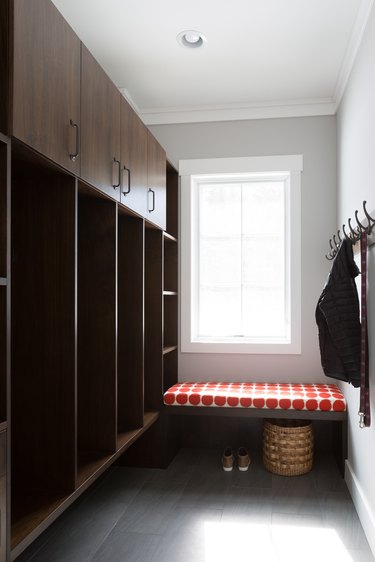 "I honed in on the mudroom right away," says Cooney. "For me — I'm a mother of three and my kids play sports — after doing so many second homes, I know that even though it's a vacation home, if it doesn't function well you can't relax in it. And it's often the mom who can't relax when there's not an obvious place to throw a coat down."
Her client wholeheartedly agreed.
"Everyone was dumping their stuff on the kitchen counter when they came in," says her client. "My husband thought I was crazy to have [the mudroom as a] priority but it is the first thing that you see — and I like to have a place for things and to encourage people to put things away and contain dirt. I can now close the door, too, so the house can remain zen-like."
The calm, organized, zen-like feeling is one of the major highlights of the finished home, says the client — as well as the fireplace, which had been drywalled and was almost an afterthought in the initial design. Cooney helped bring it center stage with Pietra Cardosa tile and, again, plenty of storage.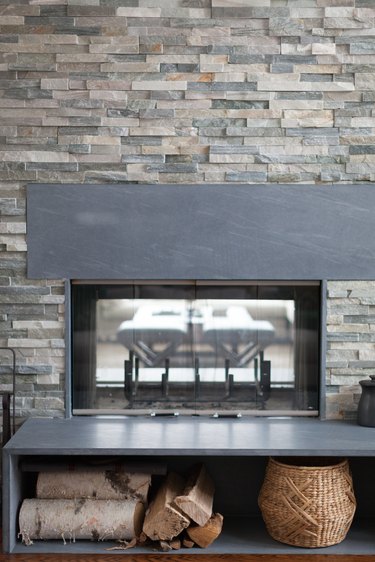 "We now can really put all of the space to work and the storage is nice looking and a feature throughout the house," says Cooney's client.
Everything is pulled together with a very Berkshires palette of deep blues, warm wood, and cool grays — which complement both the green trees out the window in the summer and the white snow each winter — and a mix of clean lines, modern feel, rustic, and industrial elements that Cooney finds is her signature style.
"A lot of times what we're trying to do is blend the contemporary aesthetics of people coming from New York and the rustic Berkshires," she says. But in the end, the woman's point of view always wins out. Says Cooney, "I do what I want done for me."
1 of 7
Upstairs, in the master — a long, narrow, tricky space with vaulted ceilings — Cooney used a navy grasscloth to both soften the space and also complement the view of nature. "It brought the outside straight in," she says. The color complements nature seen right outside the window, whatever the season.
Image Credit:

Lisa Vollmer Photography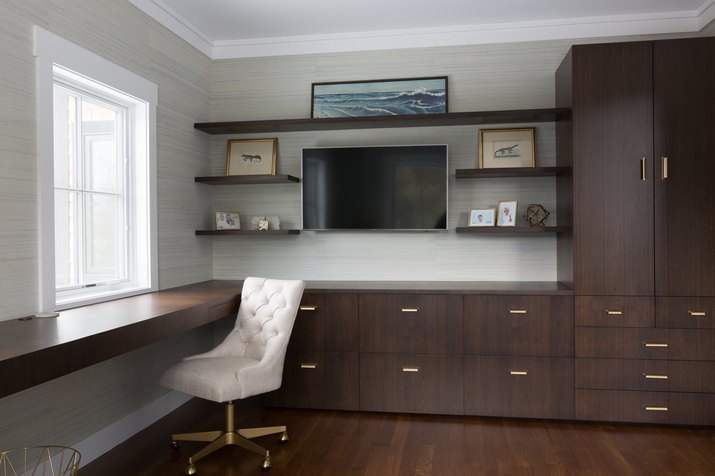 2 of 7
An upstairs office has a lighter gray-blue grasscloth, as well as the dark, custom wood cabinetry that can be seen throughout the home.
Image Credit:

Lisa Vollmer Photography
3 of 7
Downstairs in the kitchen, Cooney lightened up the existing dark wood cabinets.
Image Credit:

Lisa Vollmer Photography
4 of 7
Cooney removed an exterior door, and put in a bench, to help control the flow of people from the outside.
Image Credit:

Lisa Vollmer Photography
5 of 7
The 15-foot live-edge dining table was custom made from a slab Cooney found at Berkshire Products, a local business.
Image Credit:

Lisa Vollmer Photography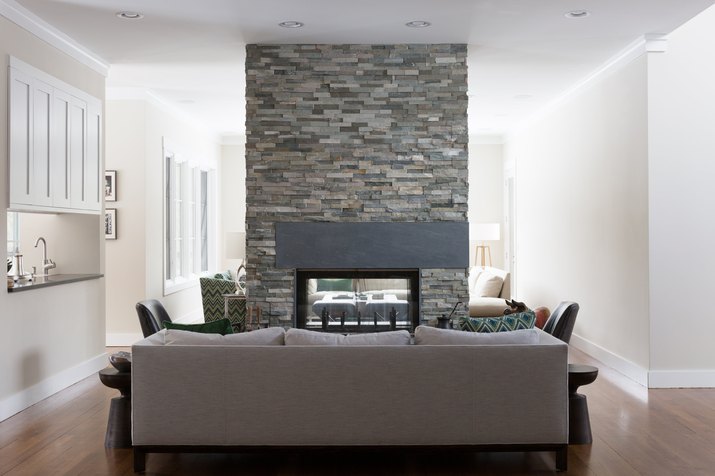 6 of 7
The fireplace is now the centerpiece of the entire downstairs living area. "You see it from every part of the house," says Cooney.
Image Credit:

Lisa Vollmer Photography
7 of 7
"It's always my focus — the mom, and making her happy," says Cooney. "She loves the laundry room." Cooney went big in the laundry, with David Hicks wallpaper, gold fixtures, a farm sink, and a walnut top for the laundry machines, which you don't see very often. "The walnut holds up fine, as long as you're not leaving something soaking on top of it," says Cooney. "And it ties into the walnut we used throughout."
Image Credit:

Lisa Vollmer Photography
---