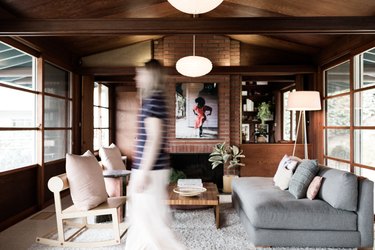 Who: Maureen Meyer
Where: Silver Lake, Los Angeles, California
Style: Vintage Modern Mix
When fine artist Maureen Meyer first visited this home with her realtor last spring, there was one word that easily described it: brown. "The outside was painted several shades of brown, the interior walls were wood-paneled, and the original cork floors throughout the house were brown," she says, which may have turned off potential buyers and definitely turned off one of her daughters. But in that sea of brown, there was another word that came to Meyer's mind the minute she walked through the front door: "warm."
"While the color felt dated and dark, the angles of the house struck us cfkas timeless and fresh," says Meyer, who was excited specifically by its juxtaposing angles. "I was smitten."
Designed by architect Ephraim Baran of RBB Architects, the 1953 three-bedroom in the Moreno Highlands boasts large custom glass sliding doors on both sides of the house. The back set leads to a charming courtyard that serves as an outdoor playroom for her two kids, while the front set opens up to a sizable patio above the garage and offers wonderful views of the Silver Lake Reservoir, its neighboring hillside homes, and the mountains beyond.
"The house is not large at 1,700 square feet, but the glass makes it feels incredibly open and expansive," notes Meyer. "Much of the nature outside is able to come in." This quality is what defined Baran's residential midcentury work, including the 1961 Frankel House in Brentwood (a Los Angeles Conservancy favorite), and later work on mostly medical buildings, which he designed to allow natural light and views of outdoor scenery in to provide comfort and beauty to those within these healing spaces.
"Every corner in the house has been considered," she says, "with a clear intention to meet the needs of its original inhabitants," which was also a family of four. There are doors to close off every room in the house — the den, kitchen, living room, and hallway to bedrooms — for privacy and noise control.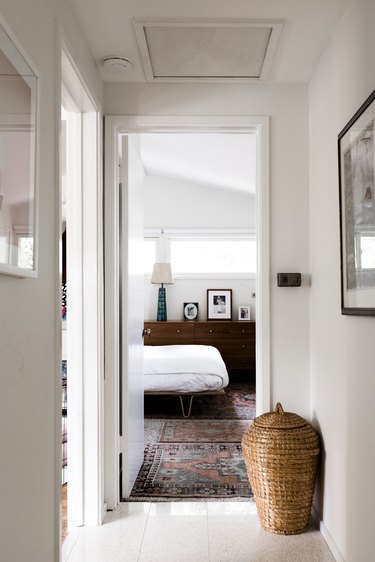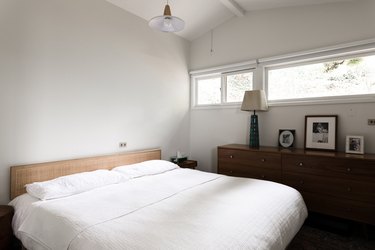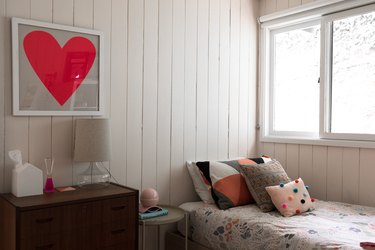 The den, one of their favorite rooms, features built-in bookcases as well as a bar and hidden record player.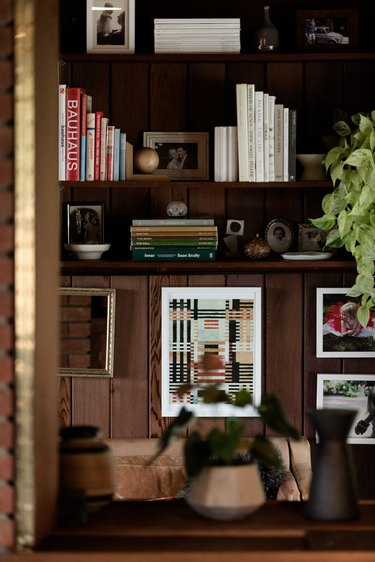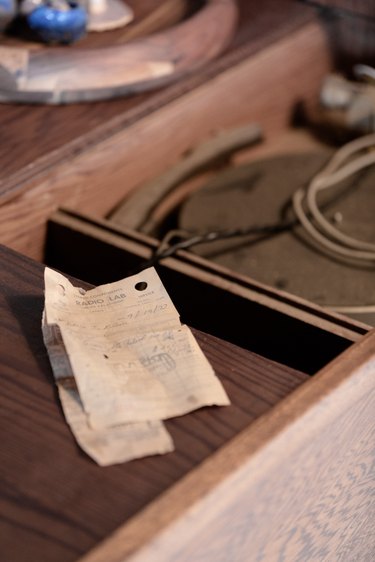 Another striking feature is a long hutch that greets visitors upon entering the home, doubling as a divider between the entryway and dining room and a great storage unit.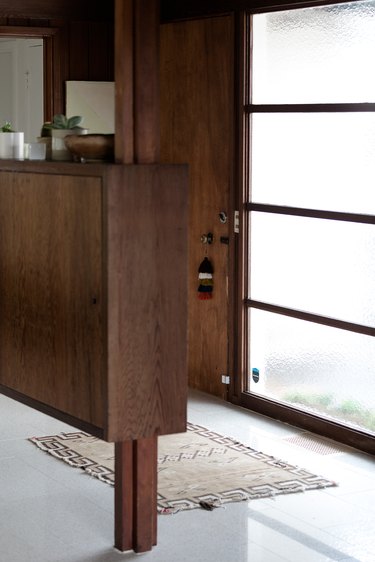 Since moving into the home in October, Meyer and her husband, Nathaniel Pastor, co-founder of artist management company mtheory, painted the exterior (choosing a palette of soft white and warm blues to update the brown/tan '70s vibe), put in some new light fixtures, removed the old wallpaper from the kitchen, and replaced the cork floors in the front of the house with terrazzo. Meyer notes that they limited their renovations to things that "would honor the design of the house and not wipe it clean," despite a few visiting friends and multiple handymen who worked on the house suggesting otherwise. One architect friend thought it was so dated that it should be knocked down completely. Not fans of open floor plans or newly renovated "soulless" homes, the couple prized its history above all else.
"All of my artwork is made using vintage paper, so it makes sense that this is my home," she shares. "The patina is throughout my whole life, having a fresh take on materials that haven't been touched in a really long time — it's where my whole passion lies."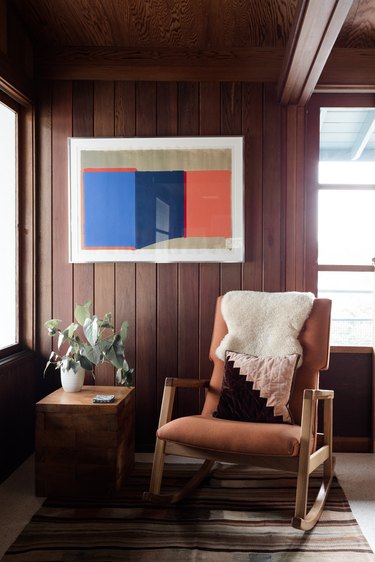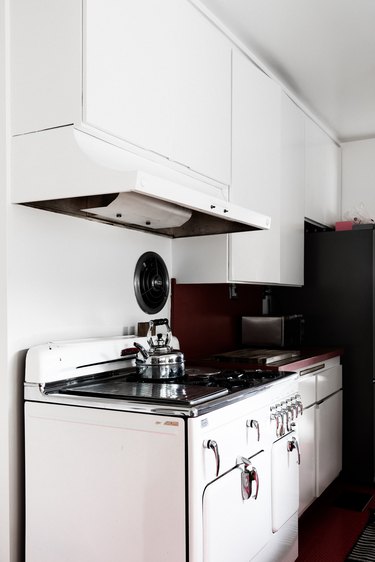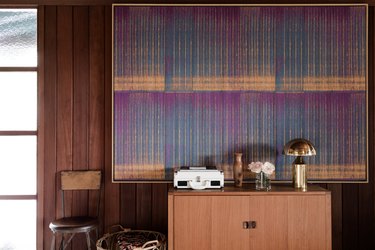 Much of the furniture her family had — a mix of contemporary, custom, and midcentury pieces collected over many years — also worked perfectly in it. In the living room, their conversation-worthy rocking chairs are by "insanely talented" Frogtown-based furniture designer Shin Okuda of Waka Waka. Pastor had them built for his company's office, but no one sat in them, says Meyer. "I happily took them and got these big pillows just to soften the back a little bit."
Next to them is a vintage mahogany coffee table by Hungarian architect and designer Paul Laszlo, purchased on Chairish, that perfectly complements the newest addition to the home, an ultracomfortable gray couch from CB2.
Above the fireplace is one of their most treasured pieces of art, a photograph they picked up almost a decade ago by Jess Farran (then a Savannah College of Art and Design student) that feels like it's meant to be there: another example of welcoming the outside in. And the woman featured seems to be taking in the view of the reservoir as well, which Meyer and her family cherishes every day.