We wouldn't blame you for thinking of your basement as a maze of forgotten belongings. Maybe it's in need of some serious lighting upgrades, and there's no real storage to speak of. But what if a few rustic basement ideas could turn your lower level into a dream space?
Indeed, an unfinished basement can provide valuable square footage for an additional living area, family room, or play zone. And who doesn't need more room these days? And for decor, a rustic style will lend itself perfectly to your basement reno. Think sheepskin rugs, leather accents, and earthy colors. The natural textures and warm tones will create a cozy ambiance in any area that doesn't have ample amounts of natural light.
You don't need a log cabin to pull off the look, either. Here are seven rustic basement ideas to take your area from dark to smart.
1. Celebrate rustic architecture.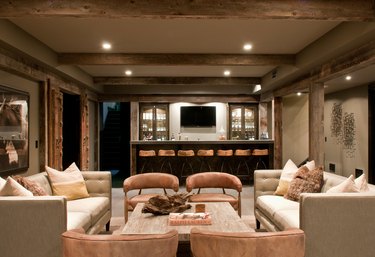 Original architecture looks stunning in a rustic basement design, so highlight exposed wood beams if you have them. Or just add your own. This cozy space by Stirling Mills features wood planks on the ceiling and wooden pillars. We love how the leather accent chairs and oak coffee table complete the look. Plus, there's an area for entertaining with liquor shelves and additional bar seating.
2. Keep it bright.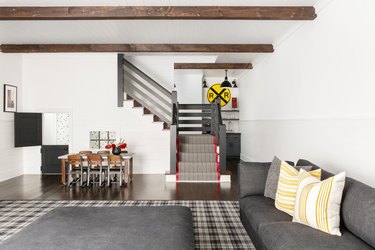 Basements tend to be a little dark and dreary (even when they have windows), so lighten things up by opting for a neutral color palette. Think whites and taupes. That way, you can turn your lower level into a calming retreat everyone can enjoy. The designers at Chango & Co. completed this tranquil living area with wooden beams, white paint, and and a cozy plaid rug.
3. Or, go dark and stormy.
If you can't beat the dark side, join it! A deep color scheme can be just as striking in a rustic basement; it adds a touch of masculinity and tons of ambiance. Heidi Caillier Design created the perfect man cave set up here with dark blue walls, a mustard sofa, and a live edge coffee table. A rich color like this one will perfectly contrast rustic furniture and a muted rug. Just add whiskey.
4. Add aesthetic storage.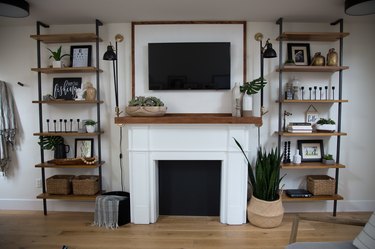 Don't forget to incorporate stylish storage in your basement design. Erin of Kismet House added rustic open shelving in her space and created a symmetrical look by framing the fireplace and TV. The mounted wall sconces add an extra level of decoration, and they're practical. But pendants would work just as well.
5. Think about texture.
Rustic style usually looks a little rough around the edges, so think about how you can incorporate different textures in your basement. Take your inspo from Melissa from The Inspired Room. She painted this brick wall in Benjamin Moore's Simply White and hung a wood mirror with a lot of character above the iron fireplace. The indoor plants also add texture, but feel free to use faux ones in your space.
6. Make it cozy.
Not blessed with a huge basement? That's okay. You can still make your tight space feel cozy with a small sofa, throw pillows, and blankets. Gina Rachelle did it perfectly and even created a mini library nook in this concise basement design. Who wouldn't want to curl up here with a book?
7. Accessorize.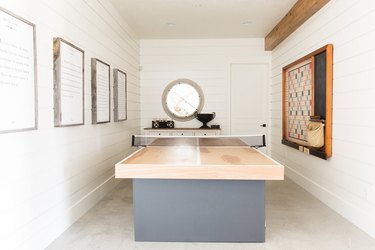 Your basement doesn't have to be super practical. Go for something fun instead. Take this basement game room by House of Jade Interiors. It features a giant, wall-mounted Scrabble board and is furnished with a ping pong table, a storage cabinet, and distressed wood wall art. It's rustic but practical at the same time.