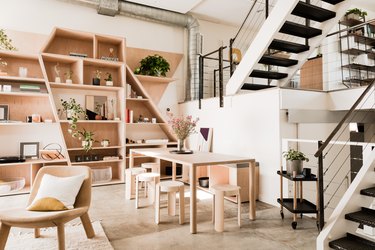 Concrete floors provide a unique look that can't be matched by other flooring materials. The material is versatile enough to be installed over a variety of subfloors as long as they are prepared properly.
Concrete gets its versatility from the simple components from which it is made: aggregate, water and cement — the binder that holds everything together after curing. The size and type of the aggregate determine the look of the finished concrete. Large aggregate such as gravel is used for general construction, but fine sand aggregate produces a smooth finish and is used in flooring and other decorative concrete products. Manufacturers add polymer resins and other materials to create proprietary products used in flooring.
There are concrete products that can be poured to produce 6-inch-thick slabs for house foundations as well as products for thinner installations. Thin concrete overlays, which are usually 3/8 to 1/2 inch thick, can cover existing concrete slabs or other approved subfloors, including wood. They also serve as self-leveling underlayments for skim coats or microtoppings, which are even thinner. Manufacturers of overlay materials boast that a skim coat can be as thin as a credit card.
A damaged wood floor can be refinished, but extensive damage must be repaired before refinishing. Applying concrete can hide the damage at an economical price, about $2 to $6 per square foot.

Most concrete floors will cost less than high-end porcelain tile and natural stone.

Residential concrete floors are still somewhat unique and offer a chance to make a design statement, especially in a formal entryway or living room.
A concrete base provides the opportunity for a number of different types of finishes, including staining and stamping. Professionals can create three-dimensional looks or make the flooring look like marble and other natural stone.
The new floor will last for as long as the house stands.

In warm climates, concrete can help cool the house.

Concrete is easy to keep clean once it is properly installed.

Simple floors are economical, but the more complicated the project and finishing techniques, the higher the cost. Prices for the project can climb to $25 to $30 per square foot.
Subfloors that are not prepared properly will cause cracks in the concrete. Subfloor preparation could mean reinforcing the underlying joists and subfloor.
Concrete is unforgiving when items are dropped on it. Breakable items will break. The floor itself may chip when heavy items hit it.
A concrete floor is permanent, even thin concrete overlays. It is difficult, expensive and messy to remove an interior concrete installation. It is even difficult to change the color. Some concrete stains combine and react with the minerals in the concrete mix, making them permanent.
Complex projects take a long time to complete. Installing this type of flooring involves surface preparation, which often includes repairs and applying primers and sealers as well as waiting for the concrete to cure properly. Adding stains or etching the concrete adds more time. Expect two to five days for a basic job, but involved finishing adds much more time during which you cannot walk on the floor.
A decorative concrete flooring material can be installed over an existing concrete slab, a plywood subfloor or a 3/4-inch solid hardwood flooring. When it comes to solid wood, both strip and plank flooring are acceptable as long as they are in good condition. A particleboard subfloor is not recommended for a concrete finished floor.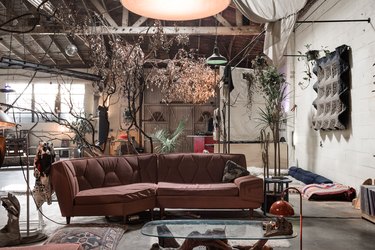 Subfloors must be smooth, flat and free of dirt, grease and oil. Loose boards should be fastened securely. If you hear a squeak when you walk on the floor, that means the flooring is not firmly attached to the floor joists. Old House Journal provides a step-by-step guide to fixing wood floors. Concrete is a rigid material that must be installed over rigid materials. Floor joists must be perfectly straight. If they sag or bulge, the finished concrete will crack.
Concrete Floor Installation
Installing a concrete floor is a labor-intensive process. The contractors will install forms to hold the concrete in place, and they will protect the surrounding areas by masking the walls and adjacent floors. Most of the cost of a concrete floor goes toward the labor involved rather than the materials.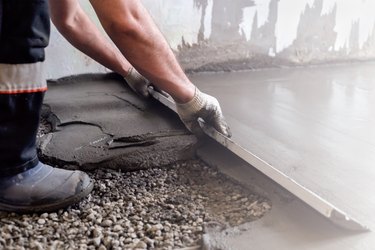 Installing concrete over wood comes with its own set of challenges. All building materials expand and contract as a reaction to the relative humidity and temperature in the room, causing movement. The problem is that dissimilar materials such as wood and concrete expand and contract at different rates. The installer has to deal with this problem so that the finished product remains crack-free.
One solution is to place a decoupling membrane between the wood and the concrete. The membrane is designed to prevent movement in the wood or concrete from affecting the other material. These products are commonly used in the tiling industry, where tile is installed over a wood subfloor.
Metal lath supports the concrete when it is poured. Because the concrete starts out as a liquid, the subflooring must be sealed. Screws that hold down the lath penetrate the anti-fracture sheet and the subfloor, so all screw heads must be sealed. It's these time-consuming tasks that make installing concrete floors so detail-oriented.
If the rigidity of the subfloor is in question, some contractors will attach a 3/4-inch sheet of plywood over the wood floor rather than using the decoupling membrane. Assuming there is no sag in the understructure of the floor, the plywood will provide a firm base for the concrete.
As with the decoupling membrane, all seams in the plywood and the screws that hold it in place must be sealed with tape and a liquid sealer. This method also uses a layer of metal lath. The lath must be securely attached to the plywood because any high area will show once the concrete cures — a situation called floating.
Pouring the Concrete and Finishing the Floor
Concrete flooring products are premixed, and the contractor just adds water. Once the mixture is poured onto the floor, the contractor will distribute it evenly to achieve the 1/2-inch thickness. Most of these products are self-leveling, so there is no need for extensive trowel or screed work. Many contractors use a gauge rake, which is a type of spreader with adjustable feet, to spread the material to the desired thickness.
Once the concrete cures, usually in about 24 hours, the floor can be stained and/or simply polished to the desired gloss. Concrete needs to be protected using polyurethane-type sealers or paste wax. Many contractors elect to cover the concrete with a second layer of microtopping or skim coat, a concrete-type product that provides a super smooth finish. Skim coats help achieve good results when adding a stain.
Concrete flooring will accept either acid-based or water-based dyes. Acid stains produce natural coloring because they react with the minerals in the concrete. However, the available color palette is limited. Water-based dyes and stains offer a wider range of colors. Contractors use sprayers to apply the stains or dyes, and each coat produces different looks. Large stencils are available to help create intricate designs on the floor.
The last installation step is the application of a sealer to protect the floor, either a polyurethane product, paste wax or both. The sealer and wax combination provides the best protection. The sealer will not only protect the floor but it also enhances the color of the stain and adds sheen to the floor.
Concrete Floor Maintenance
A concrete floors is low-maintenance. Dry-mop it daily or every few days to remove dirt and debris. Wet-mop occasionally using a neutral-pH cleaner. The concrete manufacturer or the contractor will have recommendations. Harsh cleaners such as those that contain bleach, vinegar or citrus oils can harm the finish and etch the concrete.
Stained floors will receive a sealer and, in some cases, a paste wax finish during installation. A wax finish will wear off with time, especially in high-traffic areas such as entryways and kitchens, so it must be reapplied every few years.
Choosing a flooring contractor is the same as hiring any contractor for a large job: Solicit quotes from a number of contractors, get references and make sure the contractor's licenses and insurance are in order. The contractor who can install interior floors has a skill set that is different from other concrete contractors. Working inside means the contractor has to be sure to protect surrounding areas. Applying stains or using stencils to create intricate designs requires a deft touch and attention to detail. It is a good idea to ask to see examples of previous jobs to help determine how your job will turn out.