Design enthusiasts will eagerly assure you that the appearance of your basement entryway is just as important as what you see after crossing the threshold. If you're converting the common storage area into a livable space, seeking out basement door ideas should absolutely be on your to-do list. Oftentimes, these underground havens receive design upgrades that turn them into the best spots in the house. And at least some of that credit goes to the basement door.
You probably feel like the success of your decor is hinged on your entry, but allow us to get rid of the decision-making pressure. These six basement door ideas will help get your creative design wheels turning: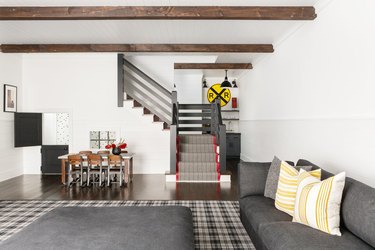 An invite into this modern farmhouse basement from Chango & Co. could very well turn into a permanent stay. The comfy gray sofa, oversize accent ottoman, and dinette set give off a "the more, the merrier" vibe. Meanwhile, the eye-catching black Dutch door in the corner adds a unique touch and creates contrast between the white walls.
These French doors help brighten a space that's typically low on natural light, but this modern basement has more than an exterior entrance working in its favor. In conjunction with the light wall color and light hardwood floors, the doors make for a space that feels open and airy.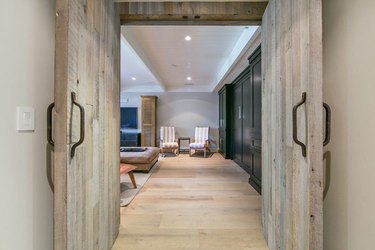 Interior solid wood doors manage to be cool and elegant at the same time. This space by Kelly Nutt Design highlights a gorgeous set of sturdy basement doors with rustic handles. And they open into a room that is just as simple and chic with more wood tones, recessed ceiling lights, and gray walls.
5. Wood Door With Glass Panels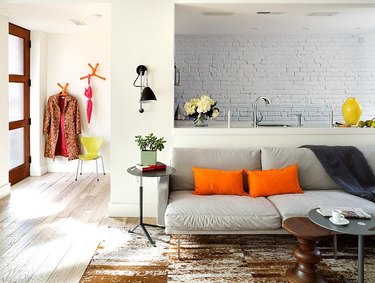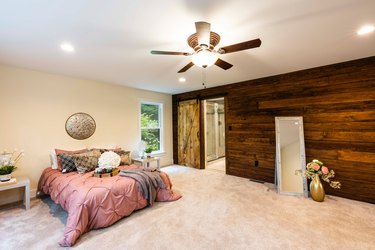 This beautiful sliding barn door instantly adds so much character to a simple basement sleeping space. We love the contrast between the rich wood wall paneling and the lighter-toned door. Plus, the gold metallic accessories add spark and keep a relatively basic design from skewing too plain.