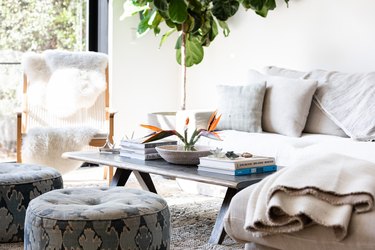 From kicking up your feet while you watch a movie to offering extra seating when you're entertaining a crowd, a well-chosen ottoman is one of the most versatile pieces of living room furniture. But it can also get stinky and end up with stains from spills and dirt. Regularly cleaning the upholstery keeps your living room ottoman fresh and looking great.
When cleaning any upholstered item, you need to know what type of fabric it is and the recommended cleaning methods. Search for the care tag, which should have one of four codes: W, S, W/S, or X. On an ottoman, you'll likely find the tag on the bottom. This code tells you what types of cleaners you can use. The codes mean:
​W:​ Use a water-based cleaner, such as an upholstery cleaner, water with gentle dish soap, or water-based shampoo in a steam cleaner.


​S:​ This type requires solvent-based cleaners. Using water or water-based cleaners can cause damage.


​W/S:​ For this type of ottoman, you can use either water-based or solvent-based cleaning methods.


​X:​ Don't use any cleaners on this type of ottoman. The X indicates that you should only have the fabric professionally dry cleaned.
Even if you use a type of cleaner that's suitable for your ottoman based on the code, test it on a hidden area to make sure it doesn't discolor or damage the fabric.
Vacuum the Upholstered Ottoman
Start by vacuuming your ottoman to remove pet hair, dust, crumbs, and other debris. If you use cleaner on a dirty ottoman, it could wet the debris and make it stick to the fabric even more. Vacuuming might be all you need to do if you just need to lightly clean your upholstered ottoman. It's also safe to do with all types of fabric, even dry-clean-only ottomans. Use an upholstery attachment with your vacuum and run it over all sides of the ottoman until it appears to be clean.
If you notice any stains or spots that don't come off with the vacuum, tackle those areas before cleaning the rest of the upholstery. You can use an upholstery cleaner that's safe on the fabric, keeping in mind whether you need a water-based or solvent-based cleaner.
For ottomans with the W cleaning code, you can also make a simple cleaning solution with liquid dish soap mixed into lukewarm water. Using a clean cloth, dab the cleaning solution into the stain, blotting it to help ease it out of the fabric. Avoid oversaturating your ottoman and avoid rubbing aggressively, which can damage the fibers. When you've removed the stain, use a cloth dampened with clean water and blot it on the stain to remove the soap. You can then dab the area with a dry towel to soak up excess water.
Your warm water and dish soap mixture can also work for overall cleaning. Spray the ottoman with a fine mist of the cleaning solution, being careful not to soak the fabric. Use a gentle cleaning brush or cloth to scrub the ottoman gently. If you have an ottoman that's safe to clean with water, you can use an upholstery cleaning machine to steam clean the fabric.
Deodorize With Baking Soda
If your ottoman doesn't smell the best, sprinkle baking soda over the upholstery and let it sit for an hour or longer. The baking soda helps absorb some of the odors to freshen your ottoman. Vacuum the baking soda off the ottoman. You can use this trick whenever your ottoman needs to be refreshed.