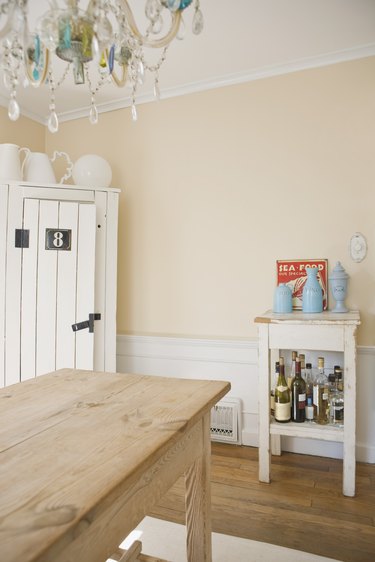 Wall paneling is an architectural element often installed in residential or commercial buildings. Decorative wall paneling is installed over walls to add aesthetic appeal, while other types of paneling may be added for their functional or structural characteristics. Many paneling varieties are available at home improvement and hardware stores while others may be purchased from specialty distributors.
Decorative Wall Panels
Decorative wall panels are available in many different materials. They are often used to change the look of the wall, but may also be installed to help protect the wall from damage. Wainscoting is one of the most commonly used wall panels. It is made from wood or synthetic materials patterned with carvings and designs. Wainscot is usually installed on the lower half of a wall, but heights and styles may vary. Pre-fabricated panels may be used, or those familiar with woodworking can create their own versions. Other common materials used for decorative paneling include laminate, stainless steel and plastics.
Tileboard
Tileboard panels are made from melamine or resin and are used to mimic the look of ceramic tile. They are textured and colored to look like tile, and are attached to a moisture-resistant backerboard. These panels are an affordable alternative to ceramic and are much easier to install. Tileboard panels also do not have grout lines, which make for easier cleaning, as there is nowhere for trapped dirt to accumulate.
Utility Paneling
Utility paneling, often called pegboard, is made from perforated hardboard and is used for its function and appearance. These panels contain rows of small holes that can be used to hang objects from nails or pegs. They are frequently used in kitchens or garages, as well as in commercial applications. Utility paneling is available in standard white or natural wood finishes and also in custom colors. These panels can be installed over the entire wall or just in small areas as needed.
Acoustical Panels
Acoustical panels are used to control noise levels in a space and to block noise transfer through walls. They're made from foam or wood cores wrapped with a layer of vinyl or fabric. The panels help absorb sound and are commonly used n schools, auditoriums and hotels. These panels are available in a wide variety of colors and textures to match the room's decor. Acoustical panels can be installed temporarily using clips or magnets, or with nails or adhesive for more permanent applications.
Structural Wall Panels
While most types of wall paneling are installed on the interior, others are used to create exterior walls. These panels are frequently made from precast concrete and allow for quick and easy framing of homes and businesses. Some structural panels may be used to replace both interior and exterior walls. Structural insulated panels (SIPs) take the place of wall framing, interior drywall and exterior sheathing or siding. They are made from sheets of rigid foam insulation sandwiched between layers of wood fiber board.