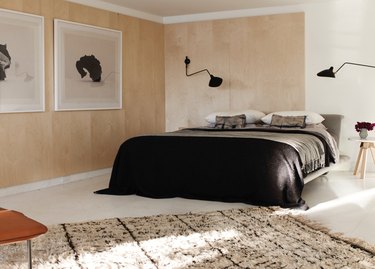 Making the most of the space you have at home is incredibly important. And no area has more potential than your basement. It can be a room for playing, screening, or even sleeping. So if you have a lower level you won't want to miss out on using it to its fullest potential.
1. Create a minimalist desert vibe.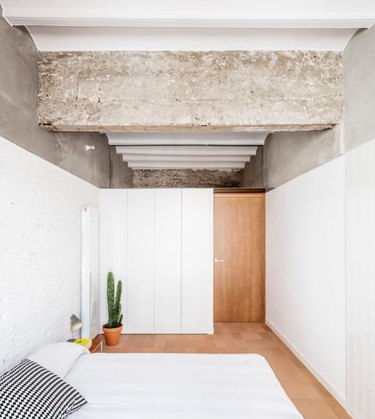 If your basement is somewhat unfinished, you can add drywall or install siding to create a real room effect. But leave the top third of the wall space and ceiling as-is for an industrial vibe. To keep things feeling desert-themed, add white bedding and succulents like the ones in this tranquil bedroom. The wood floors and door bring in some warmth. And presto, you have instant peace, quiet, and lots of privacy.
2. Keep it unfinished.
Work with what you have, even if it's unfinished. And bring in some pendant lighting, side lamps, and a cozy couch to create a basement bedroom that feels like a chic industrial studio. Peep the astroturf headboard trick that brings a little bit of nature into the concrete space.
3. Build a bunk.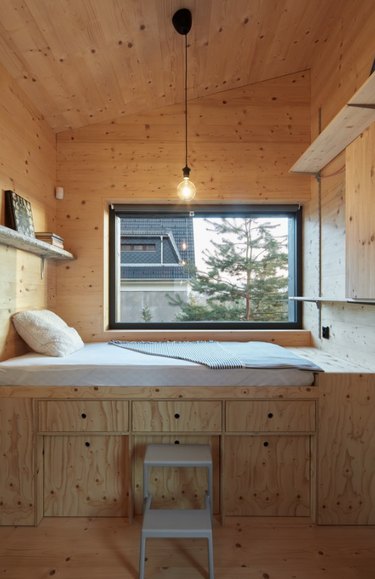 4. Lean into a low ceiling.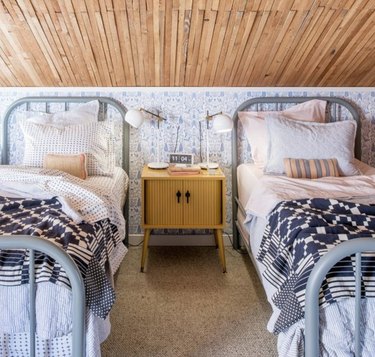 If you have low ceilings in your basement, take the high road and use wood slats or paneling to create a cabin-like feel. Twin beds offer more options for sleepovers or out of town guests while wallpaper and a jute rug will get high fives for extra charm.
5. Keep things slightly offset.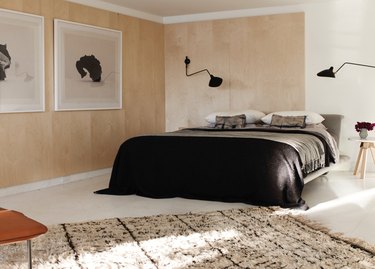 If you're looking to use your entire subterranean space solely for sleeping, keep things open and loose by making your bed a focal point and add some striking sconces for reading. We're loving the white floors and light walls in this space from Amber Road Design. Plus, the offset neutral rug feels fresh.
6. Multitask.
You'll want places to sit in your basement, too. Consider a daybed that works both as a couch and the perfect place for some shut-eye. DahliasDay Interiors brightens this dark room with some really colorful tile floors, a color-blocked curtain, and a deep green upholstered bed that we didn't see coming but definitely dig.
7. Always add some art.
When it comes to basement bedroom ideas, keep things on the simple side, and you can't go wrong. Again, if your space isn't exactly finished, coat your concrete walls with a neutral paint, throw down a natural-toned area rug, and bring in some color with a little abstract art above the bed. We're ready to do some serious reading (or snoozing) in this space.