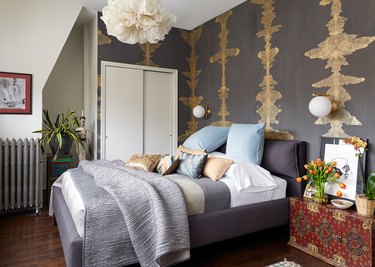 Make no mistake about it: The right lighting can elevate the ambience of your bedroom and make the space appear larger than it really is. "Adding pendants above nightstands, a small accent lamp on top of an armoire, or even a tall floor lamp can help illuminate dark nooks and carry the eye upward in a small bedroom," says interior designer Jean Liu.
To prove our point, we asked a few different designers what types of lighting they use to maximize small bedrooms, and here's what they had to say.
1. Layer up.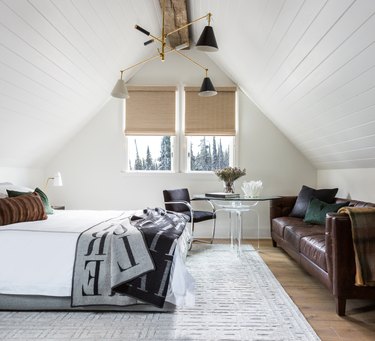 "Layering lighting is one of my favorite ways to make a space functional, as well as warm and inviting," says Marie Flanigan. "A combination of overhead fixtures, bedside wall sconces, and streamlined lamps keep your room uncluttered while still providing a gorgeous ambience."
2. Three is the magic number.
"Remember to always tackle lighting in three areas of space," says John McClain. "Waist height lighting for ambient, head height lighting for task, and overhead lighting for general. They all play a big part, even in a small room."
3. Consider pendants instead of table lamps.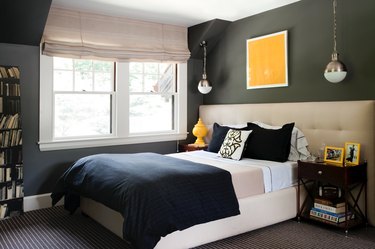 "I think wall sconces or pendants are great as bedside lamps in small bedrooms," says Liz Caan. "They take up no nightstand surface space and also add some visual interest and ample light!"
4. Try an overhead statement light.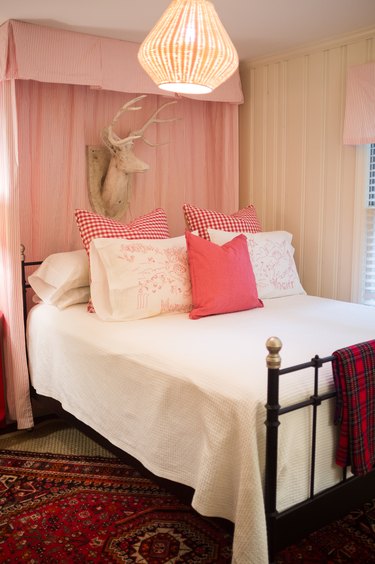 "Good lighting is paramount for a small space," says Maggie Griffin. "I love a pretty overhead light with low wattage bulbs or adding pleated and darker shades on lamps for an attractive, filtered light."
5. Wall-mounted FTW.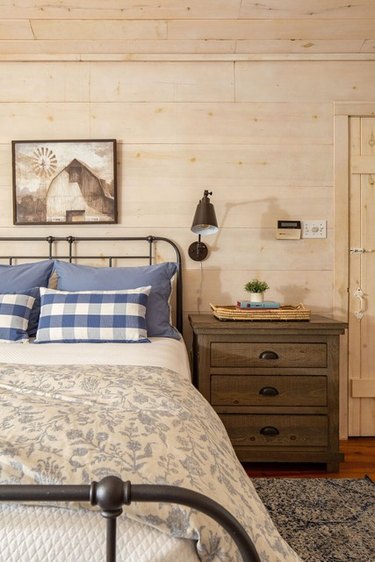 "Installing wall-mounted sconces on either side of your bed provides ambient lighting without taking up floor space or adding bulky pieces to an already small room," says Ashley Moore of Moore House Interiors. "Have a little fun choosing your sconces and get swing-arm style lights — perfect for nighttime reading!"
6.  Think in twos.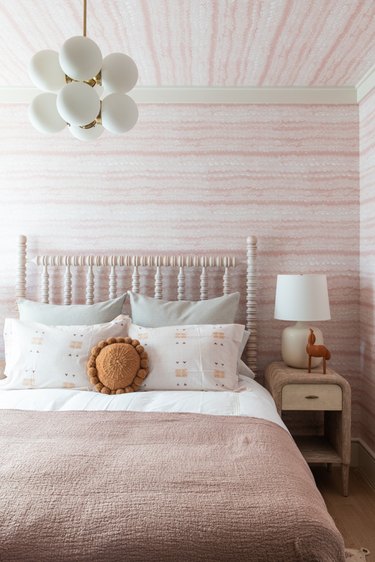 "Layered lighting in a small bedroom is crucial; particularly overhead lighting and bedside lighting," says Cortney Bishop. "You never want the lighting to feel too powerful if only a single source is turned on, so we consider both ceiling fixtures and table lamps in bedrooms for varying sources and tones of light."
7. Try double sconces.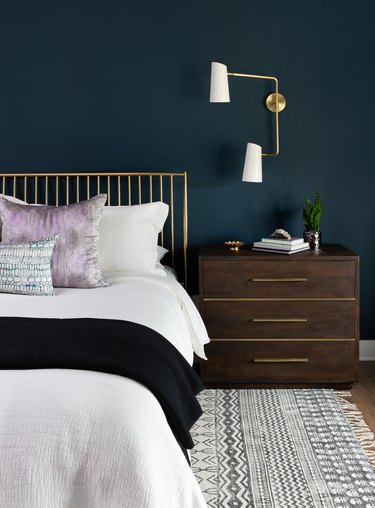 "When it comes to adding lighting in a small bedroom, you want to be sure that you're maximizing your space," says Sara Barney of BANDD Design. "I recommend using two-arm wall sconces or pendants for bedside lighting, since this doesn't take up any of your precious floor or tabletop space."
8. Go big.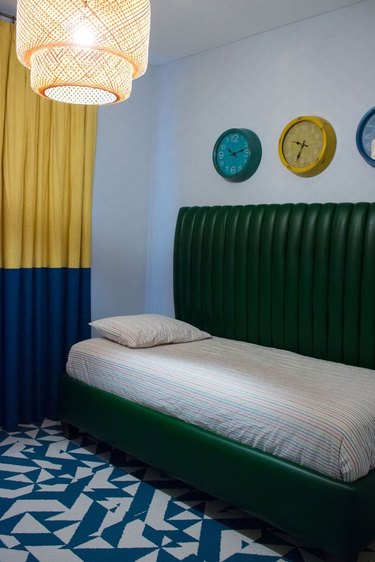 "I find that a common design misconception is that small spaces require small scale pieces," says Dahlia Jacob of Dahlias Day Interiors. "A large, but light and airy, overhead pendant in a small bedroom gives the room a large feel while doubling as the centerpiece of the space."
9. The more lighting, the merrier.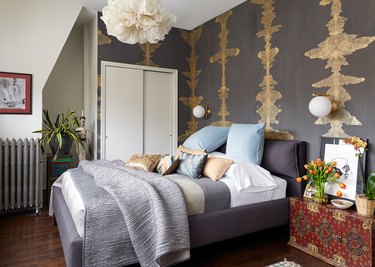 "When lighting a small bedroom, I recommend installing bedside sconces and an over-the-bed pendant or flush mount," says Laurie Blumenfeld-Russo of Laurie Blumenfeld Design. "The sconces allow for more room on your night table and an overhead light illuminates the whole room while keeping the edges of the room dark and moody."