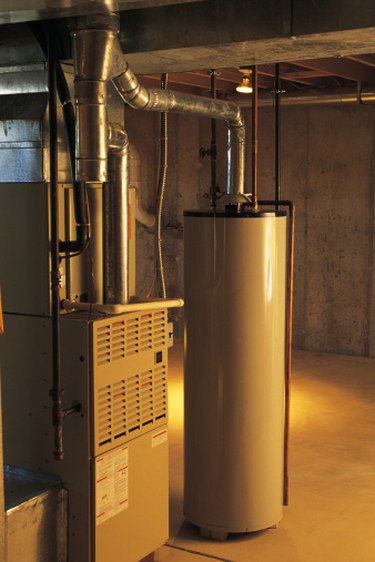 Having a basement with a low ceiling is a common issue among many homeowners, and if that basement is refinished to be used as living space, the low ceiling may make the room feel cramped. Luckily, there are a few tricks you can use to give the appearance or look of a larger space without any construction. After a day or two of work your basement can give the illusion that the room is big and the ceilings are slightly taller than they really are.
Step 1
Select a light color for the ceiling and walls of the basement either in paint or with wallpaper. White and light pastels will brighten the room and create an open feeling especially if the ceiling is colored a shade or two lighter than the walls.
Step 2
Keep patterns of paint techniques or wallpaper simple instead of overly decorative or heavily printed. If using stripes, stick with vertical stripes rather than horizontal to lengthen the look of the wall instead of shorten it.
Step 3
Remove any ceiling hung light fixtures or ceiling fans. Use tall floor lamps or table lamps set on end tables to provide lighting. Place tall, narrow style standing fans to keep air circulation going in the room in favor of ceiling fans.
Step 4
Hang long, sheer, light-colored curtains on either side of any windows by mounting the curtain rod at ceiling height. Use curtains that are long enough to reach from the ceiling to the floor to draw the eye up and down in the basement to make it appear larger than it is.
Step 5
Fill the room with fewer, larger pieces of furniture to keep the basement from looking cluttered. For example, use a love seat and only two side chairs rather than several chairs. Using lots of smaller pieces of furniture or pieces that display knickknack collections can quickly make a room look small as it visually appears full.
Step 6
Position your furniture so it rests along the walls and corners of the basement rather than in the center of the room. If a piece of furniture needs to be in the center of the room, try to stick with a single coffee or console table.