A finished basement calls for the opportunity to create a truly unique space that can cater to a wide variety of needs — from playrooms and game rooms to luxe kitchen setups and offices. So when it comes to expanding your current space to incorporate a more functional addition, consider a design-forward bath or powder room.
Before you begin, survey your lower level. Obviously, a finished basement that is properly insulated goes without saying but what you really want to focus on is drainage. Make sure you're able to connect to a sewer line and if yours runs above the basement floor, you'll need to go with an upflush toilet, which pumps waste uphill. We suggest enlisting the help of a professional to make sure your space is up to code. Once you've figured out the details, it's time to think about how you'll design your space. To help you get started we've sourced a few of our favorite basement bathroom ideas for inspiration.
This high-contrast powder room designed by Chango & Co. packs a powerful punch courtesy of the graphic wallpaper that sets the tone. Eliminating the need for much else on the decor front — the matching black vanity and metal-framed mirror speak volumes — this basement bathroom idea is all about doing more with less.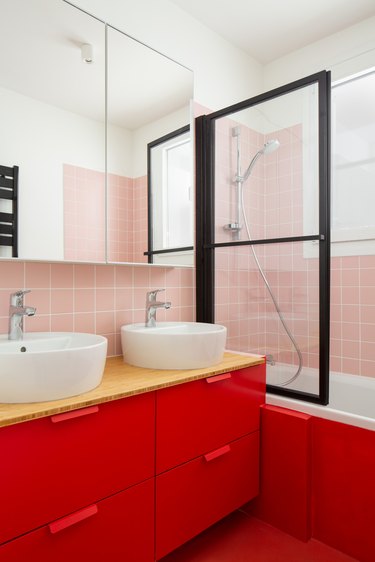 Rarely do basement bathroom ideas entail decorating with a vibrant scheme, but this color-charged Parisian design proves that rules were made to be broken. The trendy pink tile downplays the intensity of the saturated red vanity, while the streamlined details throughout contribute to an edgy, yet contemporary feel.
3. Keep things light and bright.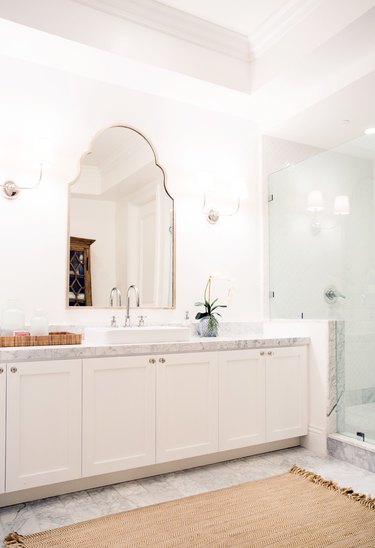 A lack of natural light was one of the biggest challenges the creative duo behind Studio McGee faced in their Pacific Palisades spa bath remodel. The solution? They doubled down on neutrals when it came to the walls, tile, and vanity, and made sure there was plenty of light to boot. Beyond that, Carrara marble surfaces were brought in for visual contrast while the glass shower divider helped keep things open and airy.
When it came down to designing her basement bathroom, Leanna from Way Out in Woodstock elected to go with a dramatic, beach bungalow-inspired scheme. Dark shiplap walls act as a backdrop for the textured accents layered on top — think Turkish towels and dried palm leaves — transforming the underground spot into a mini oasis all her own.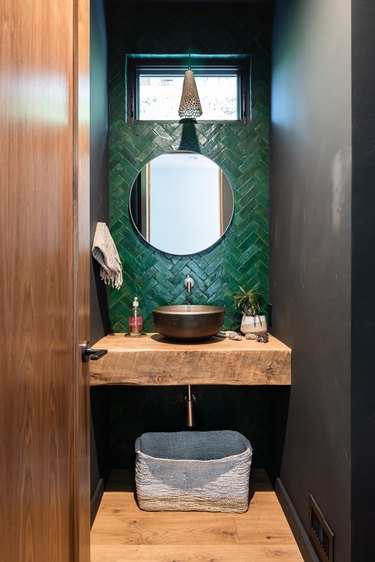 If your basement lacks proper insulation and heat, forgo the shower (no one wants to bathe in a cold room) and opt for a powder room instead. Natural lighting is always preferred so if the opportunity presents itself, incorporate a window — regardless of how compact it is — into the design.
As far as basement bathroom ideas go, including one within a master suite is definitely high up on our wish list. If you're working with a compact space make sure to establish a cohesive scheme that can flow throughout. The all-white, streamlined details of this chic bath quietly blend into the background of the mod sleeping quarters, while the concrete floors — fitting for both the bedroom and bathroom — set the stage for both areas.