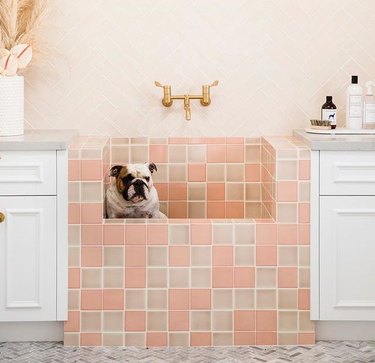 For dog owners, having an in-home dog wash is undoubtedly the dream: a dedicated space to rinse off your pooch after muddy walks as opposed to getting your own bathtub all messed up? A godsend. Whether you're planning a garage makeover or any type of new entryway setup, think about installing a dog wash. As Instagram proves — they're not only functional, but also super cute!
1. Subway tiles + wood details = farmhouse fun.
2. Subway tile also looks great with slate flooring. Black and white photos of dogs are a cute finishing touch.
3. Go rustic with patterned tile and wood cladding.
5. Going all-in on blue — from blue subway tile to blue wallpaper — makes such a soothing statement.
6. Short on square footage? No worries. As Instagrammer @hawkes.landing proves, all you need is a little tiled corner to create a paw-washing station.
7. The details in this chic dog washing room are too cute! Note the "paw prints" on the floor and the little dog tail hooks.
8. A dog washing station can be multipurpose when it's not completely enclosed — this setup allows room for shelving and a sink.
9. Don't want your dog wash station to be a central feature? This design shows you how one can seamlessly blend into a room.
---
Leonora Epstein is Hunker's Senior Director of Content. She has previously served as Executive Editor at HelloGiggles and as BuzzFeed's Deputy Editorial Director. She is the co-author of "X vs. Y: A Culture War, a Love Story" (Abrams, 2014). Feel free to reach out at leonora@hunker.com.
View Work