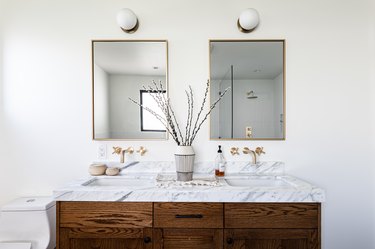 In addition to the perfect tub, toilet, and sink, the next logical purchase for every bathroom is lighting. And while selecting light fixtures that serve the practical purpose of illuminating your space is important, you should also consider aesthetics — think gorgeous design details and attention-grabbing finishes. The right lighting will complement your bathroom design. But before we get to the fun stuff, let's go over a few factors worth considering.
Different Types of Light Fixtures and Important Things to Consider:
Types of Lighting
Wall sconces
Flush mount
Semi-flush mount
Now that we've given you plenty to think about, here are some swoon-worthy bathroom lights worth considering.
23 Bathroom Lighting Ideas to Brighten Your Space
1. Go for a modern vanity light.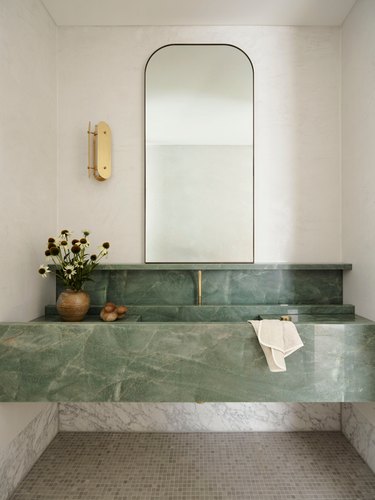 If you prefer clean lines and straightforward silhouettes over fussy ornamentation and intricate designs, then you're going to love this modern bathroom lighting idea by Alexander & Co. The sleek, but simple, brass fixture complements the real star of the show: a floating stone countertop with an integrated sink, backsplash, and shelf.
2. Add a little country charm with farmhouse wall sconces.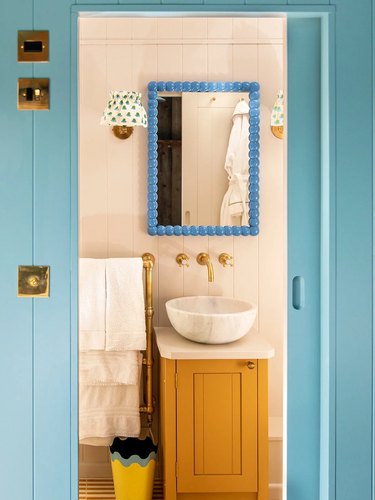 This cozy farmhouse bathroom by Aller Dorset is cute as a button thanks in large part to the playful and unexpected color palette and the adorable wall sconces. The petite light fixtures are topped with pleated lampshades that bring country living to mind and also happen to pair perfectly with the blue-framed bathroom mirror. The brass finish blends in seamlessly with the faucet and the rest of the fixtures used throughout.
3. Introduce coastal accents.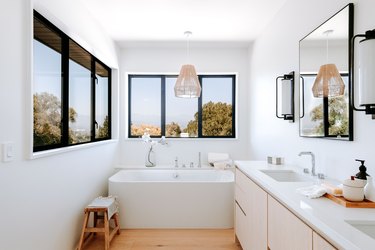 When shopping for coastal lighting, think fixtures showcasing natural materials — seashells, beads, and rattan are shoo-ins. For example, this bathroom design features a woven pendant light centered perfectly over the bathtub and framed between the windows. The mostly white color scheme ensures that the space will remain light and airy, while the black accents, such as the window trim and wall sconces, add a bit of contrast and keep the space from reading flat or boring.
4. Lean into industrial style.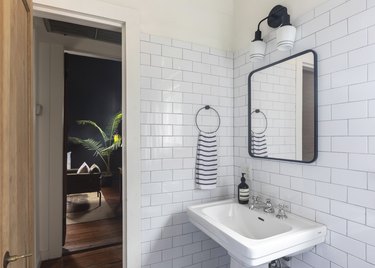 Industrial-style bathroom designs tend to feature classic subway tile, raw materials, and exposed plumbing, just to name a few. So how do you continue that aesthetic when it comes to the lighting? Look for functional fixtures with exposed bulbs or wires, classic silhouettes, and simple finishes, such as steel. In this timeless setup, a double-arm wall sconce — with a black frame and milk glass shades — looks right at home alongside the subway tile-clad bathroom walls, black-framed vanity mirror, and pedestal sink.
5. Make it midcentury modern.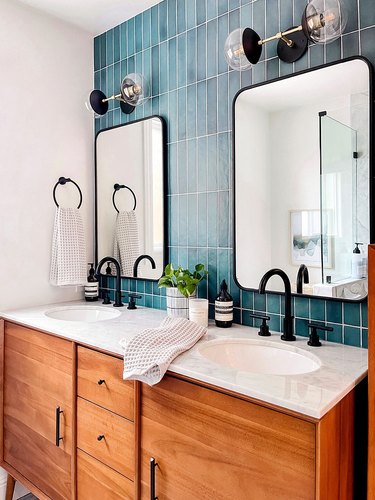 When designing a midcentury modern space, keep your eyes peeled for bathroom lighting fixtures that are globe-shaped, sputnik-inspired, and sleek. The team over at Melissa Morgan Interiors shows us how it's done in this light-filled washroom. Matte black fixtures punctuate the space and tie in the beautiful wall sconces. The teal backsplash tile provides a pop of color that balances the warmth of the wood vanity cabinet.
6. Embrace a vintage-inspired light fixture.
If you're partial to beautiful bathroom designs that transport you to another time, you're not alone. However, finding the right light fixtures can be tricky. You can hunt down the perfect vintage piece, but you'll need to have a pro look at the wiring to make sure it is up to code. On the other hand, you can always buy a new fixture that just happens to have a mature look. That's exactly what Jenni from I Spy DIY did in this dreamy blue bathroom, and the result is simply stunning.
7. Select bathroom vanity lighting that will blend into the background.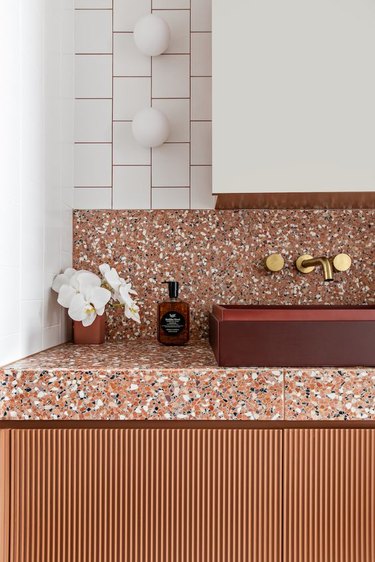 While lighting is an important part of any bathroom design, you might not want it to be the focal point. Take this stunning setup by Sally Birch. Here, the stars of the show are definitely the terrazzo countertop and backsplash, dark red concrete sink, and reeded vanity cabinet. A pair of white orb-shaped sconces sits quietly in the background along with white subway tile. The orange grout is a nice finishing touch.
8. Keep it classy with traditional sconces.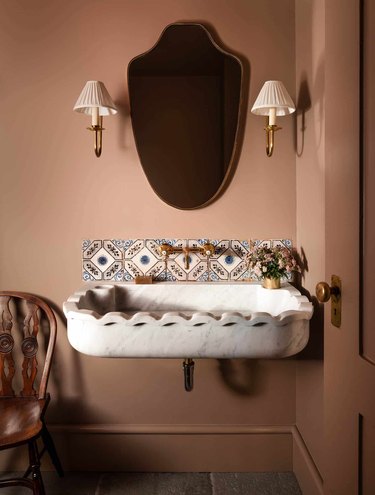 Follow the lead of Heidi Caillier and add a traditional light fixture or two to your bathroom design to give it more of a formal look. In this setup, a pair of single-arm candelabra-style wall sconces (complete with pleated shades) make quite an impression alongside a shield-shaped mirror. The sink carved out of stone and the ceramic tile backsplash offer a European note and provide loads of visual interest, while the dusty rose wall color provides a warm and inviting backdrop.
9. Try an over-the-mirror bath bar.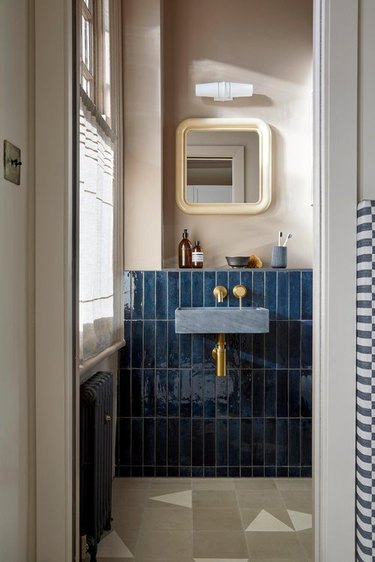 It's important to remember that every space is different, and the bathroom lighting design that works in one might not be the right fit for another. Perhaps you have a low ceiling and can't hang a grand chandelier? Or maybe there isn't enough room for a sconce on either side of your vanity mirror? Not a problem. Opt for a fixture that will work above the mirror instead. The team over at A New Day employed the simple solution in this cozy bath with the help of a minimal all-white fixture sans fussy details.
10. Make a small but stylish statement with a mini pendant.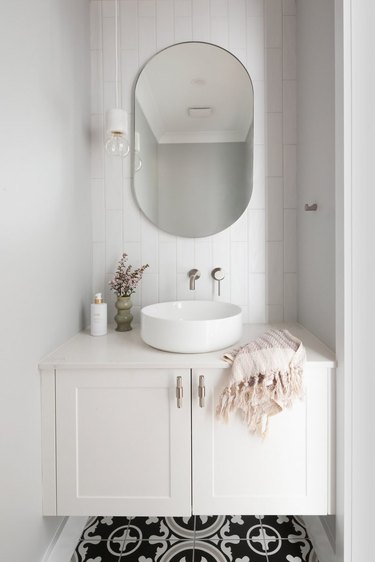 You don't need a large chandelier or a pair of sconces to illuminate your space in style. Consider taking a minimalist approach à la this lavatory by Studio Black Interiors. Not only does one mini pendant light hanging off to the side provide enough illumination to primp in the mirror but the pared-back design, including a single exposed bulb plus a white base and cord, almost blends right into the background of the white bathroom, causing very little visual distraction.
11. Highlight a freestanding bathtub.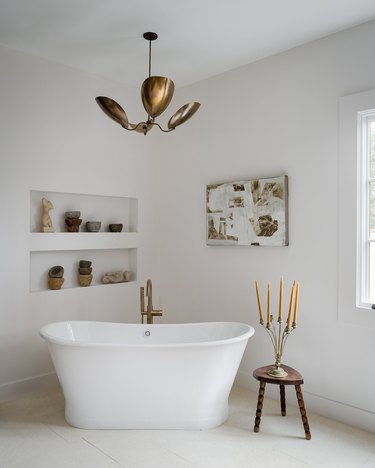 There's nothing more luxurious than soaking in a freestanding tub. Turn the bathroom feature into a bona fide design moment by hanging a sculptural ceiling light above it. Haus Love Interiors did just that in this sanctuary with an aged brass chandelier. Wall art and a pair of niches showcasing collected treasures complete the scene.
12. Match the mirror finish.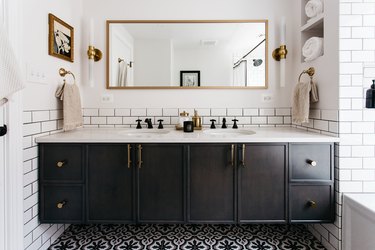 We're all for mixing metal finishes, but if the idea makes you a bit nervous, stick with one throughout. The team over at Lisa & Leroy kept it simple in this bathroom by selecting a pair of tube sconces that would match the framed vanity mirror, towel rings, cabinet hardware, and accessories. The result is a cohesive finish that warms up an otherwise black-and-white scheme.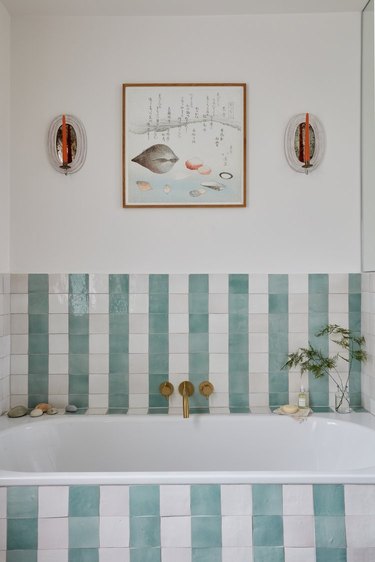 Light fixtures aren't the only way to light a bathroom. Take your tub soaking to the next level with flickering candlelight. Lizzie Green shows us how it's done with a pair of candle sconces flaunting red tapers that call to mind a simpler time.
14. Consider a beaded design.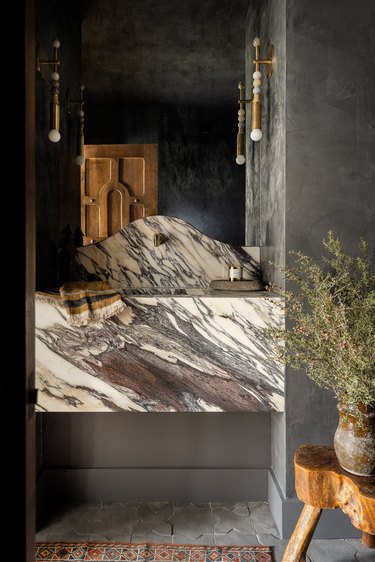 Lighting is often thought of as a room's jewelry — the perfect finishing touch. It would seem that Haus Love Interiors got the memo for this moody charcoal gray bathroom. Here, beaded-style wall sconces dress up the dark walls on either side of the mirror and beautifully highlight the floating marble countertop with an integrated sink and backsplash.
15. Invite art deco flair.
If you're going for a glamorous bathroom design, it doesn't get any better than art deco style. Draw inspiration from the timeless aesthetic and incorporate jewel tones, lustrous finishes, and classic silhouettes. For example, the team over at Jean Stoffer Design transformed this log cabin bath with glossy red wall tile and deco-inspired wall sconces. The white-painted log siding and ceiling balance the moodiness of the ruby-red walls without taking anything away from the dramatic scheme.
16. Infuse old-world appeal.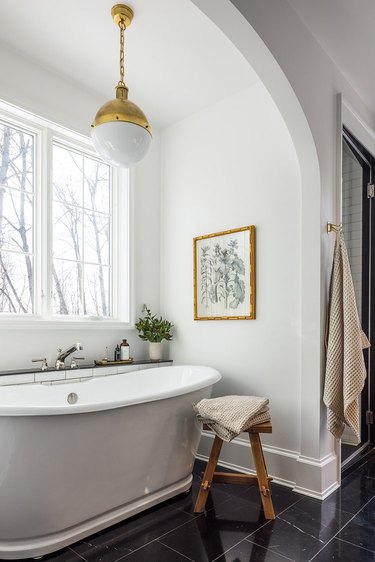 And speaking of drawing inspiration from the past, Jean Stoffer Design turned to an old-world pendant light flaunting an antique brass finish to turn this tub alcove into a dreamy focal point. The cozy nook framed by an archway doesn't require much else in the way of decor to make an impression. A framed piece of art, a dash of greenery, and a wooden stool complete the relaxing scene.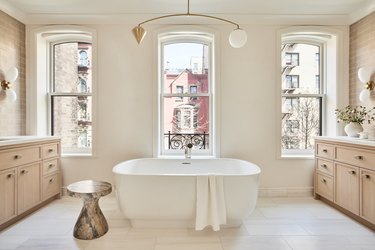 The mobile-style chandelier hanging above the bathtub in this washroom by Chango & Co. is quite the balancing act. With an orb on one end and a pyramid on the other, the sculptural fixture is more than a light fixture; it's a luminous work of art. The wall sconces featured on both sides of the room complement the unique focal point without distracting from it.
18. Save ceiling space with a flush-mount light fixture.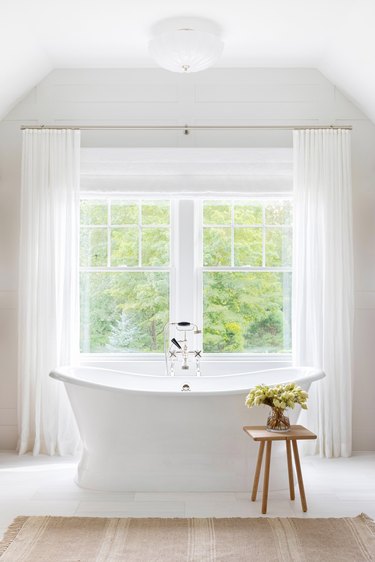 Whether you have to work around a low ceiling or you just don't want to interrupt a picturesque view, a flush mount might be the perfect solution. Chango & Co. kept the focus on the double slipper pedestal tub framed by a large window by installing a minimal ceiling fixture. The white glass shade and base blend in seamlessly with the all-white surroundings.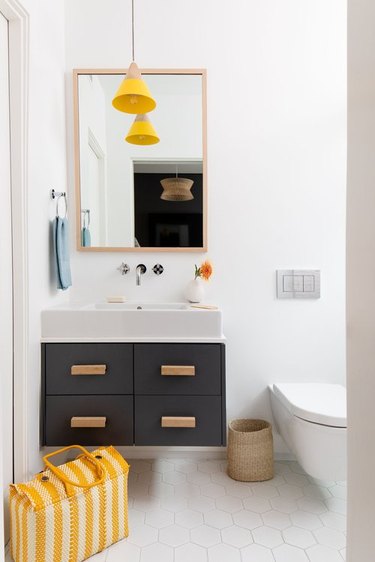 Much like bathrooms, light fixtures come in all shapes, sizes, styles, finishes, materials, and colors, which means there's something for everyone. Want to jazz up a white space? No problem. Take a page out of Raili Clasen's design playbook and hang a colorful pendant light. Here, a bright yellow, cone-shaped lamp manages to interrupt a sea of white finishes while adding a cheerful note that could brighten anyone's day.
20. Showcase Scandi style.
Scandinavian style is as dreamy as it gets. The aesthetic is characterized by clean lines, simple silhouettes, and neutral color palettes, and this bathroom by Avenue Design Studio is a masterful example. From the earthy tone-on-tone color scheme to the curvaceous vanity cabinet and mirror to the matching orb-shaped lighting fixtures on the wall and ceiling, this space is a study in the art of hygge.
21. Try contemporary wall lights.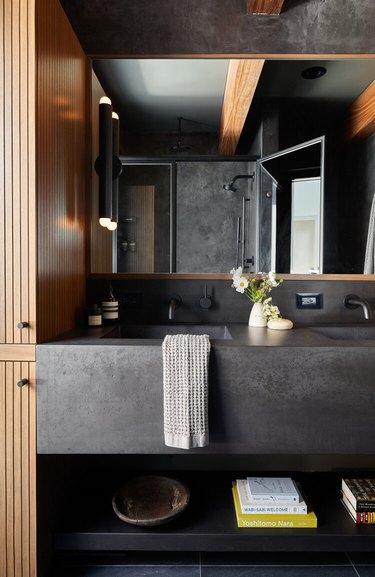 If you favor thoughtful interiors boasting clean lines and a lack of fussy detailing, you might want to consider a contemporary lighting idea for your bathroom. Becky Shea Design did just that in this moody bathroom, opting for black cylindrical wall sconces. The fixture provides dramatic up and down lighting, ensuring that the dark vanity area receives plenty of illumination.
22. Bring in a little whimsy.
Designing a bathroom is serious business, but that doesn't mean you can't have a little fun in the process, as delightfully demonstrated in this quaint setup by Studio Duggan. Here, a whimsical, egg-shaped pendant topped with a green feathery plume competes with a yellow pedestal bathtub for attention. A Roman shade at the window flaunting a playful green pattern helps tie the look together.
23. Incorporate unexpected materials.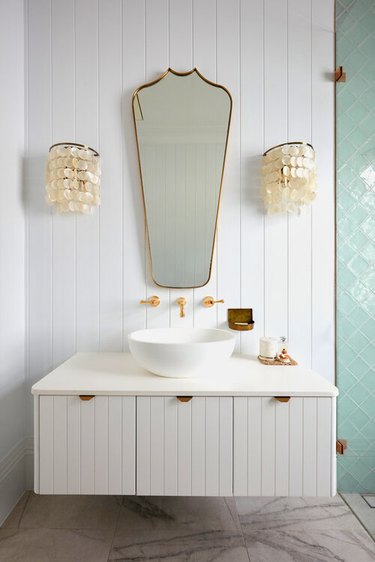 The team over at Three Birds Renovations knows a thing or two about designing peaceful and serene interiors, and this coastal bathroom is no exception. While the light and airy color scheme complete with seafoam green shower tile makes quite an impression, it's the capiz shell wall sconces framing the vanity mirror that really take the cake.