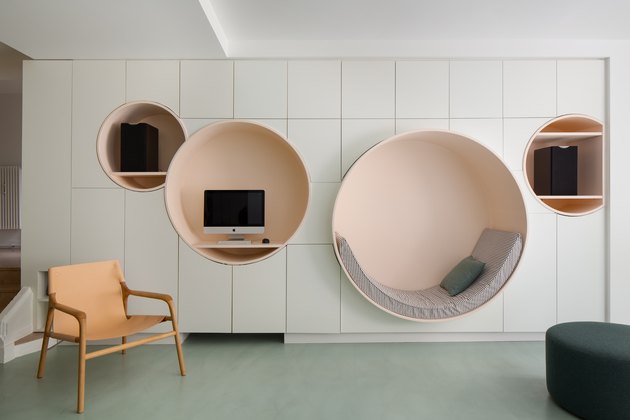 Conventional design wisdom says if you want to brighten up a dark room, you should go with white: white walls, white cabinets, white ceilings. But this apartment in Neuilly-sur-Seine, an area west of Paris, is far from conventional. Rather than go the minimalist route, architects Pierre-Louis Gerlier and Eleonore Satger brought in an array of bright colors to complement the crisp white walls and modern furniture. Cheery yellow cabinets line the kitchen and green, red, and yellow waxed concrete floors keep the vibrant theme going throughout the entire space. "The clients trusted us on the most audacious proposals," says Gerlier. "Color has an important role because it illuminates the apartment, which is very dark because it is located in the basement."
The clients also wanted storage in the living room with space for speakers and an extra desk. Gerlier installed circular niches for the desk and sound system and included a large, round nook, perfect for curling up with a book. The end result is a space that's bright — and anything but boring.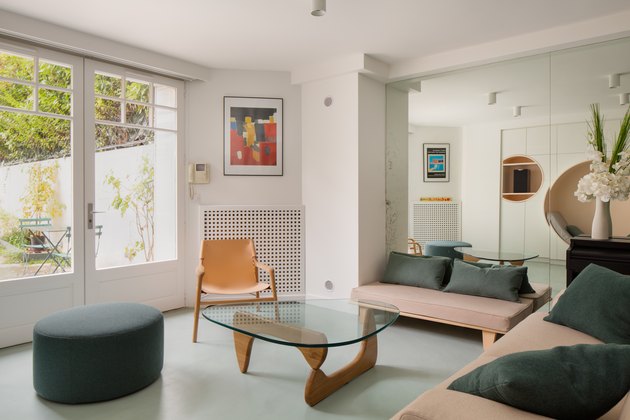 1 of 8
Living Room
Mirrors line a wall in the living room and help reflect light coming in through the French doors. Outside, the former garage ramp was transformed into a garden.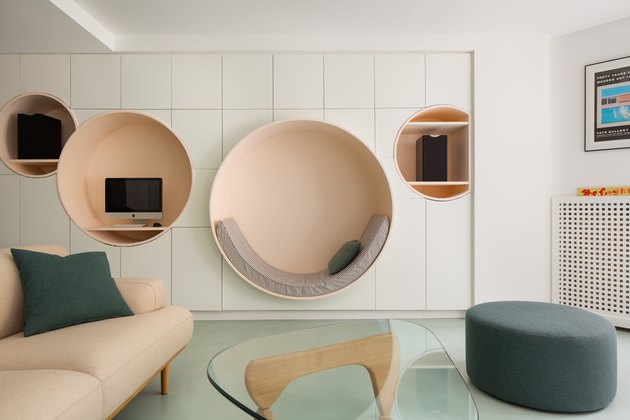 2 of 8
Living Room
Soft pink alcoves break up the wall of enclosed storage in the living room. The circular shape was inspired by the circular skylight in the bedroom.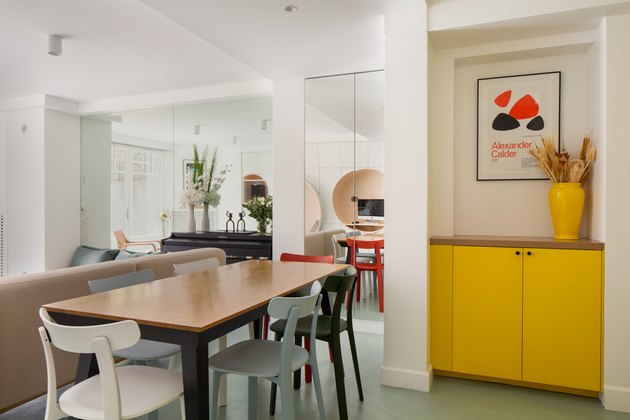 3 of 8
Dining Room
Chairs in a mix of hues surround a slim table in the dining area, which divides the living room and kitchen.
4 of 8
Kitchen
Sunny yellow cabinets turn the otherwise simple kitchen into a bold, happy space. The architects kept the backsplash simple, using glossy square tiles.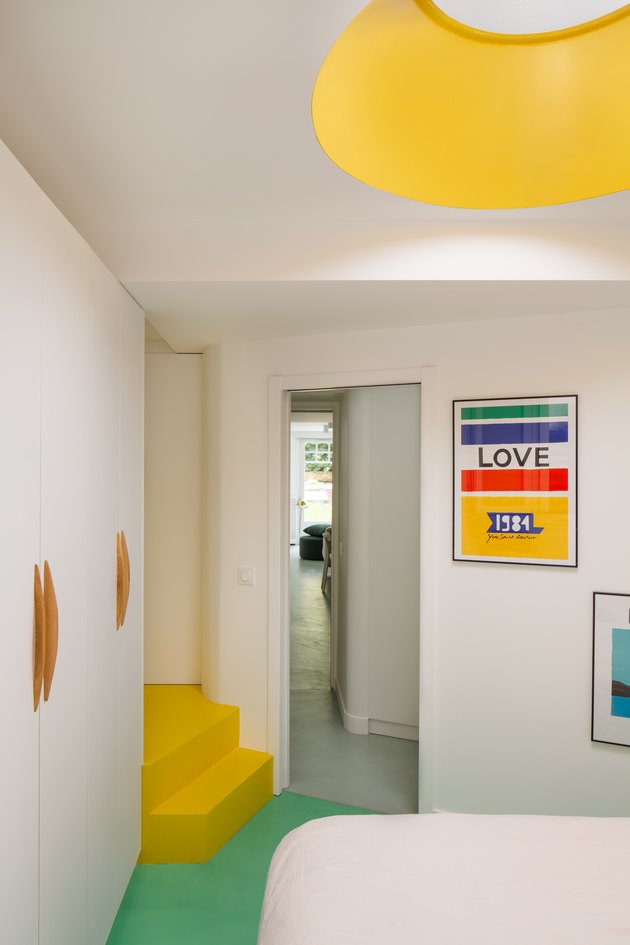 5 of 8
Bedroom
Yellow stairs lead into the master bedroom, where a matching skylight border helps bring in natural light.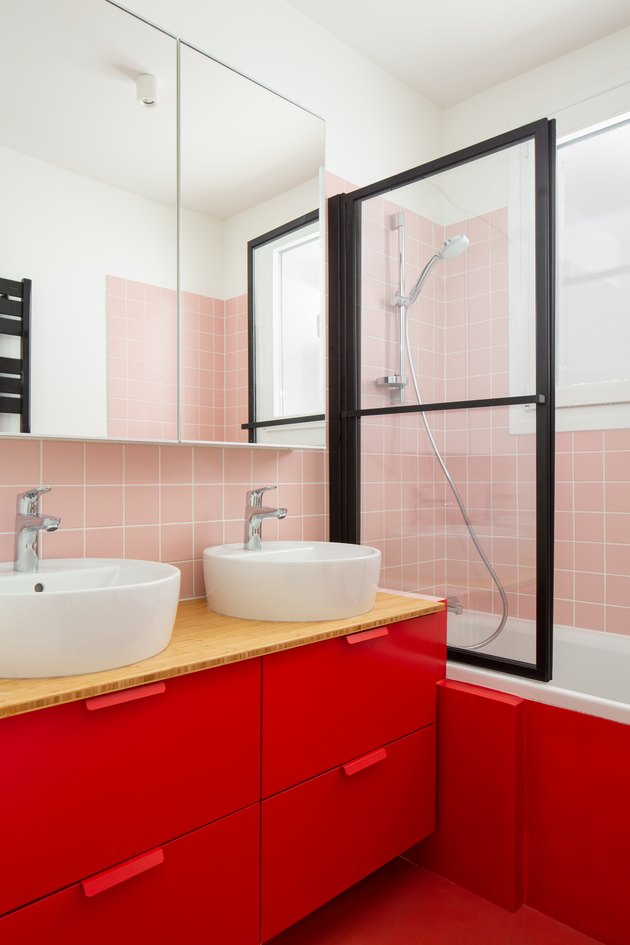 6 of 8
Bathroom
Pink tile softens the feel of a bathroom, which was outfitted with a fiery red vanity, floor, and tub surround.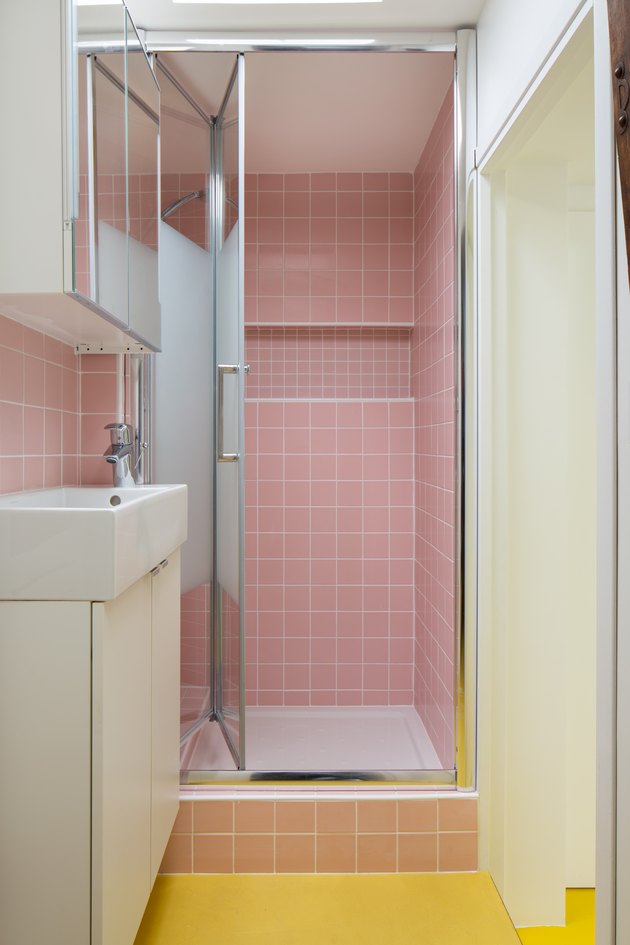 7 of 8
Bathroom
In another bathroom, two sizes of square pink tile are paired with yellow concrete floors.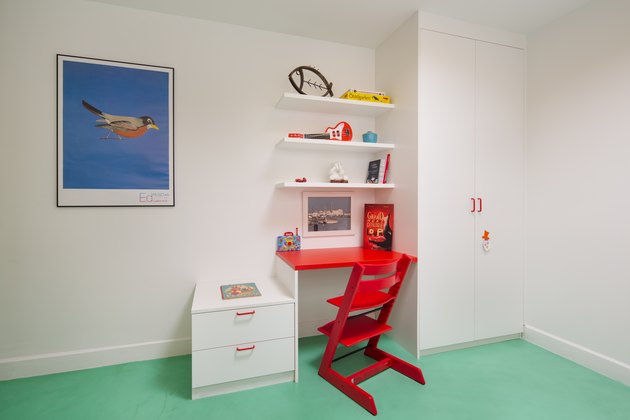 8 of 8
Kid's Room
Green floors perk up a kid's room, where a Stokke chair is pulled up to a built-in desk.
---
Elizabeth Stamp is a freelance writer in Los Angeles. Her work has appeared in Architectural Digest, Elle Decor, and CNN Style.
View Work