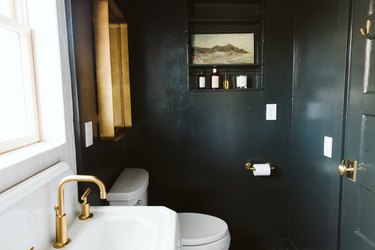 Designing your bathroom is a bit like designing a personal sanctuary. It's often the last place you go before you head to sleep, and the first place you visit upon waking up. Beloved skincare routines, bubble baths, and getting gussied up for date night all happen in this small but mighty space, making it the perfect opportunity for an ultra-cozy and soothing interior design moment. And what better way to do just that than with a black color scheme?
We know what you're thinking: Crazy, right? But we'd argue that a black bathroom design —while it may seem like a bold departure from the more traditional black and white color palette — is actually incredibly classic, not to mention very dramatic. And like the little black dress in your closet or your faithful pair of black skinny jeans (nevermind what Tik Tok says!), a black bathroom has the ability to stand the test of time, all while creating an inviting space where you'll be more than happy to linger. Ahead we're sharing eight bathroom ideas that will have you convinced that "all black everything" applies to more than just your wardrobe.
1. Use a variety of textures and materials.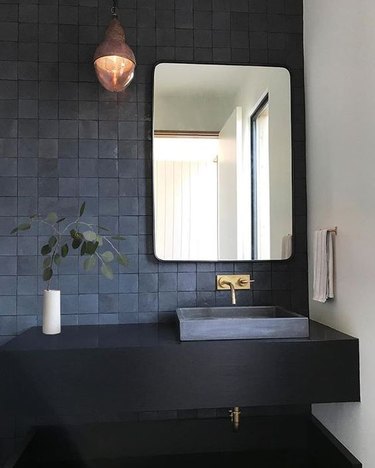 Interior designer Amber Lewis proves that monochromatic is far from boring in this modern bathroom. Square zellige wall tiles offer subtle variation against the jet-black floating countertop and concrete vessel sink, allowing the natural textures and contrasting materials to make an unforgettable statement.
2. Add sconces for cozy ambiance.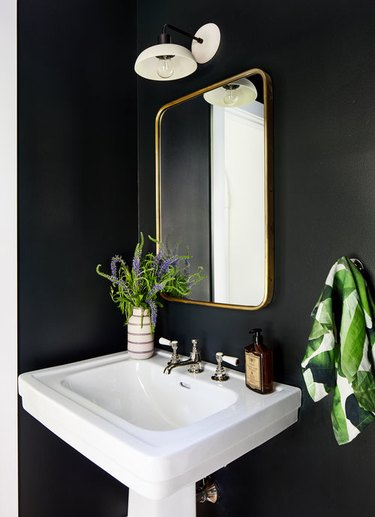 If you were concerned that an all-black bathroom would equate to a cold or stark environment, allow this stunning design by Zoë Feldman to change your mind. The low-level lighting creates a calming ambiance while the white accents and vanity mirror keep the powder room from feeling too dark and heavy.
3. Showcase luxury with black marble.
We love white and gray marble as much as the next person, but we can't help but feel that black marble deserves its day in the sun, too. Case in point? This luxurious contemporary bathroom by Mim Design. This space is proof that the devil is in the details — don't forget to add a verdant plant to the countertop for subtle juxtaposition.
4. Don't forget the ceiling.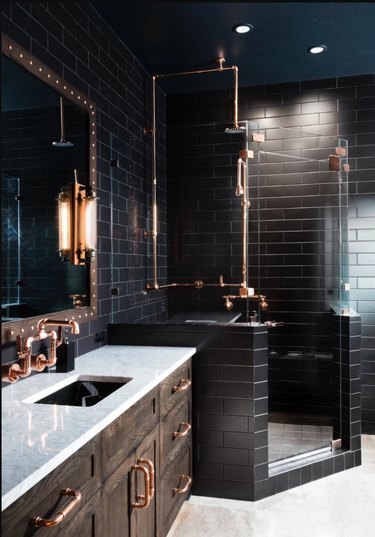 For an ultra-glam yet industrial look, continue the dark hue all the way up and across the ceiling, as seen in this luxe bathroom design idea featured on Dyke & Dean. The added bonus? Maintaining the subway tile across the walls gives the illusion of an oversize walk-in shower. Pair with a rustic vanity cabinet and copper fittings (get a load of that exposed pipe rain showerhead!). We approve.
5. Opt for glossy black paint.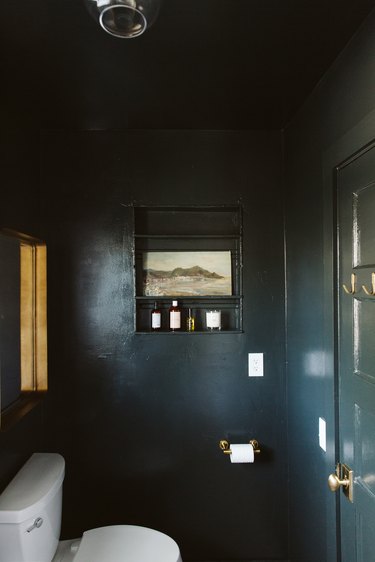 This design proves that an all-black interior works impeccably with a vintage vibe. The glossy paint color gives off a luminous sheen that bounces light around the small bathroom, making it feel roomier than it really is. The brass fixtures and vintage home decor complete the scene.
6. Feature gold hardware.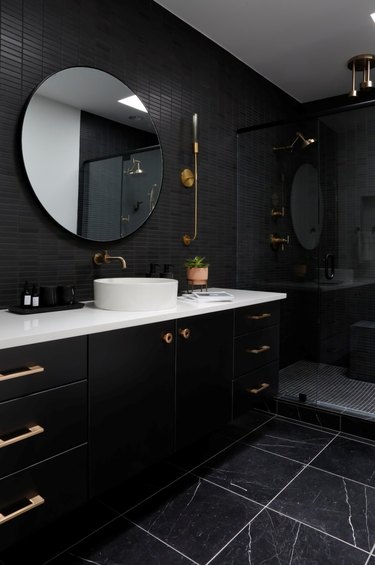 While the black cabinets, wall tile and grout, and marble flooring are all consistent with a classic black hue, the gold hardware in this minimalist design, seen on Hudson Valley Lighting Group, is the feature that truly pulls everything together. It adds just the right amount of brightness and contrast to let the moody bathroom features stand out even more.
7. Add a bathroom mirror (or two) to reflect the light.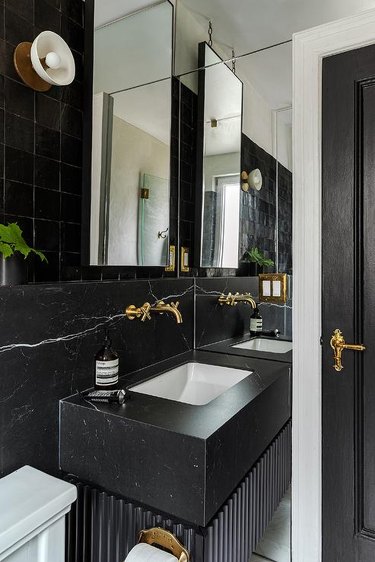 This design by Crystal Sinclair makes good use of the light by adding a bathroom mirror to the side wall of the vanity. The reflection gives the illusion of a larger room, in addition to bouncing natural light around the entire space. We'd consider this solid proof that a black bathroom idea doesn't need to result in a gloomy outcome!
8. Keep the bathroom tile consistent.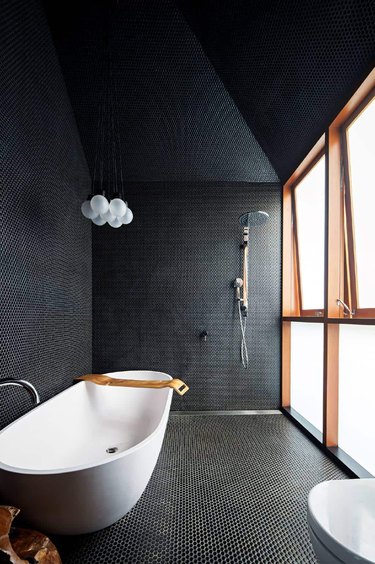 If making dozens of design decisions isn't your jam, then take comfort in this gorgeous bathroom design by Carter Williamson Architects. The sleek space, sans shower door, boasts just one type of penny tile from floor to ceiling, without sacrificing a bit of style or impact. In fact, it's the consistent wave of texture and finish that makes this modern design really stand out from the crowd. The trendy chandelier and large soaking tub don't hurt either.