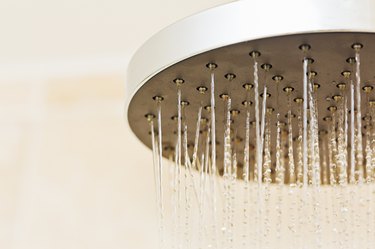 An energy-efficient home upgrade can do more than streamline your space, it can save you loads of money, too. To prove our point, we rounded up some goof-proof home improvement ideas that will instantly lower your utility bills. From low-flow showerheads to smart lighting and beyond, scroll down for eight ways to keep your energy use down this summer.
1. Install a low-flow showerhead.
According to the United States Environmental Protection Agency (EPA), standard showerheads use a whopping 2.5 gallons of water per minute (gpm). No surprise then that the EPA recommends installing a low-flow showerhead — one that uses no more than 2.0 gpm — to conserve water and lower your utility bills.
2. Switch to smart lighting.
Looking for an easy way to cut down energy costs in seconds? Per the U.S. Department of Energy (DOE), energy-efficient light bulbs, such as light-emitting diodes (LEDs), typically use about 25% to 80% less energy than incandescent bulbs, which will reduce both your home's carbon footprint and your electricity bill.
3. Weatherproof your windows.
Did you know that the DOE estimates that heat gained-and-lost through windows constitutes over 25% of your home's heating and cooling energy use? Do your bank account a big favor and weatherproof your windows by hanging blackout curtains and sealing any gaps and cracks with weather stripping tape to cut down on energy costs at home.
4. Use smart power switches.
Searching for a foolproof way to upgrade your old, energy-wasting appliances? Smart power switches, like the Wemo Mini WiFi Smart Plug, convert almost any electronic device — think coffee makers, humidifiers, and ceiling fans — into a smart one, so you can save energy and moolah.
5. Fix your washing machine hose.
A leaky washing machine hose can turn into a costly problem in no time. Save water and money on bills by replacing your washing machine hose at least once every five years or once it starts showing signs of leakage. If your hose is fairly new and you spot a drip, a self-fusing silicone tape, like Rust-Oleum LeakSeal Tape, should do the trick.
6. Install a water filtration system.
If you find yourself splurging on bottled water regularly, consider investing in a water filtration system for your home. According to the FDA, Americans spend about $4 billion each year on bottled water, resulting in millions of pounds of plastic waste. Whether you install a full-blown filtration system or buy a fridge-friendly water filter pitcher, water experts say you'll save hundreds of dollars a year by making the switch.
7. Invest in a smart thermostat.
If you aren't already hip to smart thermostats, then now's the time to smarten up. Not only does a Wi-Fi-enabled thermostat, like the Honeywell Home T5 Smart Thermostat, allow you to program your home's heating and cooling from your smart phone, it will ensure you aren't wasting energy and running up your electric bill when you aren't there.
8.  Start an indoor garden.
A little greenery goes a long way in a home, especially when you're trying to keep energy costs down. According to research from NASA, houseplants naturally release cooling water vapors into the air whenever they (and the weather) gets hot, so placing a few leafy greens throughout your home can help lower the temperature of your home, as well as your electric bill.