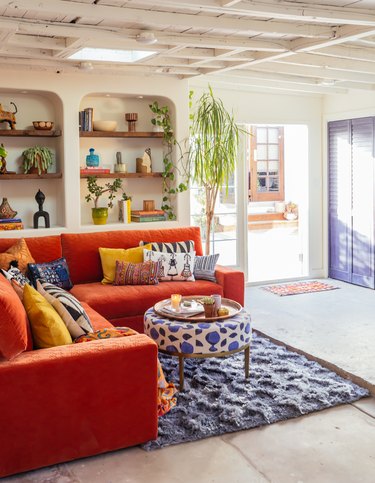 Let's be honest: Those of us fortunate enough to have sheds and covered car shelters rarely use those spaces for their intended purpose. But that's okay. We're all for leaving the vehicles in the driveway and turning your additional square footage into storage. All we recommend, though, is that you check out these garage organization tips and tricks so that your outdoor hub feels like a zen zone and not a spot for clutter.
1. Cut down on unecessary stuff.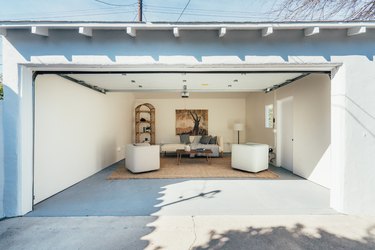 If you're spending a lot more time at home, or you simply want to create a retreat that feels separate from the hustle of your main dwelling, turn your garage into a spot for meditation. This simple, converted space feels minimal and cozy at the same time — thanks to the fresh coat of white paint and earthy decor. Want a space that feels just as relaxing? Resist the urge to turn your garage into a spot for excess clutter. Just cut back. It may seem obvious, but the fewer things you have in general, the less you'll need to organize.
2. Don't be afraid to introduce built-ins.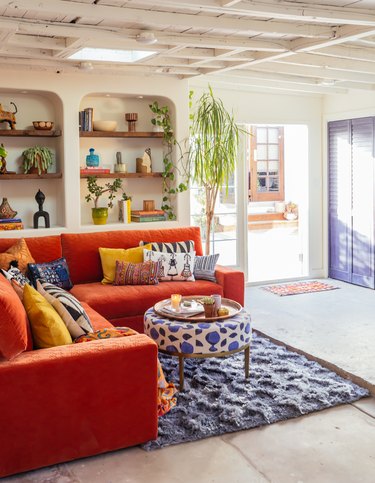 Justina Blakeney's renovated garage, which she affectionately deemed the Casita, is perfection. There's room for lounging, and there's a spot for Blakeney's stunning collection of ceramics and wordly decor. We can thank the built-ins for that extra organizational boost. Don't think this kind of storage is strictly for the house, either. If your carport has sturdy walls, go ahead and build out (with professional help, of course). If you want something a little less permanent, though, you can also attach tall bookcases for a similar effect.
Want an affordable garage organization tip? Simply grab copper pipe, iron floor flanges, and copper elbow fittings from from your local hardware store — then get to work. You can find detailed instructions from Hunker contributor Trisha Sprouse here, and she notes that this organizational DIY can be finished in less than a day. The fun part comes when you get to arrange all of your tools and gadgets on the makeshift wall hook.
4. Take your storage up to the ceiling.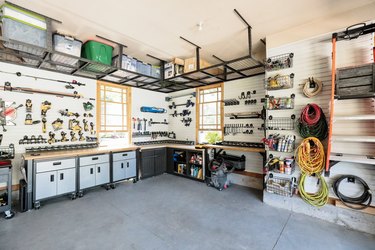 We have Chris Loves Julia to thank for this organized garage inspo. The blogging couple use their carport to hold a massive assortment of tools, garden supplies, and holiday decor. But to truly maximize the space, they used every inch of the walls — from the floor to the ceiling. Follow their lead and mount your plastic storage bins up high. Then install pegboard to corral smaller hand tools, ropes, and miscellaneous bits.
5. Display the pretty things; hide everything else.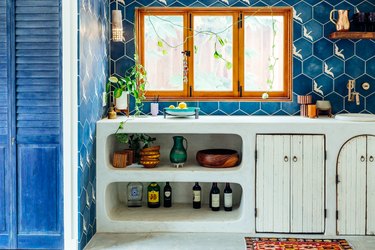 Yes, this is another shot from Justina Blakeney's Casita. No, we're not sorry. This petite bar setup is on the other side of her garage, and it has great organizational tricks as well. Namely, there are doors (right next to another mini set of built-ins) that conceal even more storage. This approach makes it easy to hide the less-than-aesthetic items and show off the pretty things you love.
6. Stick to a color scheme.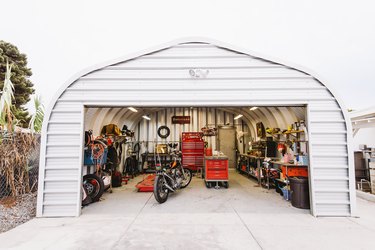 For smaller garages that store all sorts of things (from motorcycles to spare tires), try sticking to a cohesive color scheme. This space has a healthy dose of red, but you could also choose yellow, blue, or even black as your primary hue. Grab storage chests and work tables in the same shade, too.