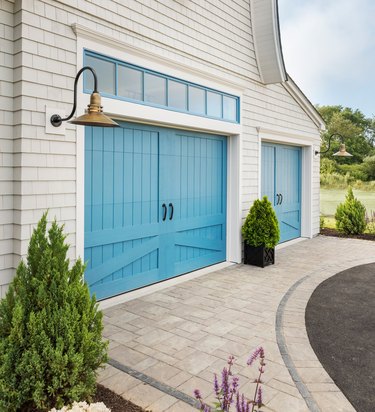 Garage lighting is often an afterthought when it comes to designing the exterior of your home. And we get it. You want your interior fixtures to be perfect. However, we bet that you give your own house a good once over every time you see it, and actually, quality outdoor lighting can improve safety and enhance how your abode looks to others. So here are eight exterior garage lighting ideas to help make your carport glow.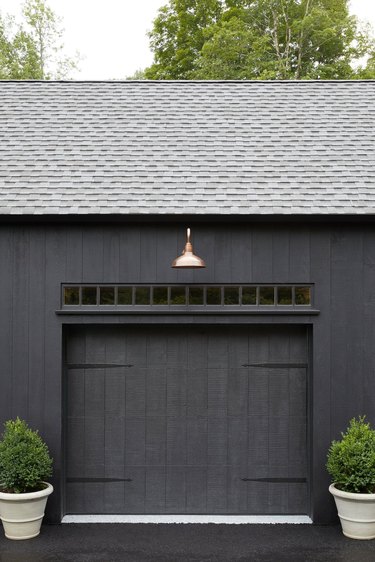 Just because these lights aren't inside, doesn't mean that you get to skimp on the aesthetic. In fact, a statement fixture outside your garage will up your home's curb appeal. Just check out this structure by JAM Architecture. The small brass wall sconce is mounted above the sleek barnhouse door and adds an interesting design detail to the black facade.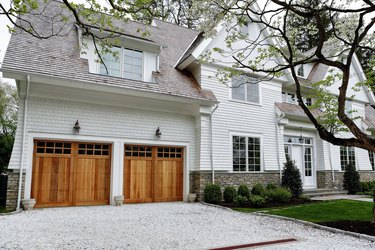 What's better than one? Two of course! A double garage deserves a double whammy on the lighting front, just like this traditional home from De Rosa Builders. The traditional sconces hang directly above each wood door to create a feeling of symmetry and offer a functional exterior accent.
3. Work out your fixture placement.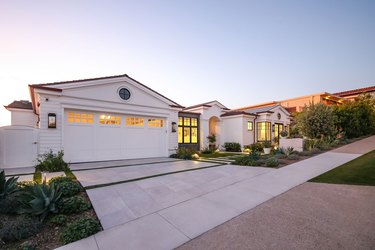 As much as we love the pretty things, your exterior garage lighting has a specific job to do. To ensure an even distribution of light, install fixtures on each side of your doors so you're able to see the surrounding elements. This home, designed by Brandon Architects, combines both style and function with electric lanterns that illuminate a wide expanse of space.
4. Try simple downlights.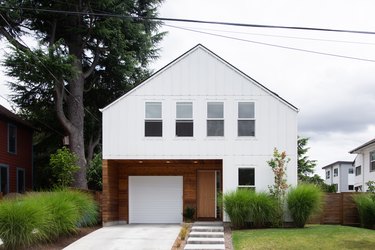 If you're looking for discreet illumination that does its job but doesn't detract from your modern exterior, spotlights are the simple fixtures you want. This brick home with white siding features a mini porch and garage combo with three spotlights that are ideal for bringing a little glow to both the carport and the front door as soon as darkness falls.
5. Add to your exterior style.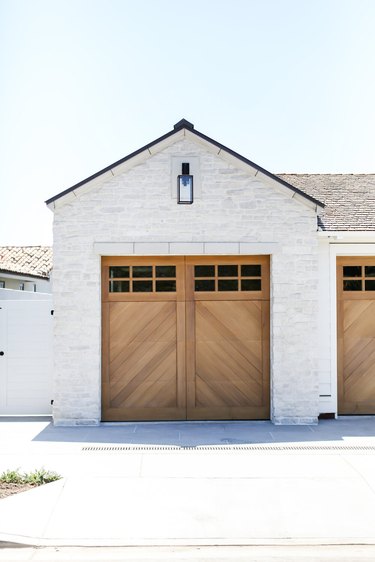 Whether you set out to create a farmhouse facade, a midcentury modern marvel, or a minimal exterior, your exterior garage light selection can help cement the decor style you're going for. Choose a fixture that fits the chosen theme and brings out the best of your architecture.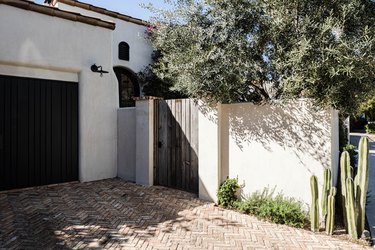 Your exterior lighting needn't take over the front of your home, even when there's no room for downlights. If your garage and front door are adjacent, position the fixtures between the two entrances. The simple and modern sconce on this Meditteranean stucco exterior is just right.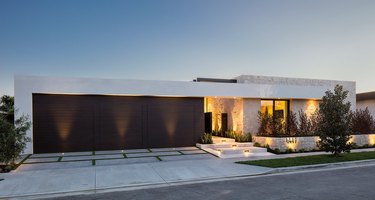 If you already spent a ton on interesting architecture, it's truly important that you show it off. Uplights or accent lights will help reflect the defining features of your exterior. Plus, many of these fixtures can be integrated with wireless control systems that will allow you to manage the glow from inside or afar. You might even be able to incorporate some fancy colors.
8. Nab something vintage.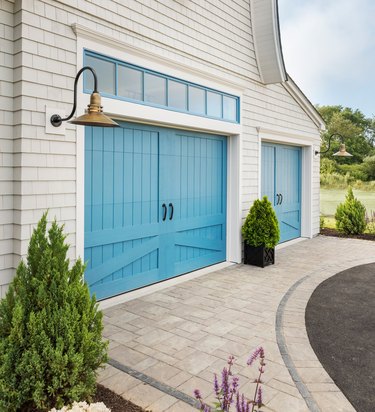 Want to achieve your exterior garage lighting goals on a budget? Or perhaps you just want something completely unique? Take our advice and go vintage (just have a professional help with lighting). There are plenty of industrial and antique styles at flea markets, and you might just find yourself a rustic treat like as this gooseneck brass number. If antique isn't an option, look for something vintage-inspired.