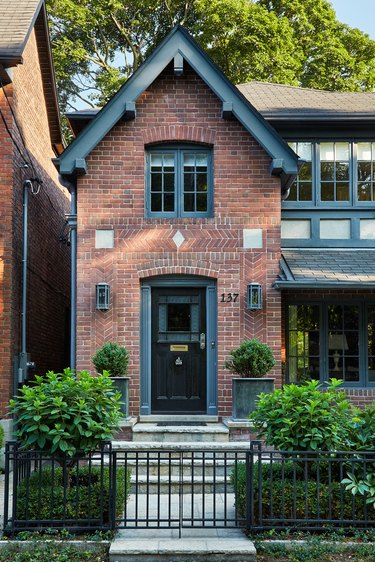 Whether you already live in a brick home or dream of dwelling in one someday, one thing is clear: brick homes are the epitome of traditional style. The rust-colored building material has pretty much been around forever, and for good reason. It's sturdy, eco-friendly, withstands fire reasonably well, and softens outdoor noise.
Traditional architecture is tried-and-true, rarely taking on the look of a sleek and streamlined modern home. It emulates historical aesthetics, relies upon standard, unfussy materials, and will last for years to come due to its durability and classic looks — and brick certainly fits the bill. However, there are some cons to keep in mind if you're gravitating toward traditional brick homes.
Even though it's hard-wearing, brick does need to be repaired from time to time, and that can get expensive in a hurry. If you're going with the standard variety, you'll be fairly limited when it comes to color choices. And it can be prone to mold and moisture damage. Despite the cons, we still love the industrial material and believe that it's an excellent choice for a home's exterior.
To prove our point, here are eight traditional brick homes that we dare you not to fall in love with.
1. Include tiny modern details.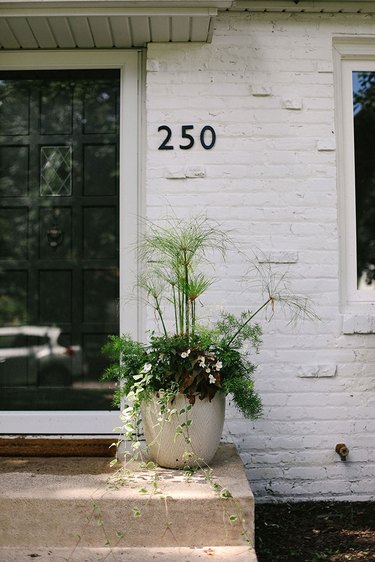 2. Choose a pretty hue for your door.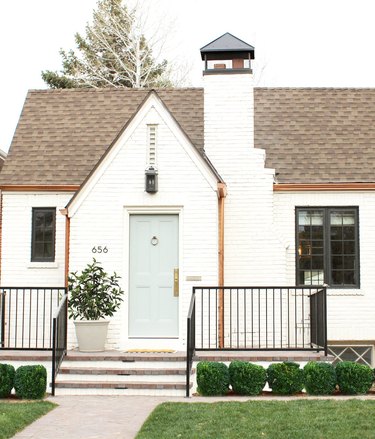 An attention-grabbing front door color really stands out with brick as a backdrop. If you're trying to keep the look timeless, we recommend staying away from bold colors. Instead, opt for greens, grays, or light blues, which is what Shea of Studio McGee chose for this traditional brick home.
3. Use patterns to create visual interest.
Chevron and herringbone patterns are a common, but delightful, occurrence when it comes traditional brick homes. They create ​just enough​ visual appeal without looking too modern and they help to break up the monotony of the standard running bond pattern. The team at Croma Design went with a chevron pattern to frame the front door, and we wholeheartedly approve.
Painting an old brick home white is all the rage nowadays. It's a little bit of a process, evidenced by the steps John and Sherry of Young House Love took to paint this home, but it's a way to make traditional brick homes look fresh and airy in no time.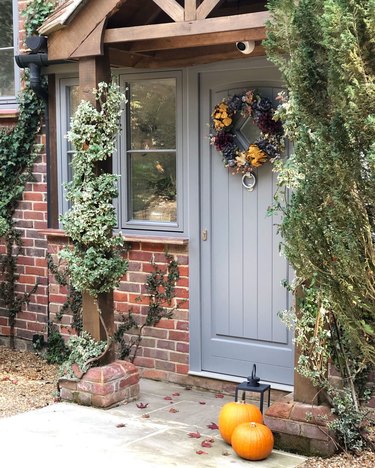 Don't you love those historic brick buildings covered in ivy? You can emulate that same look for your traditional brick home by planting the verdant foliage yourself. SJ's home of Just a Little Build is brimming with ivy and seasonal botanicals, and we can't get enough of the charming red and green combo.
6. Complement the exterior with stained glass windows.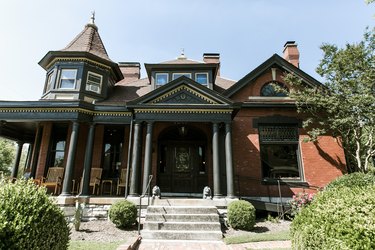 If you're lucky, your home might already have a few stained glass windows (like this Queen Anne Victorian mansion), but if not you can still get the look. Many flea markets and architectural salvage yards sell vintage options, or you can always have something custom-made. Either way, the colorful accent will add a little something special to the front of your house — talk about curb appeal!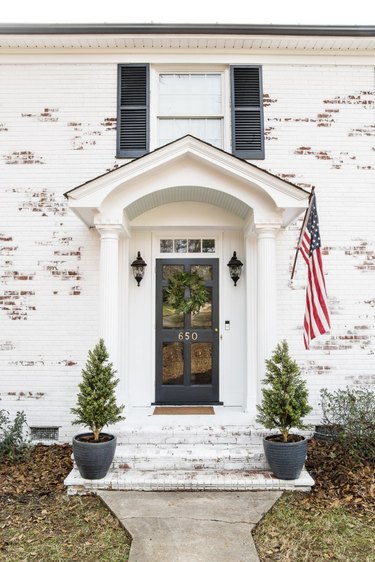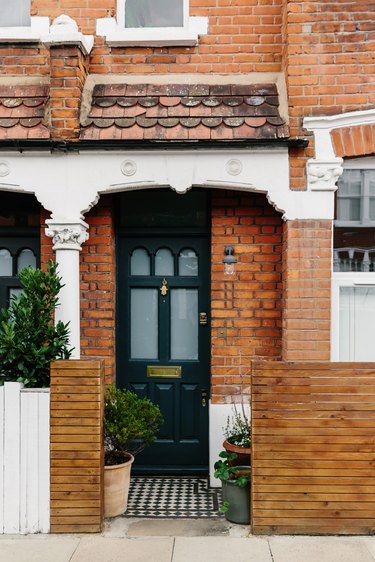 If you're lucky enough to score a traditional brick home, we say embrace all of its original details while incorporating touches that feel like you. Keep in mind that a little goes a long way, as proven by the owners of this London home. With a few potted plants, a little paint, and a wooden fence, they managed to inject unique flair into the facade of their three-story Edwardian home without taking away from the classic architecture.