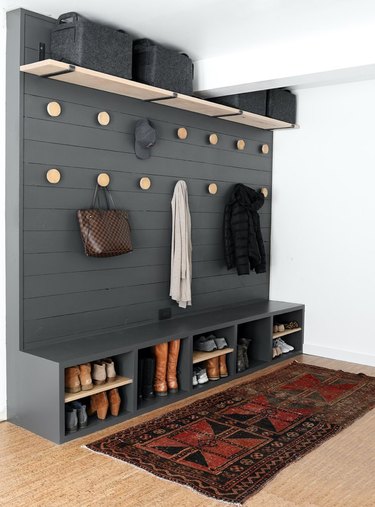 Raise your hand if you're lucky enough to own a garage. Now keep your hand raised if you actually use your garage for its intended purpose: car storage. Yeah, that's what we thought, but it's totally OK. In fact, a little organization is all you need to clear the clutter and get your vehicle back in the carport. With these garage wall shelving ideas, you'll be on your way to a cleaner space before you know it. And your car will thank you.
1. Turn your garage into an organized catchall.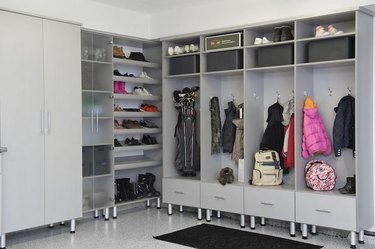 There's no need for a mudroom when you outfit your garage with ample storage. For optimal organization, assign each member of your family a cubby. That way they can store coats, shoes, and backpacks in the garage instead of strewn on the floor throughout the house. Surround the perimeter of your garage with shelves, lockers, and cubbies for the ultimate effect.
2. Implement a quick DIY.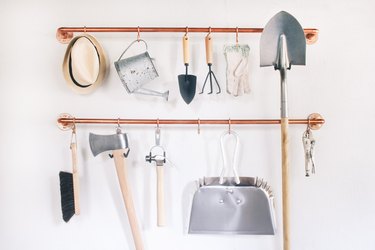 Copper pipe + iron floor flanges + elbow fittings = an affordable, easy garage tool organizer. And according to Hunker contributor Trisha Sprouse, who detailed the step-by-step process here, this garage organizational system can be completed in less than a day. Your garden tools will look spectacular.
3. For more storage space, look up.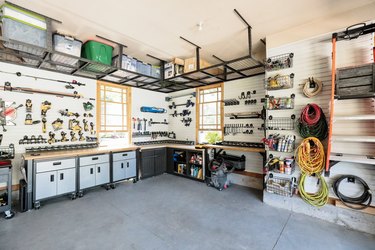 And the award for the most organized garage goes to ... the blogging duo behind Chris Loves Julia! They took advantage of vertical space by mounting shelves up high to store bins of rarely-used items and holiday decor. Then, with the help of a pegboard, every inch of wall space is used to organize hand tools, ladders, and ropes.
4. Display your gardening tools with open shelving.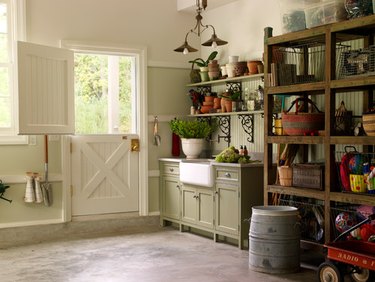 This garage is perhaps too beautiful to park in. What's the best part, though? The salvaged wood bookcase that beautifully displays wire baskets? The beadboard Dutch door? Or the moss green cabinetry, farmhouse sink, and open shelving, which houses gardening tools? Don't make us decide — we love it all.
5. Don't sacrifice style for storage.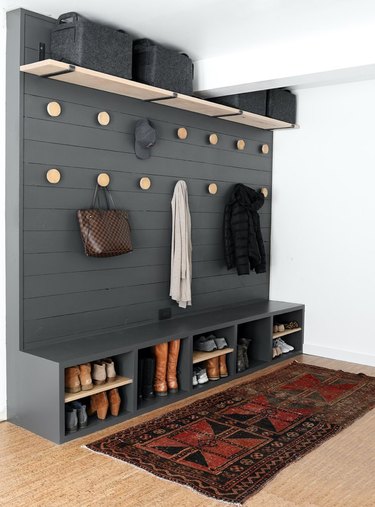 Stylish garage storage? Oh yes, it can be done. If your carport doubles as a mudroom, there's no need to choose form over function. You can have both; just look at these stylish built-ins with high shelves, round hooks, and plenty of shoe storage.
6. Keep your everyday items handy.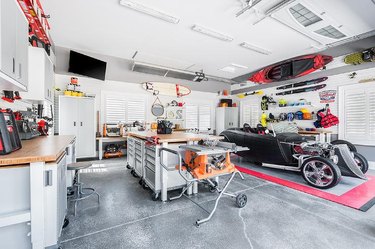 This garage-turned-workspace looks like the coolest hangout zone. While cabinets conceal the less aesthetic tools, the everyday items — balls, helmets, life jackets — are within reach on hooks and open shelves. Pegs anchored near the ceiling house kayaks, surfboards, and other bulky items.
7. Let floating cabinets be your friend.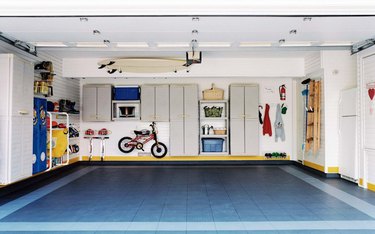 Hello, organization goals! We're zen'd out just looking at this impeccably clean garage. Use a medley of cabinets, hooks, and shelves to ensure every item has a home while making the most of each square foot.
8. Get everything off the floor.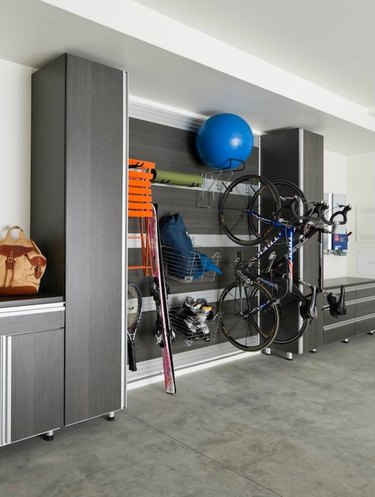 There's a special spot for the yoga mat, stability ball, and rollerblades here. This wall-mounted organizational system in this garage keeps everything off the floor, which is a must when you want to spare your items from oil drips and puddles of melted snow. Consider customizing a cabinet to fit all your stuff just so.