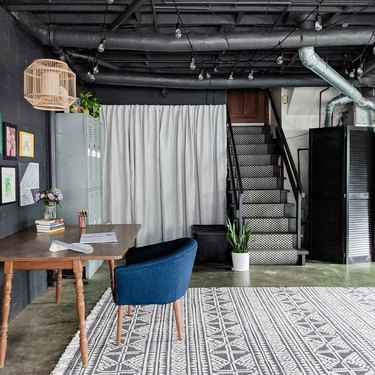 Nowadays people are working from home more often than not. So it's no surprise that permanent home office situations — ones that don't involve TV trays barely big enough for our laptops — are in high demand. Or, perhaps you've always dreamed of creating an office-meets-studio where you can tackle creative projects. Instead of scrambling to create a makeshift workstation in the living room or the bedroom, consider outfitting your garage.
Even if your home is on the small side, a garage office just might be the solution you've been searching for. If you're content to park in your driveway or on the street, and all the garage ideas you've been drooling over are less about power tools and more about usable living space, we highly recommend that you read on.
1. Keep the concrete floor.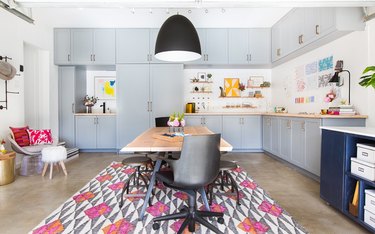 Since concrete floors are in right now, why not keep the look for your garage office? You could seal the floor to add some polish, and then put down a colorful area rug to add warmth, which is what Sabrina Soto did in this reimagined space.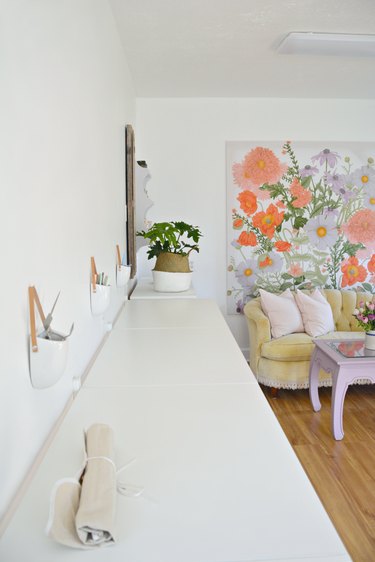 As a standard, garages are — well — gray. Flat. Entirely functional. So, as you gather ideas for your new garage office, and look for ways to bring in some personality, consider adding color, and lots of it. Here, Jessica of Petal + Ply incorporated a vibrant DIY mural (made from a shower curtain!) and cheerful furniture resulting in a bright and vibrant workspace.
3. Make it feel like home.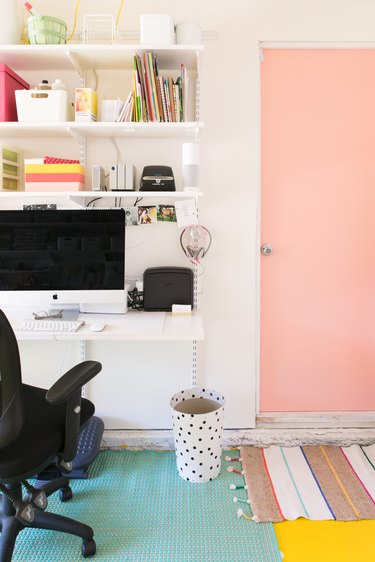 Just because it's a garage doesn't mean it can't feel like an extension of the rest of your home. As you create your office setup, weave in patterns, favorite colors, and shelving that echo the decor inside your house, something that Sarah of Sarah Hearts mastered in this space.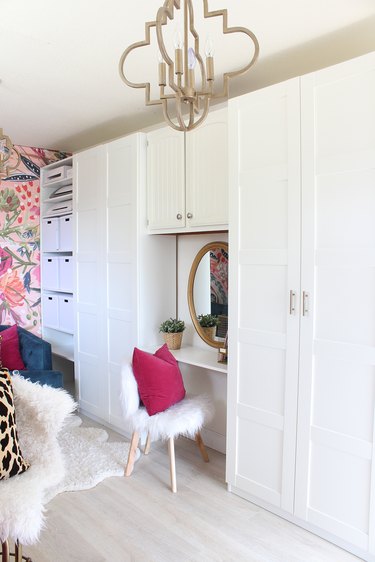 When you think of the garage, your mind likely doesn't go straight to "glamour." But if you're creating an office, the sky's the limit, which means this once dim and dusty space can come alive with glam touches. Savannah of Classy Clutter went the sophisticated route when she styled this workspace, complete with chic white cabinets, a gilded mirror, and faux fur everything.
5. Don't forget organizational systems.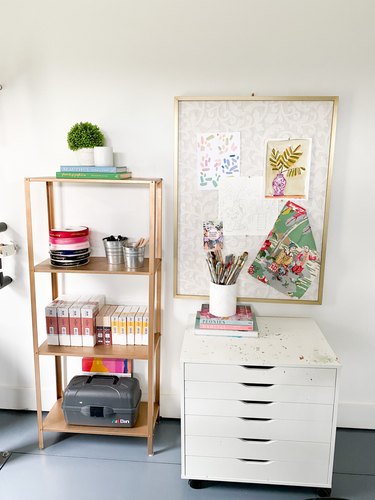 Even though it's a garage office, we'll point out the obvious and say that it's important to still treat the space like a traditional workstation. For instance, you'll need those organizational systems in place that you've come to rely on. Here, Brooke of Life Is Art displays a stylish filing cabinet and bookcase that look right at home and oh-so-profesh even though they're in the garage.
6. Get creative with your desk.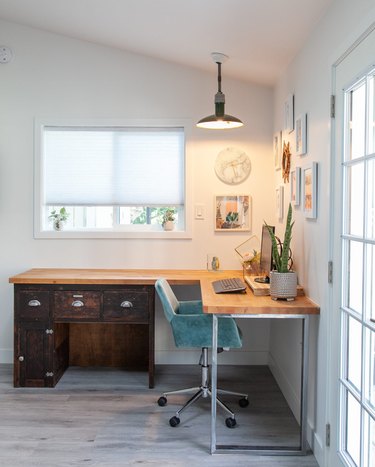 7. Paint the walls and ceiling the same color.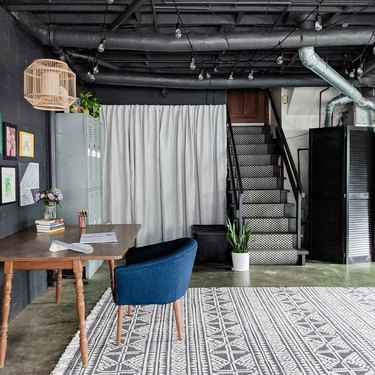 So, we can all agree that a garage ceiling isn't the most attractive thing in the world. Between exposed pipes and unfinished visuals, you may want to add the ceiling to your list of office makeover priorities. For example, Rebekah of Simply Ordered Life chose to paint the walls and ceiling black, creating a streamlined, monochromatic look. Complement by hanging string lights for added ambiance.