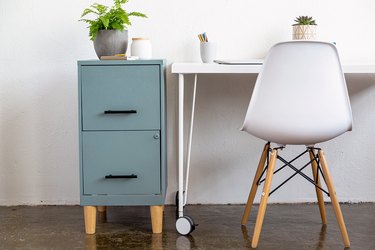 Looking for a way to spruce up an old filing cabinet? For this DIY, all you need is some on-trend colored spray paint, wood peg table legs, and modern black drawer handles. This cabinet will look perfect in any office or home workspace. (Or, you might just want to use it as an end table in your living room!)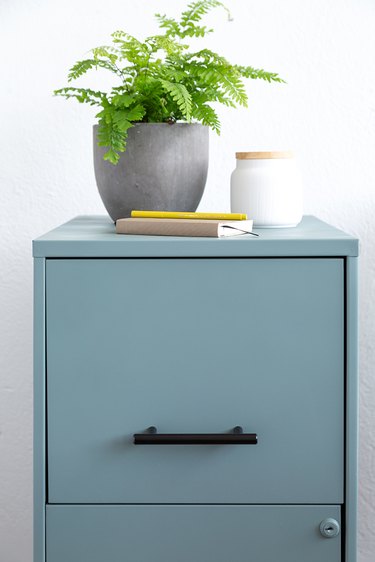 Things You'll Need
Filing cabinet

Spray paint (For this DIY, we used two cans of Krylon Matte Pale Sage)

Cloth

Cardboard/drop cloth

Power drill

Drill bit for drilling metal (5/16)
Step 1
You'll first need to prepare the filing cabinet for painting. Use 220 grit sandpaper to remove any residue from previous paint. Gently sand the entire cabinet.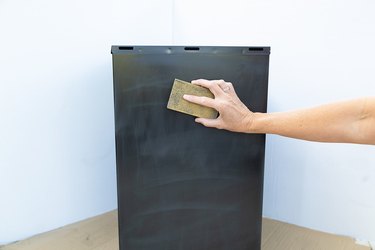 Step 2
Wipe off reside from sanding, and remove handles or knobs.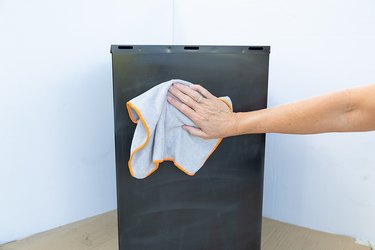 Step 3
Make sure and spray paint in a well ventilated area. Make sure your spray paint is formulated for metal. The first coat, a tack coat, can be thin; you are setting up the metal to take the paint. Allow the first coat to dry per directions on the spray can. Make sure you paint in light, even coats. You will need at least three coats.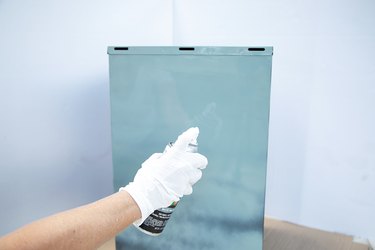 Tip
To spray paint, use a left to right horizontal method. Spray one swipe, then lift your finger from the spray paint can trigger. Then move your hand back to the side you started from and paint in a repeated pattern.
Step 4
Attach the hardware. For a more contemporary look, we suggesting adding modern-style hardware to the filing cabinet. Make sure to use the same dimensions to match your filing cabinet.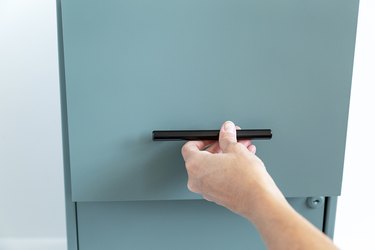 Step 5
Next, add the wood legs. First use a drill bit to match the size of the screw on the table legs (we used a 5/16 drill bit). Drill a hole into the bottom corners of the filing cabinet.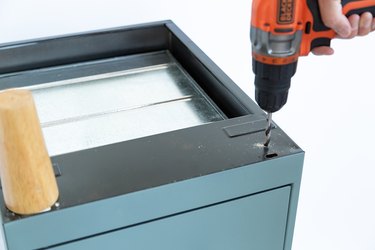 Step 6
Screw in the legs on each bottom corner. Secure with a bolt from the inside.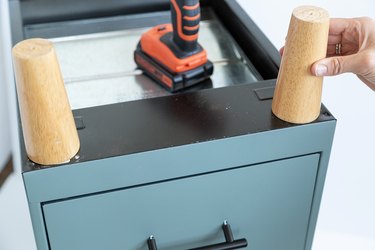 Your cabinet is ready to go on display!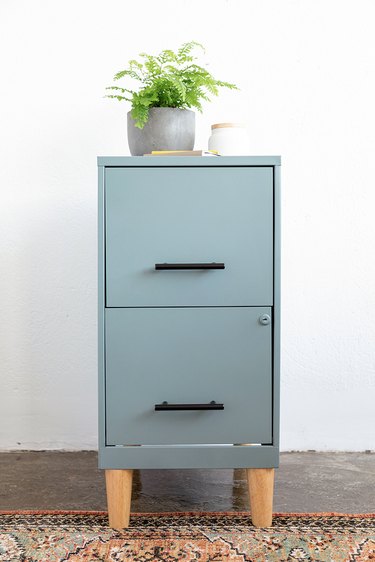 ---
Alice & Lois is a DIY and lifestyle blog where twin sisters Sara and Melissa share their inspiration, projects, connection and celebrate the good in life. They create inspiring posts centered around home, family, style and creativity, specializing in simple, yet sophisticated DIY projects. Sara and Melissa live in two very different places – Sara is in the heart of the midwest, Indianapolis and Melissa in the majestic ski town of Crested Butte, Colorado. Alice & Lois was named one of the Top 10 DIY and Decorating Blogs by the editors of Better Homes and Gardens in 2015 and 2016 and recently named one of the Top 30 DIY Blogs to Follow by Domino.