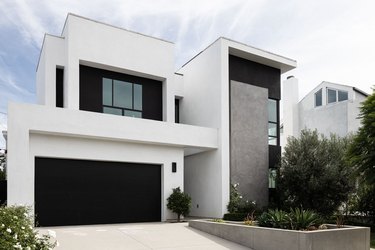 When it comes to home exterior design moments, a garage door is just as important as any other. So it goes without saying that it deserves just as much thought as, say, the front door. Making the underrated fixture pop is the goal here and what better way to command attention than with a striking shade of black paint? Bold, modern, and full of depth, the versatile hue varies in tone and intensity, making it a natural addition to a diverse range of home styles. If you're ready to see how it plays out IRL, scroll on for eight black garage doors serving up major inspiration.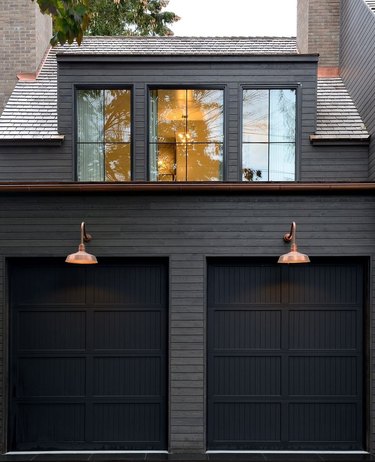 We'll take your standard raised panel door and raise you with this updated version from Muskoka Living that's equal parts modern and rustic. The painted black garage doors with their sleek inlays complement the siding, transforming the monochrome exterior with an added dose of interest to boot.
If you're going for a contemporary look, window paneling is the way to do it. The opaque glass garage door of this midcentury modern home featured on Scout & Nimble may come with just a sliver of black, via the framing, but its impact definitely goes the distance.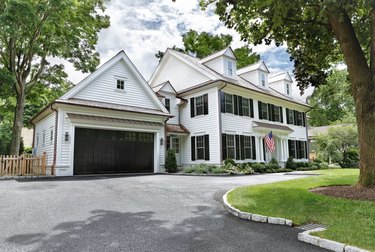 Carriage house or barn-style garage doors are an ideal pairing for traditional or craftsman homes. They typically feature narrow windows at the top and they're either true swing doors or designed to look the part. When set in a dark, matte black, much like the black garage door spotted here by DeRosa Builders, the style will instantly feel modern.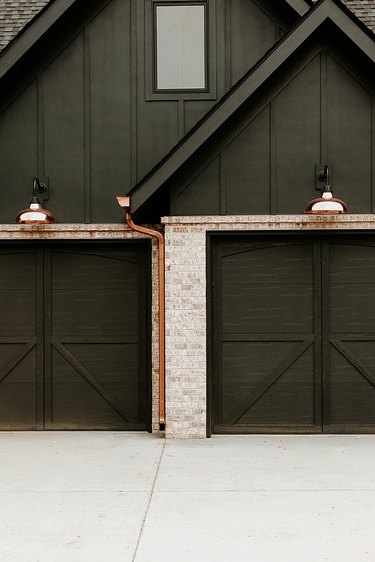 A simple way to further accentuate the depth of black garage doors is to pair them with vibrant light fixtures, made of copper or brass — cue this scene from Mike Stevens Homes spotlighted on Home Bunch. While the doors are on-theme with the board and batten siding, the copper wall sconces play to the warmer brick with a high-contrast note.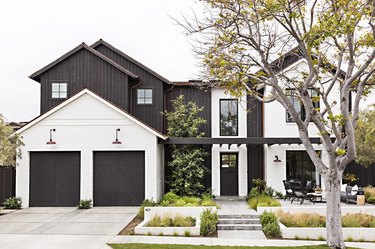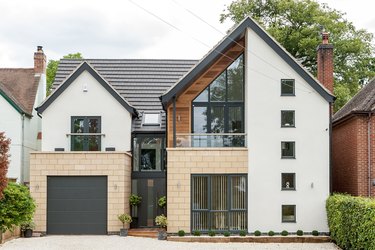 For garage door ideas that fall on the modern or contemporary spectrum, a flush panel option will result in a streamlined look. Take for example this modern dwelling by PD Architecture: The sleek, black door design fits right in with the gable roof and eclectic slew of siding options.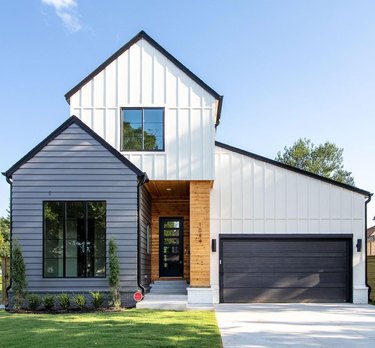 The board and batten exterior of this contemporary abode from Leven Homes is all about sleek and contoured lines. Naturally, the black garage door follows suit. Void of intricacies, save for the horizontal paneling, it feels like an organic extension of the home yet still manages to pack a punch.
8. Look to your surroundings.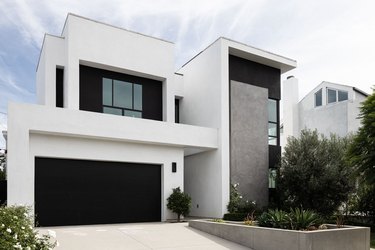 When coming up with garage door ideas, allow your home's exterior to inform the style direction. If you're working with a modern facade, go for a clean-cut option. Here, a depth-defining shade of black channels the similarly toned accent walls, which gives the minimalist pad a multi-dimensional, high-contrast appearance.