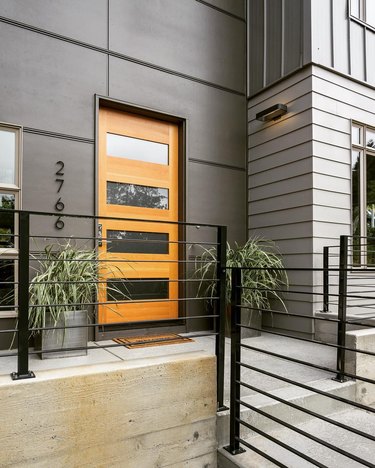 There are so many home exterior ideas out there. A new deck here, a new patio there. Fresh landscaping. A fun exterior paint color. The options are pretty much limitless when it comes to updating the outside of your home, which can seem overwhelming. However, it might help to zero in on a few ideas that perhaps you haven't considered: specifically, exterior paneling. You may have been so fixated on paint colors and siding that it didn't even cross your mind.
Exterior paneling is actually a great way to modernize your home in a flash — instead of single pieces of siding, paneling comes in, you guessed it, large panels that clad the outer walls of your home. And luckily, they are available in nearly every color you can imagine, along with distinctive details. Intrigued? Here are eight striking exterior paneling ideas worth considering for your home.
1. Go for a modern farmhouse look.
With some board and batten exterior paneling (it's the same concept as board and batten paneling indoors), your home could look farmhouse fresh in no time. Nicki of Cottonwood & Co. chose bright white for her home, which looks absolutely flawless in this airy outdoor sanctuary.
2. Wood and black are fab together.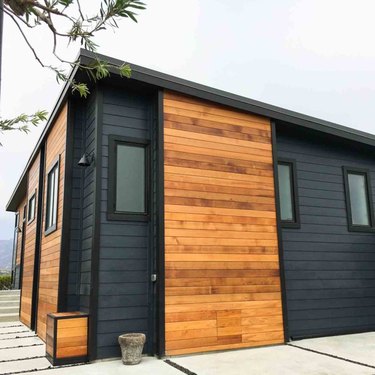 To punch up the aesthetics of a black exterior, look no further than exterior paneling flaunting a warm wood finish. It looks especially cool as it punctuates the outer walls of this modular home designed by NewWest Modular.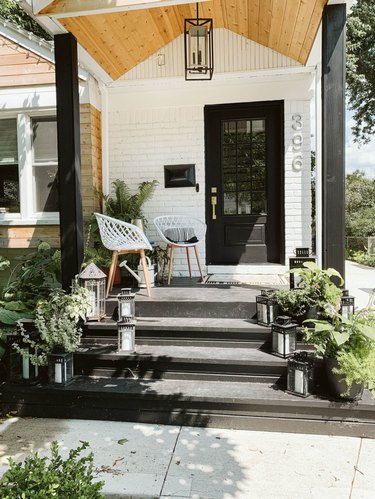 Let's say you're not ready to go all out with exterior paneling. In this case, we'll suggest using a small amount to bring just enough visual interest to your home's exterior. Here, Danielle and Michael of Clark + Aldine added a bit of paneling above their front door, and the finished result is perfect.
4. Stick to your palette.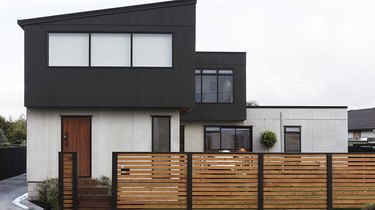 Exterior paneling doesn't mean that you can't stick to your dream palette. As mentioned before, it's available in a wide variety of colors so you can skip painting your entire house and still get the look you desire. For example, this black-and-white home clad in James Hardie panels is modern perfection.
5. Use it on an outdoor fireplace, too.
Even an outdoor fireplace looks a lot better thanks to exterior paneling. Kristin of KG Designs used a white board and batten option to increase visual appeal and punctuate the firebox — we love the subtle detail that it adds to this outdoor oasis.
6. Galvanized metal is a current choice.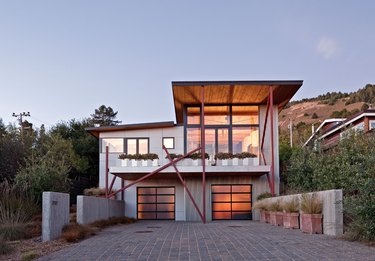 For a twist on traditional exterior paneling, consider galvanized metal. It's a way to make your home look contemporary and unexpected, as demonstrated by this abode from the team at WA Design Architects.
7. Frame a door and then some.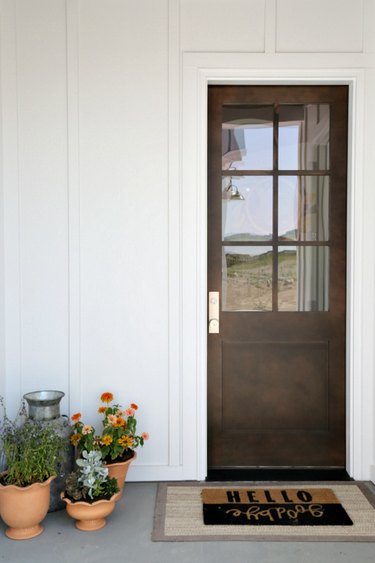 While you can certainly equip your home in all-over exterior paneling, we think it looks particularly stylish when it's framing a front door. This entry captured by Cyndy of The Creativity Exchange looks classic and streamlined when paired with white paneling, potted plants, and layered doormats.
8. Try a mix of paneling.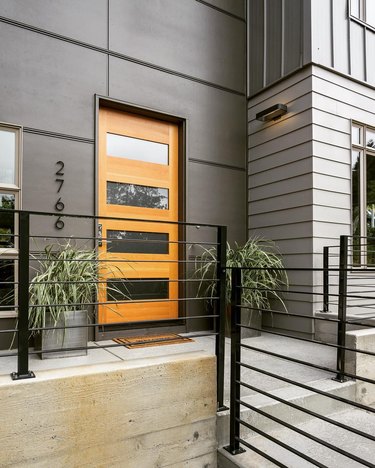 The nice thing about exterior paneling is that you don't have to use the same material top to bottom. You can mix it up with a few different types, as evidenced by this modern retreat from Jordan Iverson Signature Homes.