Board and batten exteriors date back centuries — first, as efficient alternatives to simple log cabins and then, later, as affordable exterior choices for barns and storage sheds. Since then, the technique has graced some of the most popular modern farmhouse homes. (Thanks, Fixer Upper!)
What's great about a board and batten exterior, though, is that it actually works with just about any style — midcentury modern, traditional, rustic, coastal, contemporary, you name it. The flexibility — the material can be installed vertically, horizontally, or even reversed in a variety of widths — as well as the visual interest, make a board and batten exterior a strong choice any time you're rethinking your curb appeal.
Here are seven board and batten exterior ideas — one or two of which just might surprise you.
1. Fully embrace the modern farmhouse look.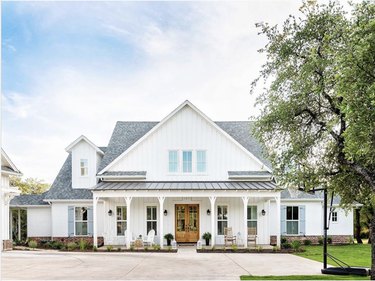 2. Don't be afraid to go dark.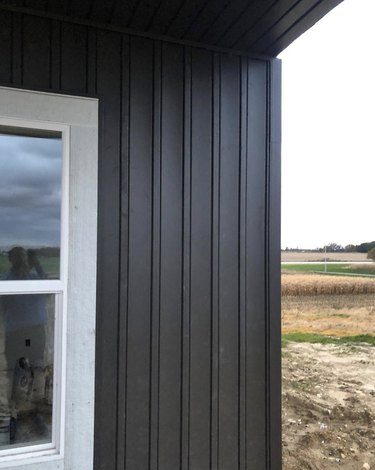 While white board and batten exteriors have that timeless traditional feel, you'd be a fool to forget the other side of the spectrum. Black planks, installed vertically, up the drama and modern edge while still conveying that familiar farmhouse feel. The owners of this Wisconsin farmhouse went with vinyl board and batten siding in the darkest color they could source when it became clear that fiber cement siding was cost-prohibitive.
Who said you had to be a purist with your board and batten exteriors? For this DIY modern garden shed, the homeowners mixed their exterior materials to great effect. The classic white planks complement the black painted corner, simple exterior door, and the narrow, wood slats. The adjacent side of the custom addition (not pictured here) is white shiplap.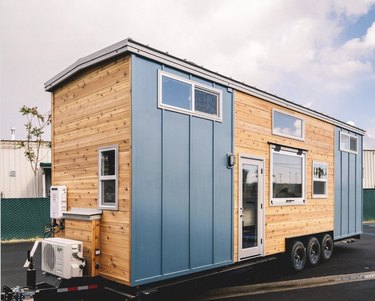 Tiny homes deserve serious style, too — you just have to be more conscious of the square footage. California Tiny House, Inc., of Fresno, California, offers painted board and batten exteriors for their custom builds in a variety of colors. The ocean blue hue, here, contrasts nicely with the wood siding. And the white shiplap inside creates a cozy farmhouse chic feel.
5. Highlight your midcentury lines.
Board and batten exteriors work surprisingly well on midcentury homes, too. Case in point — this Oakland, California, gem. The vertical lines highlight all the angles of the original architecture while adding a lot of visual interest and hinting at the modern interior design waiting inside.
6. Live out all your cabin dreams.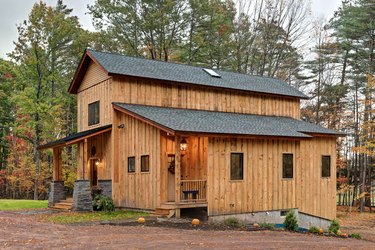 The rustic, vertical board and batten exterior on this cabin outside of Woodstock, New York, feels timeless and ties in beautifully with the woods in which it sits. And that's no mistake. Inside, the touches of rustic blue and a modern kitchen keep the cabin from feeling too quaint.
7. Go upscale and rustic for serious wow factor.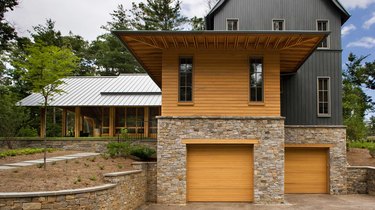 This award-winning North Carolina home shows exactly what you can do with siding if you get creative. The horizontal cypress planks have a clear finish, while the vertical siding, also cypress, is installed as reverse board and batten and painted with Sherwin Williams' Rock Bottom. The result is barn-inspired but utterly modern.