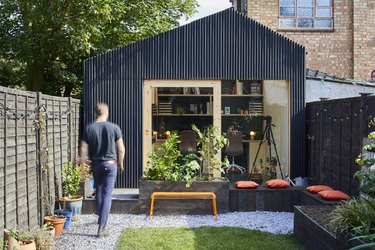 Back in the day, a shed was just a shed. It held tools. It served a practical purpose. It probably wasn't pretty. Fast forward to today, and a shed is a lot more than simply a shed. There are "she sheds," or a small space for the lady of the house to call her own; man caves, or a space for the man of the house to call his own; creative studios; or just extra storage for gardening supplies and the like.
We believe that a modern shed can be a stylish extension of your home's exterior — looking less like a work-ready structure and more like a diminutive version of your actual home. From modern farmhouse to streamlined creations, here are eight ideas to inspire you.
1. Open it up to the outdoors.
2. Consider brick.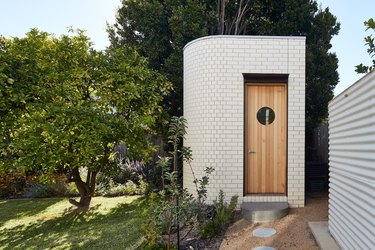 While a classic shed is typically rendered in wood, a modern shed can showcase a wider and more creative variety of materials. For instance, this option by Folk Architects and featured by Brickworks is made up of unexpected brick and echoes the exterior of the art deco-inspired home.
3. Paint it black.
Black paint has this uncanny way of making everything, and we mean everything, look instantly au courant. For instance, this modern shed painted by Karen of The Art of Doing Stuff is edgy in black and still spotlights charming details, like potted plants and traditional windows.
4. Include modern planters, too.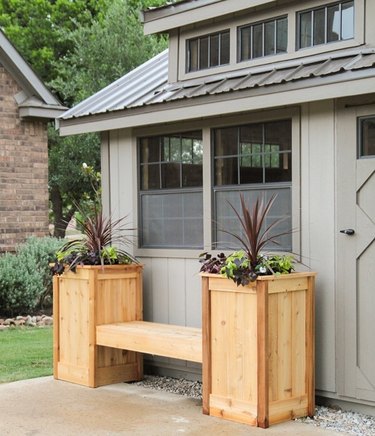 5. Install lots of windows.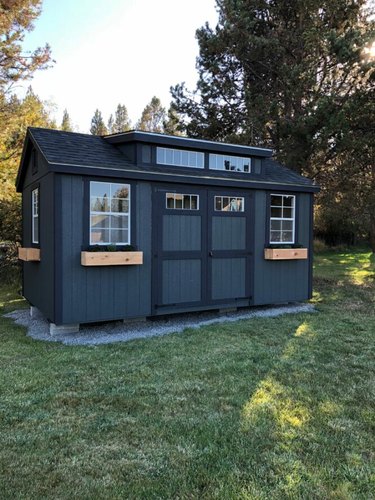 Usually your everyday shed doesn't have windows, and if it does, it just has one or two. In the case of a modern shed, we say the more the merrier to invite natural light in and brighten things up — this is important if you're using the space as an office or a studio. This design with transom windows by Courtney of Girl & Grey is a perfect example.
6. Go sleek and linear.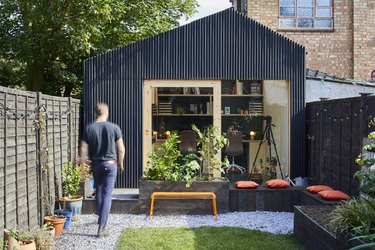 Sleek lines are always an excellent idea if you're aiming for modern visuals, something that can carry over to sheds. Architect and designer Richard John Andrews created this shed-meets-studio using fluted black panels and natural wood accents, achieving the modern shed of our dreams.
7. Choose unexpected colors.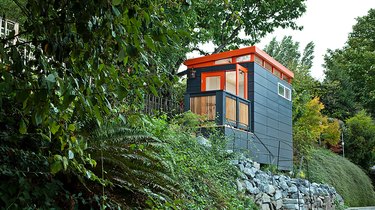 8. Embrace a farmhouse vibe.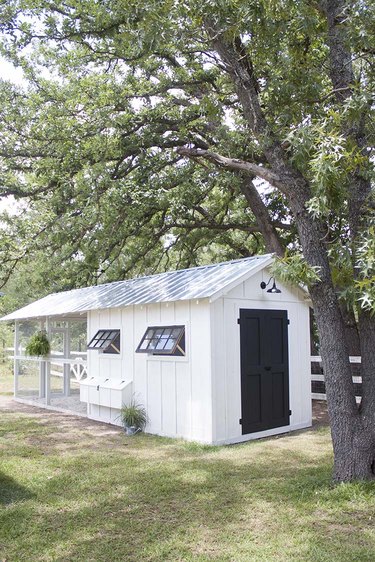 If your home has a country aesthetic but you still want to construct a shed, look no further than a modern farmhouse approach. By combining black and white and adding delightful details, like a chicken coop, a galvanized metal roof, and hanging ferns, you can have a backyard structure just like this one belonging to Jamie of Southern Revivals.