We'll be the first ones to admit that we have something of an obsession with modern farmhouse style here at Hunker. With soaring A-frame roofs, rustic timber cladding, and expansive windows, modern farmhouses seamlessly blend bucolic style and au courant details with stunning results. In other words, we can't stop pinning pastoral-inspired homes to our "Farmhouse Chic" board. (Perhaps Chip and Joanna Gaines, who've spurred the recent rise in popularity of effortlessly cool style, are partially to blame.)
Ahead, we're sharing just a few homes that currently have us daydreaming about packing our bags and absconding to the countryside. Spanning a lakeside farmhouse in Saskatchewan, Canada comprised predominately of reclaimed barn wood to a turn-of-the-century refuge nestled in the foothills of the Cascades that boasts floor-to-ceiling windows and staggering views of the surrounding landscape, here are seven modern farmhouses that make us want to pack up our things and live on a farm.
1. A Modern Farmhouse in Oxford, Mississippi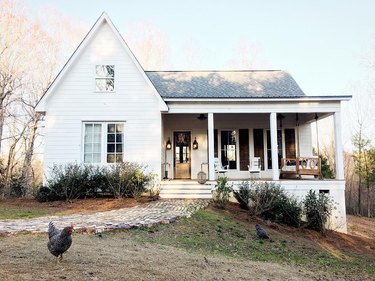 Situated on 70 acres in Oxford, Mississippi, Tim and Natalie Hamm's family home could be mistaken for an authentic 19th-century farmhouse, thanks in part to the incorporation of salvaged materials. The reclaimed elements, which include whitewashed shiplap, craftsman window trim, and hardwood floors, came from an 1800s farmhouse that was torn down to expand a local church's property.
2. A Rustic Farmhouse in Saskatchewan, Canada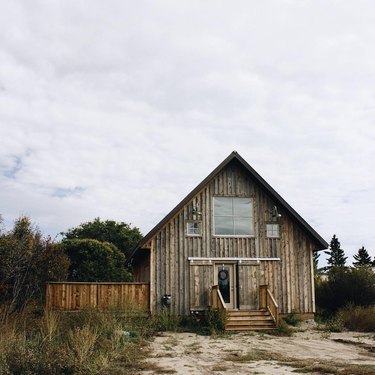 Complete with timber cladding and an A-frame roof, you'd never guess Emory Kurysh's rustic Saskatchewan home was built from scratch. Designed to include traditional farmhouse elements and comprised predominately of reclaimed barn wood, the modern structure blends seamlessly into the surrounding acreage and looks as though it could have been constructed a century ago.
3. A Dutch Colonial Farmhouse in Hortonville, New York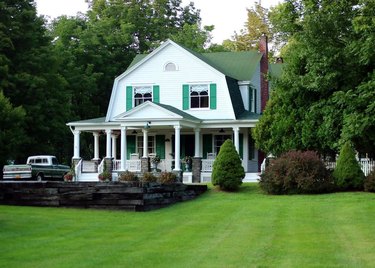 Surrounded by oak trees in Upstate New York, this 217-year-old farmhouse boasts a number of stunning details, including the original American Chestnut wainscoting in the living room and the original bluestone fireplace in the dining room. Thanks to the Dutch Colonial's new owners, Shawn and Kristofer of The Farmhouse Project, the historic home has been restored to its former glory.
4. An Old Stone Farmhouse in Ontario, Canada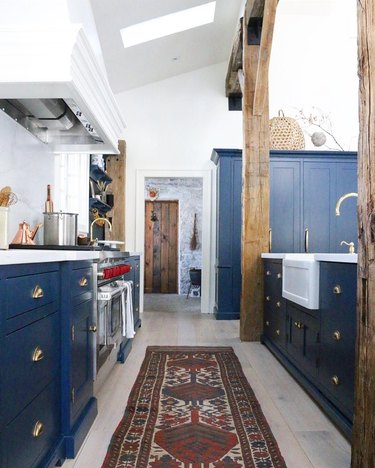 Built in the 1830s, this expansive 6,000-square-foot farmhouse was originally constructed using uncut fieldstones. The home's current owners, Andraya Frith and Graham Kechnie, recently renovated the kitchen, which involved removing an elevator. The resulting space, which was inspired by English country homes, features weathered wood beams and dramatic blue cabinetry.
5. A Shaker-Inspired Barn in Los Angeles, California
Yes, this Shaker-inspired barn is located in the midst of Los Angeles (just 20 feet behind a 1921 Colonial house, to be exact). Though the barn is a new build, it's a modern riff on the traditional Shaker-style home, complete with clean lines, natural materials, and minimal embellishment. Tasteful yet colorful touches, such as a patchwork of hexagonal tiles in the bathroom, lend contemporary flair to the space.
6. A Thoroughly Modern Farmhouse in Kennebunk, Maine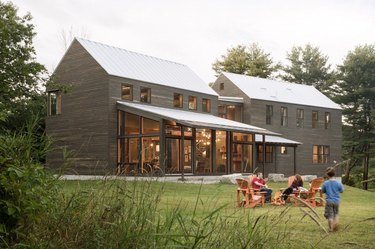 Set on a sprawling parcel of land along the coast of Maine, this contemporary farmhouse blends traditional barn style with modern sustainable materials. Made with reclaimed wood from a neighboring farmhouse, salvaged wood from a Massachusetts farmhouse, and new, sustainable materials, such as Maine cedar, hemlock timber, and steel, the home mixes new and old with stunning results.
7. A Turn-of-the-Century Barn in Washington's Cascades
Nestled in the eastern foothills of the Cascades in Washington State, this nearly collapsed turn-of-the-century barn was transformed into a three-bedroom retreat by the Seattle-based architecture firm Mwworks with Nelleen Berlin Interior Design and Kings Construction. The restored A-frame barn now boasts windows that offer staggering views of the surrounding landscape. (Psst ... take the full tour here.)