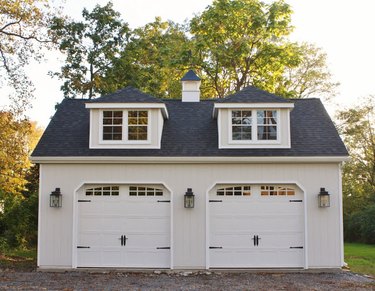 Just as the name indicates, a detached garage isn't connected to the home. It's a completely freestanding structure that can house Christmas decor, DIY tools, and bikes — essentially anything you don't want inside. These standalone carports work wonders if you don't have enough storage space, and because of the design, there are a few more positives to having one. Here are some detached garage ideas to get you started.
1. Match your house exterior.
While a garage can store all kinds of unaesthetic clutter, the exterior of it should match the look and feel of your home. That way, you can up the style of your entire property. This gray farmhouse carport designed by Anne Decker Architects features exposed stone and stained wood. Plus, it's fitted with doors that are just modern enough!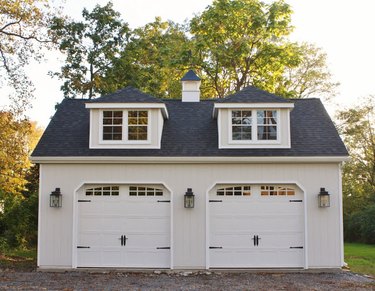 The beauty of building your own detached garage is that you can decide exactly how much space you need without having to worry about taking valuable square footage away from your home. More than one car in your household? Opt for a double carport with functional garage lighting (we like wall lanterns that flank carriage doors) to keep things bright at night.
3. Make room for bikes (and more).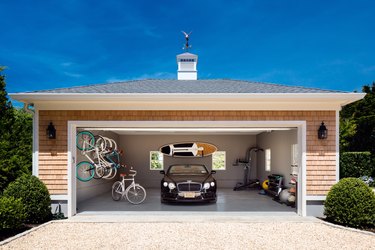 A garage is not only a home for your vehicles, it's also ideal for storing bikes, sports equipment, tools, and other bulky items. This cottage-style detached garage with concrete floors from SUK Design Group LLP makes the most of every wall with side-by-side bike racks and a spot for mounted surf boards, too.
4. Incorporate an apartment.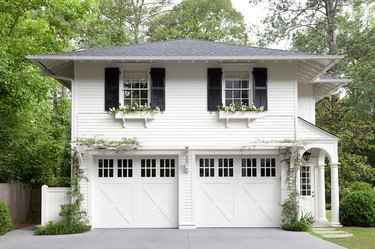 If you're erecting a separate garage, you might want to make the most of the building opportunity and incorporate a remote apartment while you're at it. Everyone loves a garage makeover, right? A two-story detached carport, such as this one by T.S. Adams Studio, will work to house your cars and your guests. Just check your local building codes first. Then add window boxes and shutters for an extra cozy feel.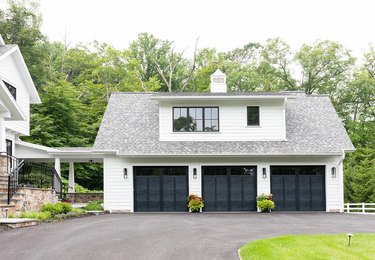 Don't be fooled into thinking you need to stop at a garage that fits two cars. The sky is the limit when it comes to a freestanding space, especially when you don't need to worry about dealing with existing electrical, plumbing, insulation, or roof line issues. This three-door detached garage is a great addition to the existing house. Plus, it perfectly matches with white siding and contrasting black doors.