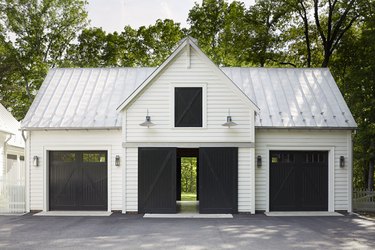 If you're looking for garage door ideas that are stylish and perfectly charming, we're here to tell you that you don't have to live on a farm to achieve that beloved pastoral look. Barn garage doors showcasing natural wood finishes, neutral colors, "X" details, and vertical planks look as if they've been pulled right from the country.
But like everything in life, there are pros and cons to consider. One of the biggest draws to barn-style garage doors is that they have lots of aesthetic value, especially if you're going for a farmhouse look. And they definitely go beyond the standard design — sometimes, they even feature small windows that can lighten up your space considerably.
As for the cons, this style tends to be more expensive, which may impact your bottom line if you're refreshing your home's exterior. And since many barn garage doors are made of wood, you'll need to consider how much time and maintenance you're willing to invest. If this hasn't swayed you, scroll on for six ideas that will get you started.
1. Consider the classic "X" design.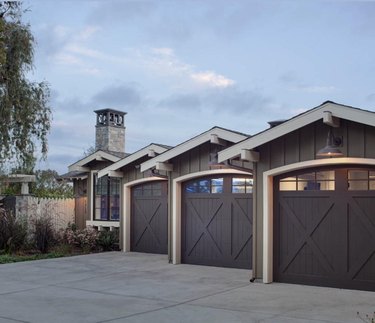 To easily nail the barn aesthetic for your garage door, it'll need one accent that never fails: an "X" detail or two. The design has been used on barns for countless decades to bring visual interest to an otherwise utilitarian structure. These doors, spotted on Etsy, showcase the idea beautifully, adding timeless ambiance.
2. Or, go for a more minimal look.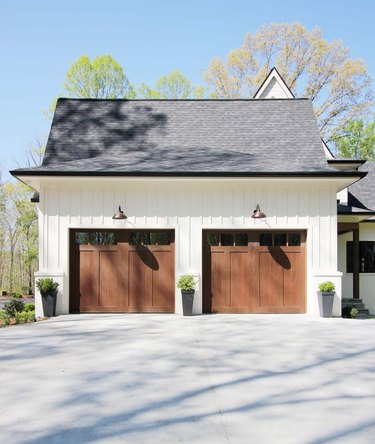 Let's say that you adore barn garage doors but maybe you're not into the whole "X" design detail. That's OK — you can pick an option without the "X" and still get that popular country look with a warm wood finish, small windows, and plank detailing. Brooke and Henry of Plank and Pillow went with a more minimal appearance for their garage doors to complement the exterior siding.
3. Add barn-style lights.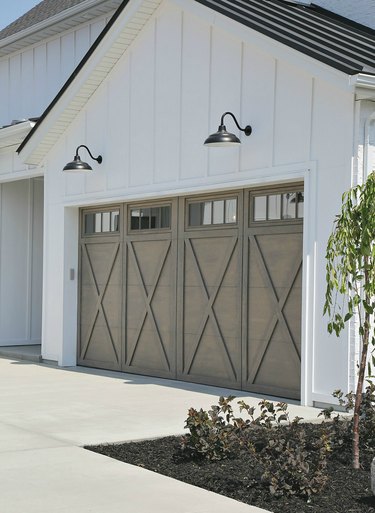 4. Embrace a light color palette.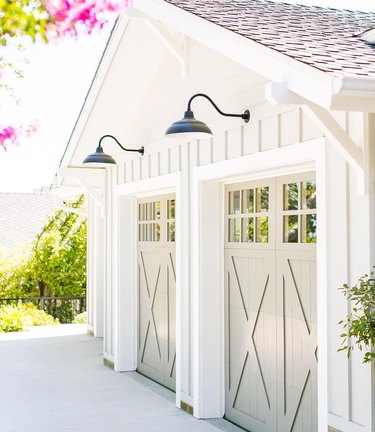 The good news is that barn garage doors work with many different exterior styles. We particularly like them for light and airy outdoor designs. Simply pair white siding and trim with cream or ivory doors to make them stand out, and you'll have an exterior curb appeal as fresh as this home's by Tiffany Harris Design.
5. Invite warmth with a wood finish.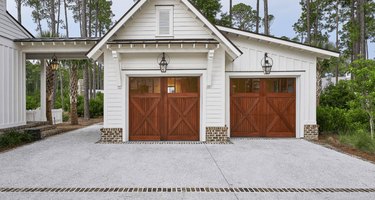 If you'd prefer to add some warmth and depth to your garage, ponder cherry or oak door ideas. Similar to this design by Bevolo, the timeless finish makes them look even more welcoming, especially when paired with a white exterior.
6. Keep it modern in black.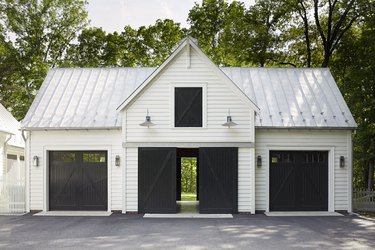 For a truly modern farmhouse atmosphere, we recommend choosing black barn garage doors. The ebony hue is very on-trend, and will push dated doors of yore in a more current direction, à la this home by the team at 3North.