The characteristics of farmhouse style are relatively cut-and-dry, often encompassing a mix of natural wood and industrialized metals. But introduce a contemporary component to it and rustic becomes refined and on-trend, exuding an essence of country-cool — or in other words, modern farmhouse.
Now translate that same approach to a home's exterior and you're left with a finish that feels fresh and current, yet entirely relaxed. Clean lines and high-contrast palettes may be hallmarks of the aesthetic championed by the likes of Chip and Joanna Gaines, but there's a lot more to it than meets the eye. Ahead, you'll find eight exterior modern farmhouse ideas that are sure to inspire.
1. Colors That Don't Hold Back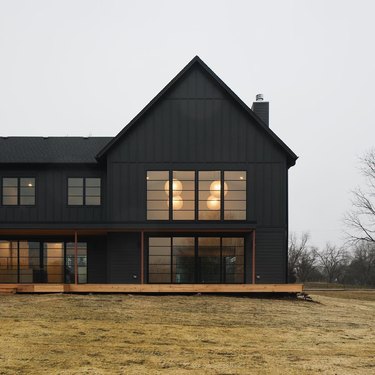 Dark modern farmhouse exteriors are few and far between, giving the aesthetic even more of an edge. The bold impact that black paint can have is proven by this stunning scene from M House Development. The combination of shiplap and board and batten siding, with a gable roof, marries rustic and modern styles with effortless cool. The massive windows simply seal the deal.
The exterior of a modern farmhouse typically features a high-contrast detail — be it the paint or the type of materials used. The white color of this home designed by Kate Marker Interiors pops against the vivid green surroundings, while the sleek black-framed windows and shutters offer a bold transition that looks modern yet still exudes country flair.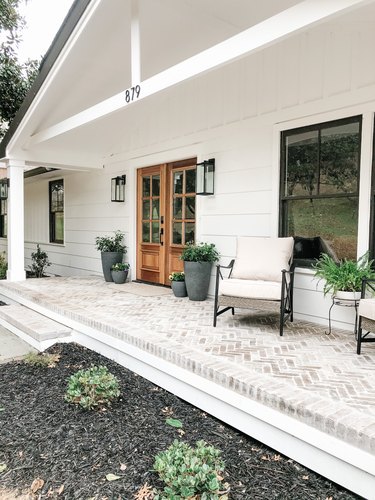 Your porch can have a major effect on your curb appeal, so its importance is no surprise when it comes to home exterior ideas. When designing with modern farmhouse in mind, take a cue from this spacious setup belonging to Traci of Beneath My Heart and go for a clean, whitewashed look — preferably complemented by dark accents — for a finish that stands out in all the right ways. A pair of wooden doors add a welcome touch of warmth.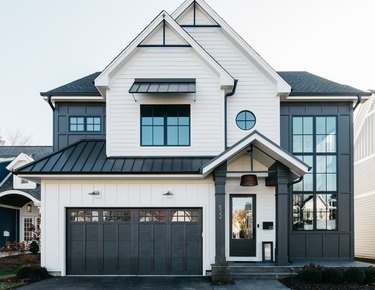 This modern farmhouse exterior from M House Development is about as striking as it gets, flaunting a black and white palette and an assortment of black-framed windows to break up the bold color scheme.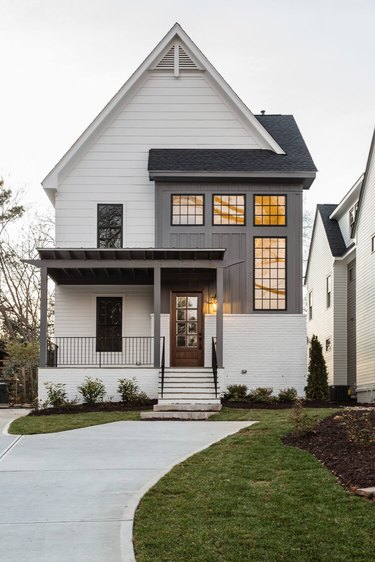 Pointed gable roofs are a hallmark of traditional farmhouse exteriors. And while you can't go wrong with a classic, we love the way that Hayes Barton Homes gave the look a modern twist. By varying the size, orientation, and height of this home's roof, the team successfully added loads of visual interest, without taking away from the overall country aesthetic.
6. Complementary Materials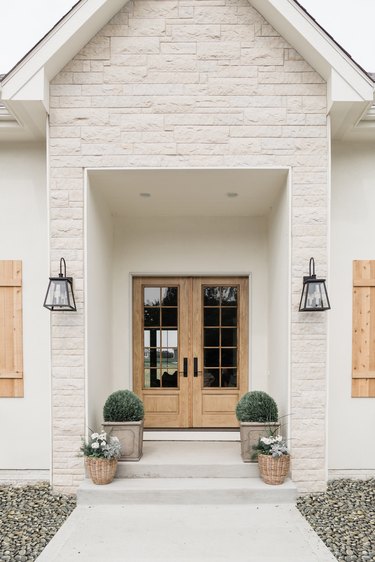 The mixed array of materials used for this modern farmhouse exterior by Oakstone Homes is a prime example of just how dynamic the style can be. The cool facade is made up of a blend of white paint, light wood, and ivory stone that lends a somewhat coastal vibe. The serene country look is taken one step further with the help of gray beach pebbles bordering the walkway.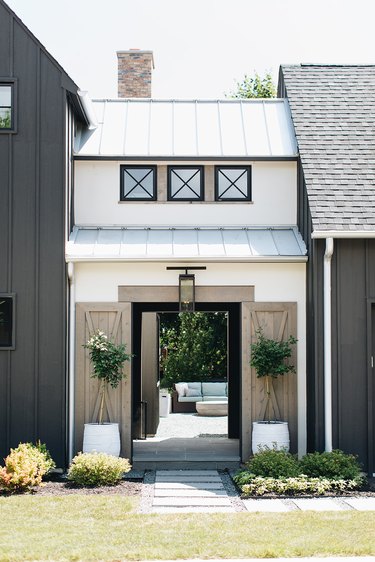 Barn doors of any capacity, whether sliding or decorative, are a foolproof way to lean into farmhouse style. Just take this Grand Traditions home as proof. Combine them with board and batten siding, a black-and-white facade, and minimalist windows and you have an exterior that's modern farmhouse all the way.
8. A Multidimensional Surface
Board and batten siding, which is comprised of wood board panels that alternate between thick and narrow strips, is a staple fixture of modern farmhouse exteriors. In this contemporary-cool Austin home, it evokes interest with a depth-defining layer to what would otherwise be a plain, white facade, all the while complementing the linear structure of the build.