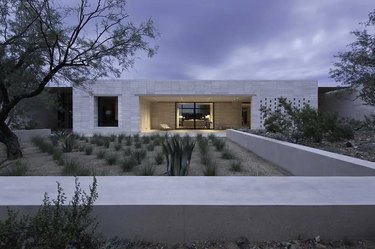 We'll concede that looks aren't everything — except when it comes to your home's exterior. The options are endless, but if you're trying to narrow it down to a material that provides you with as much curb appeal as possible, we can think of more than one reason why you should have a stone house exterior.
Both refined and timeless in nature, stone can increase a house's visual interest instantly. And the options abound; you can stack and customize the natural material to fit your specific needs.
Here are seven reasons why you should consider investing in stone.
1. It complements natural surroundings.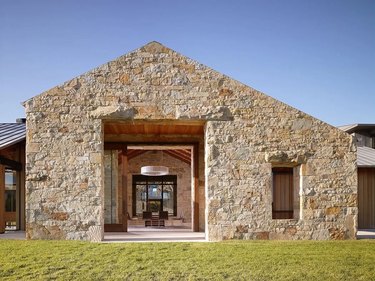 This contemporary home from Chesler Construction has a brown stone exterior that helps the residence match its natural surroundings. In order to break up the stone aesthetic a bit, the team lined the entryway ceiling and the door with wood and included large glass windows.
2. Stone is generally fade-resistant.
While the stone wall on this balcony looks weathered, the sturdy material is known for its ability to retain color when exposed to sunlight. Plus, the gray-hued stone tiles match the wooden walkway and exterior railing with frosted glass panes perfectly.
3. Stone works well with other materials.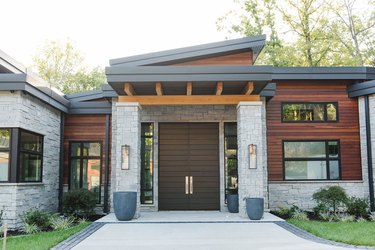 Here's a clear example of how well stone works with other materials. This gorgeous home by Studio McGee features gray stone walls and columns on the porch. Meanwhile, natural wood flanks the entryway, and wooden beams support the cantilevered roof.
4. It's great for durability and flexibility.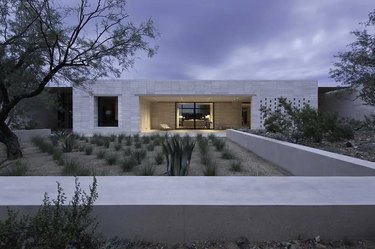 Choosing stacked limestone walls like the ones in this desert residence will ensure that your home's exterior can stand up well against Mother Nature. Because stone tends to be a relatively pricey option, consider going with a stone veneer for the same visual effect and durability as long as it's manufactured and maintained well.
5. Natural stone increases your home's value.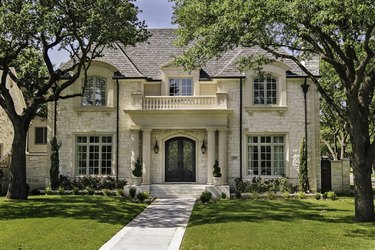 While stone may be a rugged material, it still gives off an elegant air, as evidenced by this beautiful cream exterior from Robert Elliott Custom Homes. In addition to its beautiful appearance, the use of natural stone can also increase your home's value.
For an eye-catching exterior that easily sets your home apart from the rest, consider going with a light-colored stone like the kind on this gorgeous home from Studio McGee. Here, we see a beautiful contrast between the textured exterior and the brown and black metal roof shingles.
7. Stone instantly elevates your home's appearance.