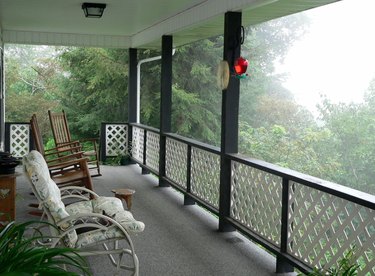 Railings have no standard for design, type or materials when building them. With all the options available, it's not necessary to spend a lot of money for your railings. You can use almost anything that works for aesthetics, safety and function depending on application and local building codes. Certain materials for railings are definitely more affordable than others, and have withstood the test of time.
Decipher the Code
Railings should always comply with local building codes. Codes can vary depending on type of rail, location, technique or design. Check local codes before planning or installing any type of rail system. Some of the materials mentioned might not meet your local building codes requirement, so check with them first. Some codes are relatively universal in most instances, but can differ per application or organization, for example, International Residential code requires that railings measure 36 inches from the ground to the top of the handrail. The International Building code requires a 42 inch height.
Acrylic Is Cool
Glass has been used to adorn railings for years. It looks good, but it's expensive. Acrylic panels made from plastic provide an affordable alternative to glass. Install them between pressure-treated posts for a safety rail that shields against weather, while providing an unobstructed view of the countryside. Clear acrylic is not only nearly invisible, but it's also durable, and in most instances tougher than glass. Purchase acrylic panels in tinted versions for aesthetics or as a filter for the blazing sun.
Recycled Doors
Recycled building material presents an affordable option for exterior rails. Make a custom rail assembly using cast-off panel doors. Most doors are about 80 inches tall and 30 inches wide. The typical stair railing is about 36 inches tall. Cut recycled doors in half to provide the needed height, assemble them side by side and you have 60-inch panels. Leave the hardware on for an eclectic look or remove it and add paint or stain for a durable exterior railing that reflects creative talent. Add hinges on the panels to create a gate. Raised-panel doors offer an elegant look that reflects the door's woodworking. Add some crafty balusters and you've got an inexpensive railing that looks like you spent the big bucks.
Bull Wire Railing
Bull wire is a type of fencing with a series of square or rectangular wire patterns. It's heavy duty and attractive. Nail bull wire panels directly to existing posts or balusters for an economy railing system that can handle abuse. Build a two-by-four frame for bull wire sections and screw the frames together for a rail system with a built-in handrail. Paint bull wire any color you like for aesthetics. Add a ledge-and-brace design to the panels by installing cedar lath to dress it up. If you don't like the bold look of bull wire, many other wire-mesh fencing have patterns that work the same way.
Rope or Netting
Rope has been used as a rail system for hundreds of years. The best rope rail consists of holes drilled through vertical posts with a single piece of rope connecting everything. It adds a certain charm to outdoor decks, particularly if there's a water feature nearby. Tie the rope around vertical posts to achieve an Old-world atmosphere -- it's easier than drilling holes. Add some unobtrusive screws to hold it in place. Another type of rope railing consists of vertical, diagonal ropes stretched in a pattern from the horizontal top rail to a horizontal bottom rail, similar to a large net. Actual net is a glorified version of a rope rail, but the pattern is tighter with more security when secured between posts and top and bottom rails. Be aware that code requires that interior rope or net sections do not possess any openings large enough to pass a 4-inch diameter sphere through.
Lattice Is Lovely
Lattice is widely used for railing. Lattice is light, affordable and looks more expensive than it really is. Attach lattice panels directly to vertical posts, or build a frame around lattice panels and use the frames as sections, screwing them together as needed. Use two-by-fours to build the frames, and the rail system has built-in handrails and bottom rails that screw directly to the decking. Lattice is easy to cut and work with, and if you make the lattice panels with weather-resistant wood, it will require little maintenance for many years.
---
Specializing in hardwood furniture, trim carpentry, cabinets, home improvement and architectural millwork, Wade Shaddy has worked in homebuilding since 1972. Shaddy has also worked as a newspaper reporter and writer, and as a contributing writer for Bicycling Magazine. Shaddy began publishing in various magazines in 1992, and published a novel, "Dark Canyon," in 2008.