Highlights
A shipping container pool is long and narrow, making it the perfect pool for swimming laps. The two most common container pool sizes are 8 x 20 feet and 8 x 40 feet.
Shipping containers are typically converted into swimming pools in factories and are delivered on-site ready for installation. Unless you're a pro, DIYing the conversion project isn't recommended.
Shipping container pools can be installed above ground or in the ground.
The cost of an above-ground shipping container pool ends up being more than a conventional pool when you figure in installation, while an in-ground container pool costs about the same as a conventional in-ground pool.
If you've ever watched a freight train chugging through town or along the highway carrying shipping containers, it's a safe bet that your first thought wasn't ‌what a great swimming pool‌. However, like stock tank hot tubs, shipping container pools are definitely a thing. They're trending on social media, so we decided to take a deep dive into the topic to find out what the buzz is about.
The promise of a factory-converted shipping container swimming pool that you order from a company like Modpools — one of the leading swimming pool conversion companies in North America — is that you can begin using it almost as soon as it arrives. However, there's a lot of preparation to do before it arrives, not the least of which is to construct a foundation that can support a 3-ton container that might weigh over 35 tons when filled with water.
Know Your Shipping Containers
Shipping containers have been used extensively in the global shipping industry since the 1950s. Also known as conex boxes, they are manufactured in standard sizes to make them stackable. There are two common models:
TEU (20-foot equivalent unit), which is 20 feet long
FEU (40-foot equivalent unit), which is 40 feet long
Both are manufactured from high-strength steel, are typically 8 feet wide and 8 feet 6 inches tall, and weigh between 3 and 3 3/4 tons.
How Shipping Container Pools Are Manufactured
First, let's dispel the notion that it's easy to drop a shipping container in your yard, cut off the top, weld the doors shut, fill it with water, and start swimming. Apart from the fact that you would need specialized skills to do even that much, there would be no filtration system, and the pool water would be stagnant and unhealthy. A lot more goes into the conversion process.
At the factory, workers cut off the top of the container, leaving a rectangular box that is typically 5 1/2 feet high, although it could be higher — up to a maximum of about 8 feet. They then add custom features, such as steps and benches, welding them into the interior of the container while creating a watertight enclosure in the process. They also construct a utility space just inside the original container doors to house all the pump, filter, and other pool equipment. This compartment must remain accessible from outside the pool for equipment maintenance.
The inside and outside of the pool are sprayed with rust-resistant primer, and the inside is coated with a flexible, corrosion-resistant paint. Finally, workers install a guard rail that covers the top edge of the container, and they may install a fiberglass shell or vinyl liner for an ultra-smooth pool interior. In cold climates, pools often are insulated on the outside to help keep the pool water warmer when it's being heated.
The next step is to install the pool plumbing, which includes cutting intake and outflow ports into the container's sides and installing tubing to connect the ports to the filtration pump inside the utility space. One of the more popular features that can be included is a window in the side of the container, which makes for interesting viewing from the outside if the pool is installed above ground. Divider walls can also be added that allow part of the pool to be used as a hot tub or wading area. Jets, LED lights, and other add-ons help create a relaxing and atmospheric hangout space.
Things to Consider Before You Order a Shipping Container Pool
A shipping container pool can be installed above ground, partially buried, or fully buried. In any case, it needs a foundation capable of supporting its weight, which for an in-ground pool may involve laying an 8-inch bed of gravel or driving foundation piers into the ground to support the four corners of the container. The foundation needs to be professionally engineered to ensure it's strong enough, and you'll almost certainly need to hire a pool builder or local contractor to design and build it. In most places, you'll also need a permit.
The spot you choose for your new pool needs to have access for heavy equipment if you plan to sink it into the ground. Even if you opt for above-ground installation, you still need to think about how to get a shipping container into your yard. If it's impossible to truck it in, you'll probably have to hire a crane to hoist it into place, which is an extra expense you need to plan for. You may need a crane to place the container on the foundation even if you are able to truck it into your yard.
Once the pool is in place, you'll need water and electricity, and if the pump runs on gas, you'll also need a gas line. These need to run underground, so landscaping the yard after they have been installed is part of the installation process. These are all extra expenses over and above the cost of the pool itself.
How Much Does a Shipping Container Pool Cost?
You can buy a used shipping container for anywhere from $1,500 to $3,000, and the cost to transport it is approximately $5 per mile, although this mileage rate goes down for longer distances. That seems like a bargain, but remember that the container is simply the raw material for the pool. A factory-converted container pool costs much more — from $40,000 to more than $50,000, according to pricing data on the Modpools website — and it can be even more depending on which pool features you want to include.
The pool price doesn't include the cost of excavating, which can be as much as $4,500, or the cost of building a foundation, which varies according to the type of foundation you build. On top of that, there's plumbing and electrical work to do, which calls for trenching and landscaping work, and don't forget labor and materials for the pool deck. Because so many details are involved, it's difficult to set a firm price, but something in the neighborhood of $60,000 for an above-ground container pool would be a fair estimate. For an in-ground pool, the bill will probably come closer to $80,000, which is about the same as the cost of a traditional in-ground pool.
Can I Make a DIY Shipping Container Pool?
Before you drop a used shipping container in your yard and pull out the grinder to begin converting it into a pool, think about this: Once you've cut off the top, how are you going to lift it, and where will you put it? This is just one of the challenges that makes DIY conversion impractical. But maybe you like a challenge and you have access to the equipment you need to do the job. If so, you can have a container pool for a fraction of the cost of buying a factory-converted pool. For most homeowners, however, this is a job far beyond their skill level and resources.
If you choose a factory-converted container pool, you have your choice of floor plans and other pool options, such as a window built into the side or a wading area for the kids. The pool will also be delivered with that all-important rust-resistant coating on the inside, without which holes may develop in just a few years. All the ports needed for water circulation will already be installed, and they will be watertight. If you purchase from a company like Modpools, you may be able to get third-party pool financing to help alleviate the sticker shock.
Can I Make a Saltwater Pool in a Shipping Container?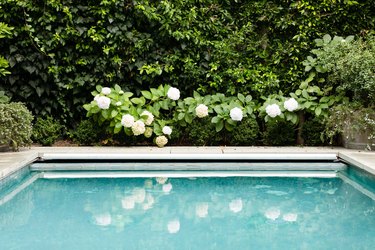 Many homeowners prefer to sanitize their pool with a chlorine generator rather than adding chlorine directly, and the raw material for the generator is salt added to the water. Salt is corrosive, so the best shipping container for a saltwater pool is one that has a durable, corrosion-resistant coating on the inside.
Any container pool sold by a company like Modpools might qualify because of the thick, flexible membrane they apply to the inside of the pool. It's still a dicey proposition, however, because there's always a danger of exposing the metal to salt. Bottom line: If you want salt water, you're better off with a conventional pool than with a shipping container pool.