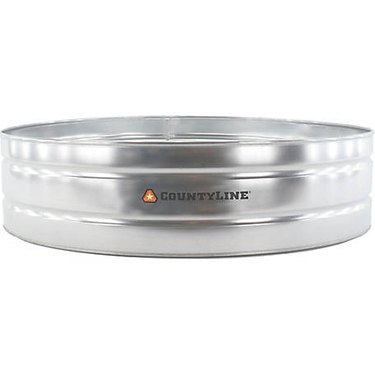 Swimming laps is all well and good, but if you think that a pool should be less about exercising and more about relaxing, this is a DIY project for you. Behold the stock tank pool. This new swimming pool trend turns 3- to 8-foot livestock water buckets from tractor supply stores into rustic backyard soaking tubs that are perfect for spending a lazy summer day.
If you like an industrial look, you can easily set up a stock tank pool on your lawn or deck and simply enjoy it. If the look of galvanized steel is a bit too austere for you, however, there are several ways you can jazz up your poolside decor to create a backyard oasis on the cheap.
When planning the look of your DIY stock tank pool, it's important to first choose where you want it to stand. Usually, an above-ground pool needs to be just that. Because of the amount of pressure the pool would have to withstand, you can't just dig a hole and drop a traditional above-ground pool into it. A stock tank pool, however, doesn't suffer this limitation.
Due to its smaller size and depth, you can dig a hole and drop a stock tank into it to create a small in-ground pool. You can also set a stock tank pool completely above ground or bury it partway into a slope in your yard. The installation option you choose will affect the way you choose to design around your pool, so consider your decorating options before you install the pool.
Note that in-ground pools present a serious drowning risk for small children. Make sure a ground-level pool is fully enclosed with a pool safety fence.
Paint Your Stock Tank Pool
It's amazing what a fresh coat of paint can do for a room, and the same is true for a stock tank pool. These pools are essentially oversized galvanized metal buckets, which means a coat of metal paint like Rust-Oleum can spruce them up in a hurry.
When painting your pool, you can go as fancy or basic as you like. Sleek black can add a modern look, while basic white provides a classic look that blends well with almost any style. Of course, you can also up your game by painting stripes or a gingham pattern. If you have an artistic touch, you can even paint mermaids, pirates or other whimsical characters on the side of the pool.
Don't be afraid to be bold. Metallic paints can add shimmer, and bright colors are a lot of fun. If going too bright is a bit much for you, consider combining a vivacious color like hot pink with calmer white stripes to add color without going over the top. Remember that experimenting with paint is fairly goof-proof. If you go bold and hate it, simply apply a primer and paint over it.
You can create a clean look, avoid having to trim around your pool and help keep freshly mowed grass clippings out of your pool by placing stone around it. You can create a gravel area around just the edges of your pool or create a larger gravel area you can use for outdoor seating and entertaining.
This idea works well if you've set your pool on the ground. If you've set your pool in the ground, you may want to avoid gravel so it doesn't get kicked into your pool. Consider placing a ring of larger river rock instead since it is more likely to stay in place. You can also create a rock garden complete with succulents if desired.
You can place pavers around your pool. You can use the pavers to form a border around the pool or build a small patio where you can host guests or set up an outdoor living space. You can also use the pavers to create an inviting path from your back door to your pool that's easy to walk on with your bare feet.
You can vastly change the look and feel of your pool by decorating the area around it. Creating a poolside lounge is a great way to do this. For a chic, monochrome look, paint the pool white or tan, surround the pool with white and tan landscaping stone and set up white fabric lounge chairs next to the pool.
You can also create a whimsical space with brightly colored outdoor furniture and landscape glass. Another option is to embrace the provincial vibe of a stock tank pool. Cover the area around the pool in mulch, set out some wooden Adirondack chairs or rocking chairs and consider adding a fire pit for poolside cookouts.
Another option is to create a tropical theme. Add a bar and paint the pool to match. Grab a few comfortable bar stools, a straw umbrella, a potted palm tree and a floating Bluetooth speaker to crank out some Jimmy Buffet. Add a few TIKI torches to the mix and you can hang out by the pool at any time of day or night.
DIY Landscaping and Hardscaping
A great way to incorporate your stock tank pool is to add some plants around it. You can keep things simple and just plant a ring of shrubs around the pool. If you have the budget, however, consider planting some taller evergreen shrubs behind the pool and some smaller plants in front of and around it to create more visual interest.
Evergreens and perennials are low-maintenance, but annuals can add a nice pop of color. Consider placing potted plants around the pool as well. This allows you to move the plants around if you wish. Potted plants also enhance the deck if you've built one around your pool.
Don't forget to consider adding some hardscaping features as well. Installing a DIY pergola is an attractive way to add some shade to the pool, especially if you grow an attractive vine on it. Stick to a plant variety that won't drop a lot of flower petals or leaves into your pool, however. A basic evergreen ivy (choose a noninvasive type) works well.
Because stock tank pools are short, you can also build a natural dry stack stone wall around your pool. Don't build the wall more than 3 feet high, however, as taller walls need more structural support.
Building a deck around your pool takes a little more DIY skill than applying a coat of paint or installing pavers, but it's well worth the effort. You can build a deck around part of your stock tank pool or around the whole thing. You can keep the deck small if you wish, providing only a few stairs and a platform from which you can climb into the pool or just dangle your feet. If you prefer (and you have the skills), you can also build a larger deck with room for lounge chairs and maybe an outdoor grilling and eating area.
When building a deck, be aware of local building codes. Although they can vary, decks more than 30 inches off the ground typically need a railing. The railing must be 36 inches tall, and the balusters (uprights) can't be more than 4 inches apart so children can't squeeze through them.
Your stock tank pool may be small, but it can be just as much fun as a large pool. Hang a large umbrella over the pool or if you've added a lounge area, place a few colorful umbrellas around. These will provide practical shade when you want it and will also add some fun colors and decor to the pool area.
Are you looking for something a bit more intimate? Build a small frame around the pool and hang mosquito netting from it. This will help keep bugs out of your pool and provide a gauzy, airy and more romantic feel.
If your pool sits on pavers or a concrete slab, add an outdoor rug next to the pool to soften the area while adding color. If the top of your stock tank pool has any rough edges or if you want something soft to lean against when sitting in the pool, cut a vertical slit in some pool noodles and install them on the rim of the pool.