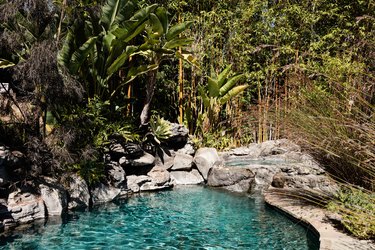 A swimming pool is the ultimate luxury backyard addition, but it doesn't necessarily have to be a traditional rectangle — you can choose from a myriad of pool shapes to fit your decor and backyard vibe. If you're considering investing in an in-ground swimming pool, you should explore the types of swimming pool shapes available before you commit to a design.
So, how do you know which shape is right for your backyard? Are there any significant differences among in-ground pool shapes? The main differentiator is aesthetic, but some pool shapes are better for specific purposes. While pool installation might be tricky and involved, picking a shape for your new pool is part of the fun, and there are several swimming pool designs from which to choose.
​Best for​: maximizing space in smaller yards, lap swimming
The basic rectangle is popular for a reason. The classic shape fits in well with a modern aesthetic. It's an excellent choice for those who want a swimming pool for swimming laps. Fitness buffs, people who love to swim and triathletes will get a lot of use out of a lap pool.
Because it's such a basic shape, it's also easy to find pool covers that fit rectangular pools. In a small backyard, a rectangular pool helps maximize available swimming space. This is probably why rectangular pools are commonly seen in apartment complexes and hotels.
One downside to a rectangular pool is that it may cost more to install one because of the increased perimeter size compared to other types of pools. You also need to have a relatively blank slate of a yard to introduce a rectangular swimming pool into the equation. The sharp, 90-degree corners can't accommodate or incorporate any landscaping or structures that get in the way like a free-form pool might. Because a rectangular pool has tight corners, it can also be more challenging to clean.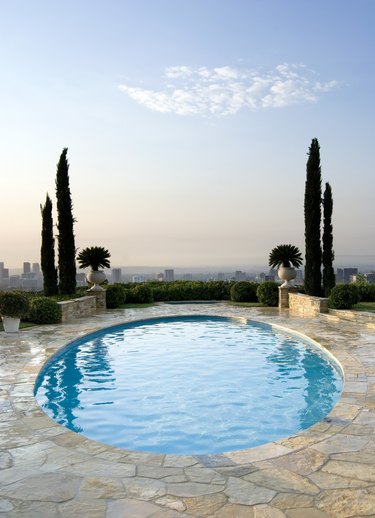 Oval and Round Pool Shapes
​Best for​: bigger backyards, pool parties
This very basic pool shape is actually quite uncommon in the world of backyard pools, so it's a unique choice for those seeking something out of the box. An oval-shaped pool is usually large and maximizes available space for swimming.
Round shapes are more common in above-ground models, but they also exist as in-ground pools. The larger the diameter, the more space you'll need to accommodate a circular pool. Round pools have a retro feel that works well if you want a style throwback. Like it is with rectangular pools, it's fairly easy to find covers to fit round-shaped pools.
​Best for​: incorporating a swimming pool into a natural landscape
This artsy, organic pool shape features no hard lines. These pools are sometimes called "radius pools," and technically, any pool with curved edges fits into this category. Free-form pools are great for people interested in creating a natural landscape for swimming as they're made to look more like natural bodies of water than man-made structures, with the wavy design of these pools forming a much more natural effect.
There are also a lot of free-form design options, and a bit of imagination is really all you need. A qualified pool designer can create custom designs that fit seamlessly into your backyard landscape. Additional features, like waterfalls and rock formations, look best next to a free-form shape. This is the shape to choose if you're looking to add multiple bells and whistles to create a backyard oasis.
Note that not all free-form pool designs are ideal for lap swimming, so you might want to consider a different shape if you're installing a pool to train for your next triathlon. It's also tougher to cover these types of pools because of their wavy, nonstandard shape.
​Best for​: small backyards and tight spaces
Kidney-shaped pools are so-named because they have a shape much like the bean, and they're asymmetrical with rounded corners. These pools curve inward and are a good choice for small backyards. Kidney pools are also a great choice for people who want lap pool functionality without the harsh, clean lines of a rectangle. The downside with these pools is that it's difficult to partition the deep end like you can with an L-shaped pool.
Kidney pools were once a popular choice for new suburban constructions but have since fallen out of favor in place of more modern shapes. Homeowners who want to maintain the authenticity of midcentury modern architecture might consider installing this type of pool.
​Best for​: people who want two separate swimming areas
These pools in the shape of a figure-eight are a little bit free-form but more along the lines of a geometric pool shape. Instead of hard lines, you have curves. Picture the outline of a number eight but filled entirely with water. While the shape resembles the number eight, it's not a hard-and-fast rule that the ends have to be the same size. It offers more swimming space than the traditional kidney shape, which is something to consider if you expect to host multiple swimmers at once. An advantage of this type of pool is that the shape creates two distinct swimming areas. This makes it a great pool shape for hosting pool parties.
​Best for:​ families, backyards where there's an obstacle that can't be removed
L-shaped pools often have hard geometric lines, meaning they're basically made up of two rectangles squished together. Think of an L-shaped Tetris block, and you probably have the right image in your head. Sometimes, L-shaped pools take on a more organic appearance with curved lines. Those designs, however, are bordering on the free-form category.
Why choose an L-shaped pool? One of the main draws of this type of pool is the ability to clearly divide the shallow and deep ends. This allows for two distinct sections where swimmers won't get in the way of one another. This shape is also great for adding a diving board feature because it's easier to add a sizable deep end that's safe for this activity.
Because an L shape creates a ledge alongside the pool, these pools also make it easy to tan close to the water. Put out a couple of lounge chairs along the tanning ledge, enjoy the sun, relax with a book or have a drink poolside. An L-shaped pool is also an excellent choice for a backyard where there's some kind of landscaping element or structure in the way of construction. With an L shape, you can easily work around permanent yard features.
Like rectangular pools, L-shaped models also have sharp corners, which can be tough to clean, especially if you're using a robotic pool cleaner.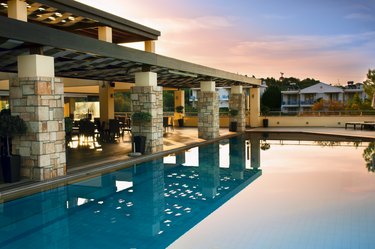 Roman or Grecian Pool Shapes
​Best for​: people with large backyards wanting a statement piece
Do you want to feel like you've been transported back to ancient times? This majestic pool shape is inspired by pools from long ago. Roman pools consist of a rectangular center bordered by semicircles at the end — either one or two. One important advantage of a Roman pool is that there are typically multiple ways to enter and exit the water. Grecian pools look like a rectangle that's had its corners cut off. The terms "Roman" and "Grecian" are sometimes used interchangeably by pool companies to describe similar classic shapes. Because these types of pools are basically rectangles, they're also suitable for swim training.