When we purchase a home, our top consideration is livability. Yet, very tightly linked to the quality of life is affordability and return on investment. If you believe a backyard swimming pool is part of your ideal lifestyle, you'll want to consider the total cost of ownership and the future resale value to make an informed financial decision. Installing a swimming pool, like many major home improvements, usually adds equity to a home in the form of increased property value. But the amount that a home increases in real estate value is rarely equal to the full cost of installing it. And it can even lower home value if the installation is poorly planned or not properly maintained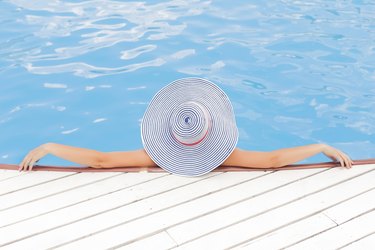 Your Budget and the Impact of Maintaining a Pool
If you're planning to add a pool to a property, expect to pay at least $30,000 to $65,000 for installation—it can be considerably more for an elaborate pool for an upscale property. Then, account for the cost to add and maintain fencing, lighting, and landscaping around the pool. Once a pool is installed, there are ongoing costs, such as hiring a professional to open and close for the season ($150 to $500 per visit), utilities to run a pump and heater (up to $100 per month), chemicals and services ($80 to $150 per month), and other pool maintenance as necessary. In addition to caring for the pool, people usually need to increase their homeowner's insurance liability coverage to $500,000. Unfortunately, accidents around a pool can include broken bones and even death. All these costs must be considered to weigh the investment against to likely increase in real estate value.
Your Location and the Value of a Pool
As with any real estate decision, location often determines value. So it might not be surprising that location is often key as to whether a pool is viewed as a desirable luxury or a liability. In the right location, a pool can boost home value by as much as 7 percent. For example, if a home is located in a high-end neighborhood where most neighbors own a pool, a buyer will likely expect a pool. And that's especially true if the climate allows year-round use. A million-dollar home in a good neighborhood might see a $70,000 jump in real estate value, meaning that an investment of $50,000 for pool makes complete financial sense. Another important factor is the size of the pool in relation to the rest of the yard. Is there also space for gardening and other play equipment? Overall value is also determined by how well the pool and accompanying landscape sets off the home and blends with the surrounding neighborhood. Finally, to attract a buyer who wants a pool, be sure to keep it well maintained.
In more modest real estate markets, however, potential homebuyers may consider a pool to be a financial liability because of the cost to maintain it. Therefore, a home with a pool can be difficult to sell. That means comparable homes without a pool might actually sell for a higher price than one with a pool. If you want a professional opinion regarding home value, consult an appraiser. Ask for a property appraisal with and without a swimming pool.
In the end, a swimming pool is an investment in your lifestyle. If that includes morning lap swims and pool parties with friends and family, only you can decide the true value of enjoyment.