Tip
Deciding on an in-ground or an above-ground pool should be determined by the amount in your budget, the space in your backyard and whether you'd like the pool to become a permanent fixture.
A swimming pool is the ultimate backyard retreat: creating an entertainment space to relax, suntan, exercise and play during the hottest months of the year. If you're currently drawing up the plans for your dream backyard pool, you have to start by choosing between an in-ground pool (a major home project with a major price tag) and an above-ground pool (a less expensive project that doesn't quite have the style an in-ground pool offers). In either case, you will need to make dozens of decisions to get the pool that best suits your budget and your needs.
There are three materials used for in-ground pools: concrete, fiberglass and vinyl. Concrete pools are actually made with a material called either gunite or shotcrete. The materials are similar, and both are spray-applied. Most of the pool industry uses gunite as the term for concrete pools.
A gunite in-ground pool can last 50 years or longer. Because it is applied by spraying in place, a gunite pool can be any shape you want. The process involves digging the hole and installing rebar to support the gunite. Once it cures, the gunite is then covered with plaster below the water line. Decorative tiles are usually installed above the waterline. Gunite pools are generally the most expensive. Expect to pay $30,000 to $70,000 for a gunite pool.
A fiberglass in-ground pool is manufactured as a single unit. The interior receives a special coating to make the walls smooth. The pool is then shipped by truck to your yard and is installed. They come in a variety of shapes and colors. They can be up to 40 feet long, but because of wide-load laws for highways, they are usually limited to a 16-foot width.
Once the fiberglass pool shell is set in place, the pool installer will backfill the area around the pool with gravel or sand as the pool fills. This equalizes the pressure on the pool walls. Fiberglass pools cost $20,000 to $60,000 and will last up to 25 years.
Vinyl in-ground pools consist of a vinyl liner that is supported by galvanized steel or polymer walls. Vinyl pool systems come in a variety of shapes and sizes, and custom designs are also available. Vinyl liners come in a variety of colors and patterns. Liners usually need to be replaced about every 10 years.
After the support walls are in place, the liner is held in place by a bead that is installed under the coping, the material (often concrete) that surrounds the top edge of the pool. Vinyl pools cost $20,000 to $45,000.
Above-Ground Pool Materials
Above-ground pools range from inflatable kiddie pools to larger hard-sided pools. Once assembled, most larger above-ground pools become more or less permanent. They come in a variety of sizes with walls that are 48 to 54 inches high.
Rather than excavating a hole as with an in-ground pool, an above-ground pool usually requires some leveling of the ground where the pool will be installed. Installation can be a DIY project, although many pool companies offer installation services. Pools come in round, oval and rectangular shapes, although most are round or oval. The pool's structure, which supports a vinyl liner, is made of aluminum, steel or a plastic resin.
Most above-ground pools are sold as packages that include the pool itself as well as a filtration system, skimmers and ladders. The cost depends on the size of the pool. For example, a 15-foot-diameter round pool with 48-inch-high walls will cost $1,000 to $1,500. A 33-foot-diameter pool that has 54-inch-high walls can cost up to $7,000.
There is a type of above-ground pool that is designed to be fully buried or partially buried. They are called semi in-ground pools. They look like any other above-ground pool, but they have beefed-up walls and additional supports for strength.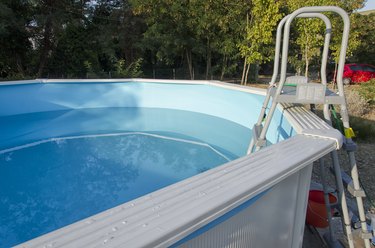 In-ground pools are customizable. That means you can have a pool that includes built-in stairs, tanning ledges and different edge treatments, such as infinity edges. It is also easier to incorporate such things as slides, spas and waterfalls in an in-ground pool design. They can also be in any shape, as even premolded fiberglass pools come in a variety of shapes.
Although an in-ground pool can be one depth, most progress from a shallow depth to a deep end. Deep ends are usually 6 to 8 feet deep. Pools with diving boards should be at least 8 feet deep.
Above-ground pools come in set sizes and shapes, and you cannot customize them. While most above-ground pools are one depth, it is possible to build a deep end into some above-ground pool kits. The deep area needs to be excavated, and special liners are installed to cover the deeper area.
Until fairly recently, extras like pool heaters and chlorine-generating salt systems were available only for in-ground pools. Now, there are heaters and salt systems designed for above-ground pools as well. Salt systems convert salt to a type of chlorine. That means there is no need to handle chlorine tablets or liquids. The converters cost more initially, but replacement salt is cheaper than chlorine.
Planning an In-Ground Pool
Adding an in-ground pool to your yard takes time, often more time than most people think. Pool builders often complain about people who come to them in the spring asking for a pool that is ready for swimming by Memorial Day. Plan on the project taking two to three months. In some parts of the country, three to six months is more accurate.
There are a few reasons for the time requirements. One is the planning stage, when the pool builder or designer works with you to determine what you want in a pool: its size, shape and extras like water features, slides, lighting and the like. Adding a pool usually includes other projects, such as surrounding decks and patios, outdoor kitchens and landscaping. There is a lot of back and forth between you and the builder or designer.
The size, shape and topography of the yard also come into play during the planning stage. What's the best location in regard to sunlight and prevailing winds? Does the yard slope? Is there a groundwater issue because of a high water table? Is privacy a concern? Most issues can be resolved, but the solutions often take time as well as money.
In-ground pools require building permits, and the permitting process can take two to four weeks alone. Your pool plan will have to comply with local zoning and setback regulations, which are regulations on how close to the property line you can build the pool. Some towns set limits on the amount of impervious materials that can be built on the property, such as pool decks and patios. These regulations are meant to control runoff after heavy rains.
The actual construction depends on the type of pool. Gunite pools take about six to eight weeks to build. Fiberglass pools take one to two weeks, and vinyl pools take about two to three weeks. That is just for the pool construction itself; it does not include the pool decks, patios, landscaping and safety fencing that are usually part of a pool project.
Planning an Above-Ground Pool
Above-ground pool manufacturers like to say that their products can be assembled in a day or two at the most. Technically, that may be right, but many municipalities require a building permit for any pool deeper than 24 inches, so you have to allot time for the permitting process.
Location in the yard in regard to sun and wind as well as setback requirements come into play for above-ground pools. The pool should be installed on a flat, level surface, so some grading may be necessary. Retaining walls and grading can accommodate a sloping yard. Dealing with groundwater usually isn't an issue with above-ground pools.
Pool equipment, such as pumps and filters, run on electricity, so outdoor receptacles are necessary where the pool is assembled. Many people like to include other outdoor living spaces with the pool. A popular project is to build an elevated deck that is even with the top of the pool. This increases the outdoor living space, and you can enclose the area from the bottom of the deck to the ground, providing a handy area to place the pump and filter, keeping them out of sight.
Comparing Maintenance Costs
Both in-ground and above-ground pools require routine maintenance to keep the water clean. A typical routine includes removing leaves and other debris that make their way into the pool, cleaning the skimmers, testing the water, sanitizing the water, repairing damage to the pool and maintaining the pool equipment.
There are pool services that can handle the routine maintenance for you. For an in-ground pool, the charge may be about $100 to $150 per month, and workers might come on a weekly or biweekly basis. They vacuum the pool, check the equipment and test and correct the water chemistry. Some plans include filter and pump maintenance and cleaning as well.
Most above-ground pool owners and many in-ground owners prefer to do the routine maintenance themselves. In-ground pool owners should consider having a professional service open and close the pool. Many owners of above-ground pools go through a professional opening and closing for the first year to see what needs to be done. Expect to pay about $150 to $300 per service. Above-ground pool openings and closings are at the lower end of this price range.
At an opening, the technicians will remove the pool cover. Safety covers for in-ground pools are anchored to the pool deck, so it is best to let a pro remove the cover. They also test the water, add water and add the appropriate chemicals. They will vacuum the pool and make sure the pool equipment is running smoothly, such as pumps, filters, heaters and the like.
At the closing, the technicians will clear the water lines, lower the water level, add chemicals and install the cover. They will also clean the pumps and filters and place them in storage if necessary.
The cost of chlorine for routine sanitation can be as high as $1,000 per year for an in-ground pool. The typical above-ground pool uses about half that amount. If you are using a salt system, adding additional salt will cost less than $100 per year.
If you have an in-ground pool, your insurance company as well as the local building inspector will require that the pool be surrounded by a fence. Actually, the pool industry thinks in terms of layers of protection. Protection starts with adult supervision of young children, alarms on doors that lead to pools and in-pool alarms that sound if a child or pet falls into the water.
As for fencing, pool fences should be at least 4 feet high and unclimbable, meaning there are no horizontal parts that can serve as a ladder. Gates should be self-closing and self-latching.
For above-ground pools, pool stairs and ladders should be able to be locked, or they should be removed when an adult is not present. Because of the high sides of an above-ground pool, it is easier to prevent a small child from falling into the pool than with an in-ground pool.
Swimming Pools and Home Values
Many people add a pool that they can enjoy now and that will increase the value of their home should they decide to put the house on the market. The good news is that in most cases, an in-ground pool in good condition will add value to the house. However, it is unlikely that it will add enough extra value to recoup your original investment. An in-ground pool will add about 7 percent to the value of the home.
An in-ground pool can be a draw. When a house is on the market, beauty is in the eye of the buyer, and there are many who want a pool. In warm areas of the country, pools are a must-have feature.
Above-ground pools are often a different story. Many people don't like them and many homeowners' associations ban above-ground pools for fear they will reduce property values for the homes in the complex. Of course, if an above-ground pool becomes a problem, many can be disassembled.