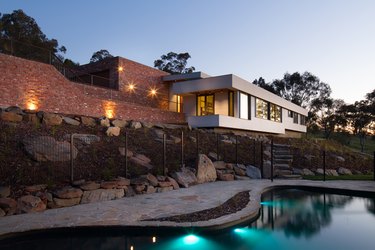 While backyard pools can certainly bring endless hours of rest and relaxation, installing one can be a major undertaking that comes with a mile-long list of things to consider. For example, does your preferred type of pool design suit your home and your personal preference? Where do you get those fake rocks to add intrigue? And how much space should be allotted for all of the pool accessories? The answers to those questions and more depend on various factors, including the landscape and budget. So in an effort to help narrow down your search, we've compiled seven contemporary pool ideas to help you out.
For those who prefer to take a dip in peace, this contemporary pool design from Chango & Co. fits the bill. The super tall privacy hedge surrounding the swimming area guarantees that water sessions won't be interrupted by passersby or uninvited guests. We also love the paving stones that frame the area, giving way to a stylish, personalized design.
2. Accentuate the pool with a stone retaining wall.
As gorgeous as this Kelly Nutt Design contemporary pool is, we can't give all of the credit to that dazzling blue water. The stone retaining wall not only draws attention, but it's also good for incorporating an elevated feature, such as a spa or a fountain.
3. Use your pool as a connector.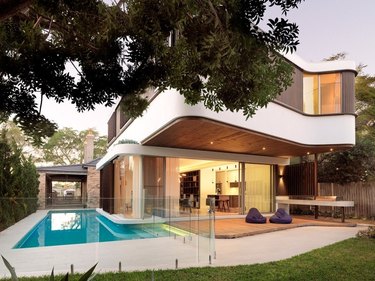 The Australia-based design studio, Luigi Rosselli, created this eye-catching wraparound pool as a recreational passage between two sections of the home. Occupants can either walk from the main residence to the pool house or swim the distance.
While pools are exciting on their own, you'll likely want to include design elements that command attention. Take this one: It accomplishes that feat by mixing materials, from the stones that create the walkway, retaining wall, and pool house exterior to the stylish brick border that matches the steps.
5. Take advantage of the view.
The only thing better than a refreshing swim on a warm day is an amazing view like the one that frames this luxurious infinity pool from Shroffleón. Situated on top of a wooden deck, the main swim area sits perpendicular to a second, smaller pool and a hot tub. All three structures are equipped with fiber optic lights that change color, making this outdoor zone a prime spot for relaxation.
6. Don't forget about the deck design.
We love the way this contemporary pool effortlessly complements the natural backdrop. For a similar aesthetic, choose a deck material like the warm-hued redwood planks pictured here. In addition to being a visually appealing choice that complements the home and surroundings, the material is highly resistant to pests and deterioration.
7. Use nature as inspiration.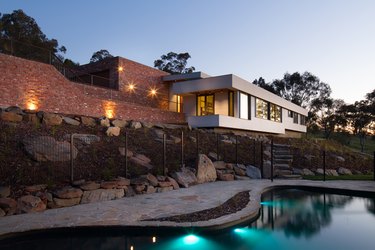 This hillside residence from Nest Architects sits on a slope surrounded by trees and grassland. The contemporary pool features also features a fence and a relaxed version of a dry-stacked stone wall. And for added style, the multicolored rocks extend to the curved walkway, creating the perfect nature-inspired design.