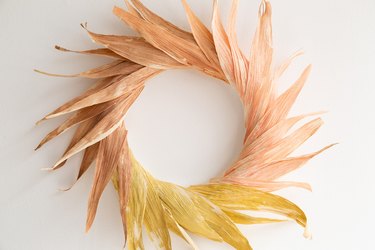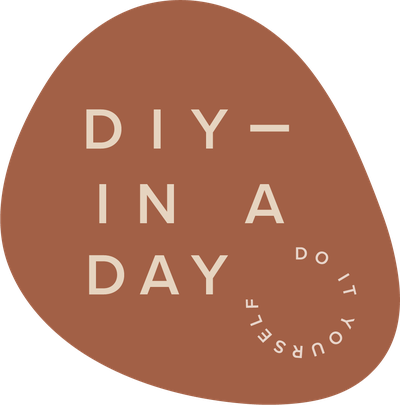 DIY in a Day brings you step-by-step instructions for easy projects that will spruce up your space — within 24 hours (or less!).
Handmade wreaths are the perfect way to celebrate the changing of the seasons. And when it comes to autumn, using natural materials to craft home decor is a win-win. In this tutorial, we show how to make an obsession-worthy wreath created from corn husks painted in a beautiful ombre effect.
While you can paint this to match any color theme, we opted for an earthy, terra cotta vibe featuring light orange and mustard yellow hues. Ideal for autumn, don't you think?
Things You'll Need
Corn Husks (or find at your local grocery store)

Water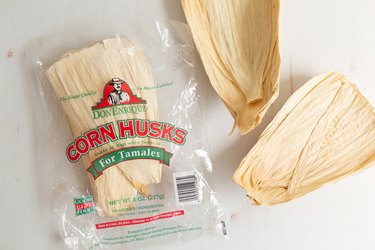 Step 1
Begin by painting the corn husks. You can use one paint color and then add white paint to lighten it or dark brown paint to make it darker. This will give you an ombre look. Add the paint using a sponge brush and allow to dry for a few hours. We painted 10 husks of each color, making some lighter, some darker, and some with the regular hue. In total, we used around 30 husks.
Tip
You will want to water down the paint for this project.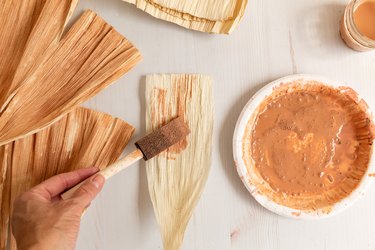 Step 2
Using a hot glue gun on low heat, adhere the husks to the wreath form. As you can see in the image, we glued the husks almost sideways.You'll want the husks to be glued about four inches at their base. If the husks are bigger, you can simply pull them apart.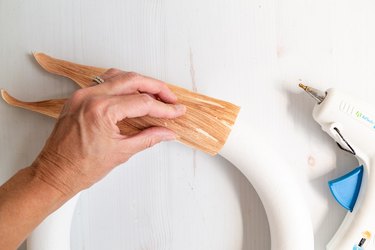 Step 3
Continue gluing the husks onto the form, overlapping upon the previous one. You can tear some husks even smaller to add more dimension on the wreath. Continue this step until the wreath form is fully covered.
Now you have gorgeous wall or door decor for the fall season — perfect for Halloween or Thanksgiving!