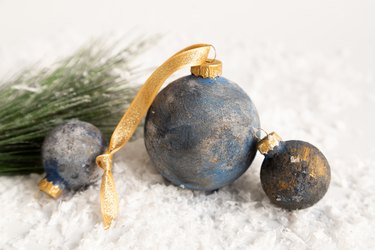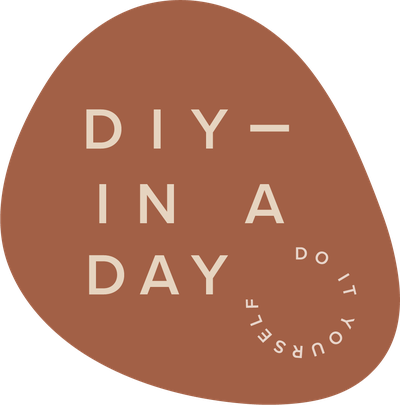 DIY in a Day brings you step-by-step instructions for easy projects that will spruce up your space — within 24 hours (or less!).
This holiday season, grab your friends or family for a crafting afternoon. This is a perfect DIY to try: beautiful vintage-inspired holiday ornaments using craft paint, baking soda, and metallic paint (for a touch of sparkle). You'll create an antiqued, distressed design that will look gorgeous on a tree or in a bowl as decor.
Step 1
Prep paint by mixing the paint colors to get your desired color. Then add baking soda (a few tablespoons should do) to add texture to the paint. We mixed a dark blue and black paint for the deeper blue ornaments. Then, we added the other blue shade mixed with that combo for a different color. You can do any hue you'd like!
Step 2
Paint the ornaments and allow to dry. We let these dry for two hours.
Step 3
Cut sponges in smaller pieces and dab some of the black paint/baking soda mix and then some black mixed with the darker blue paint onto the ornaments. Continue adding the paint to add layers and texture to the ornament.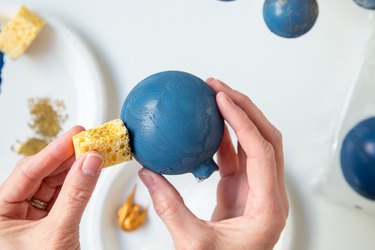 Step 4
Now it is time to add some sparkle using the gold and bronze paints. Dab it onto ornament using a sponge. We also added a small amount of white paint onto the ornaments for a distressed look.
Step 5
Allow to dry by placing the ornaments on a wood stick. You can place the wood stick in a cup. While drying, we used the gold paint to paint the ornament toppers gold (instead of silver).