Picking a paint color for a garage door can be a tricky task. While we often look to the hue of a home's exterior for inspiration, there's something to be said of a high-contrast scheme, one that stands out from the ordinary. Now, a brilliant shade of white might not seem like the most exciting solution, but with the right detailing and a little tonal play, it can up your curb appeal with some serious flair. Factor in design-forward lighting, vibrant landscaping, and lustrous hardware, and you'll have something truly eye-catching.
1. Pair with a little green.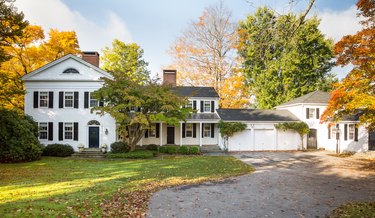 One of the easiest ways to transform an ordinary white garage door is to accentuate its framework with lush greenery. This picturesque countryside retreat from Chango & Co. proves how impactful something as simple as woody vines flanking the doors can be.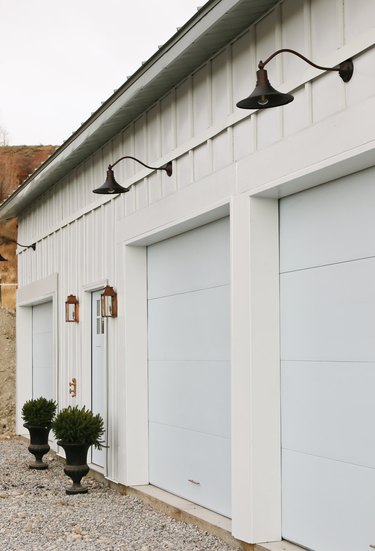 When it comes to shades of white, there is a whole host of options to choose from, meaning you don't have to default to a stark finish. Switch things up with a paint that boasts soft gray undertones to complement a lighter exterior. Bonus points for pairing it with a streamlined, contemporary garage door design, just as the creative behind Tidbits did.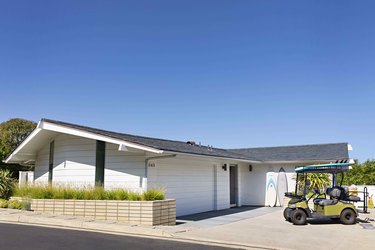 The horizontal planks of this modern white garage door result in a seamless transition to the modern exterior of this beachside abode from RailiCA Design. The cohesive design beautifully conceals the door and throws in an unexpected touch to boot.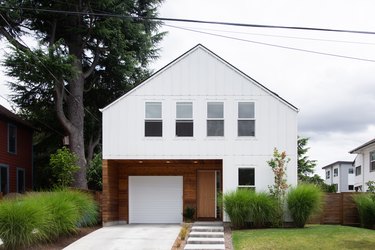 If you're looking to add a bit of interest and separate a white garage door from an all-white exterior, take a cue from this design and add a pop of color. Create a high-contrast effect by covering the surrounding walls with paint (for a low-effort approach) or stained wood panels, to achieve a midcentury modern look.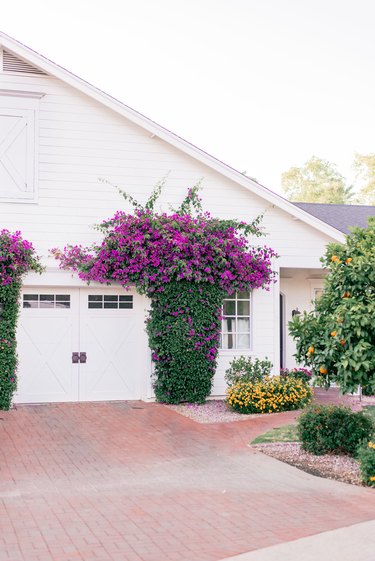 The juxtaposition of a white garage door paired with an abundant bunch of bougainvillea is pretty hard to resist and this cottage captured on Love and Specs is all the proof we need. The combination of the carriage style door, with its antique bronze knockers no less, and the vibrant climbing florals inspire a charming picture that elevates the exterior.
Topping our list of favorite white garage door ideas: a design with windows, especially when it comes to modern farmhouse or traditional homes. Follow the lead of this Monarch Bay estate from Brandon Architects and couple a carriage style door with an oculus above for maximum impact.
7. Punctuate with brick accents.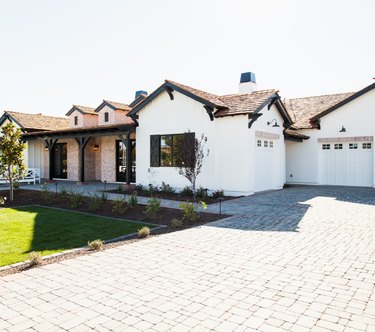 Sometimes, it's the subtle details that pack the most powerful punch and something as simple as a brick transom can seriously up a white garage door's cool factor. Take it from this abode by Rafterhouse, where a slim stretch of exposed brick lends a captivating hint of color and personality to a modern exterior. The sleek gooseneck lighting above seals the deal.
8. Emulate your surroundings.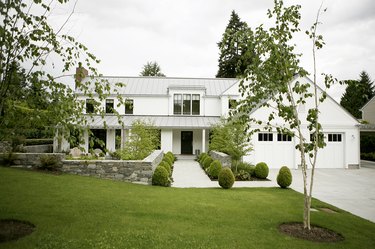 Look to the architecture of a home when deciding on the color and style of a garage door. This modern farmhouse, designed by Katie Hackworth, may be nearly, exclusively white but its distinct structural accents, such as the steel-framed windows and the gray standing seam metal roof, lend plenty of interest to the build. The garage doors follow suit with rectangular windows and subtle paneling that makes for details that will hardly go unnoticed.