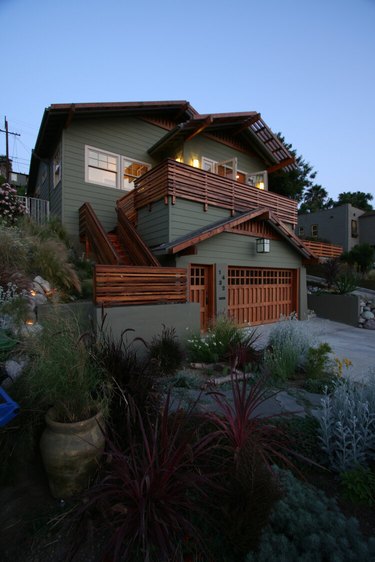 Craftsman style homes are beloved for their unique and charming exterior details — covered porches, gables, overhanging eaves, and eye-catching columns. They put a premium on clean lines and manage to skillfully combine a variety of natural materials such as stone, wood, and brick for a layered and inviting aesthetic.
And when it comes to designing craftsman style garages — whether you're embarking on a ground-up project or just looking to integrate more authentic details into your existing craftsman home — create continuity by having your doors underscore signature architectural traits. Ahead you'll discover six craftsman style garage door ideas that will make it easier for you to achieve the home exterior of your dreams.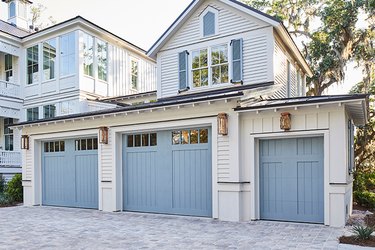 A fresh coat of paint does wonders at transforming the most mundane exteriors, including wooden garage doors that might be past their prime. If you've been blessed with craftsman style doors that have carved details you'd like to highlight, choose a color that will accentuate them, like the no-fail powder blue shade showcased on these Clopay doors.
3. Or, keep it neutral in white.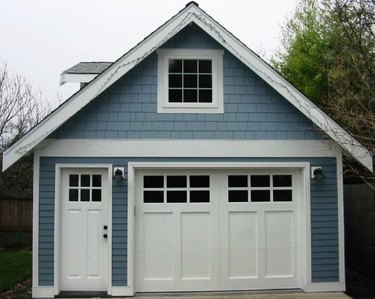 Whether you're breathing new life into a ranch, colonial, or anything in between, when in doubt, white is a reliable classic that will instantly brighten your exterior. These craftsman style garage doors from Vintage Garage Door are a crisp counterpoint to Robin's-egg blue siding.
4. Go all out on the details.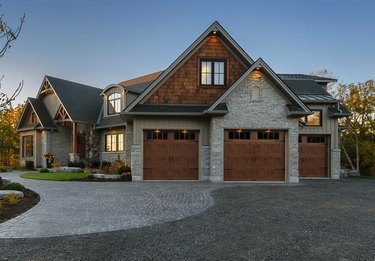 Bring elegance and a sense of history to a traditional craftsman style home with saturated wooden garage doors. This trio by Clopay Door gets a carriage house makeover with statement-making hinges and inset handles. Stone, shingles, and wood interplay for a facade full of character and interest.
5. Infuse farmhouse charm.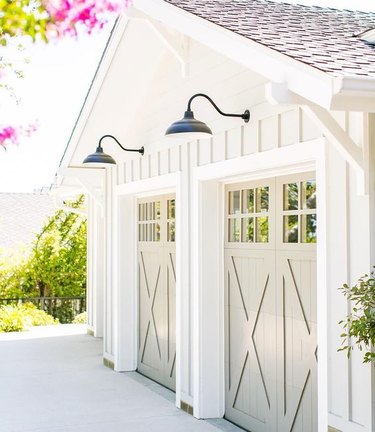 The love affair for all things farmhouse is going strong, so you wouldn't be alone if you're looking for ways to add country-inspired details to your craftsman style garage doors. Take inspo from this charming duo by Tiffany Harris Design, who infused quintessential farmhouse vibes with board and batten siding, crossbuck doors, and a timeless muted color palette. Black gooseneck sconces are eye-catching additions that add contrast.
6. Let wood's natural beauty take center stage.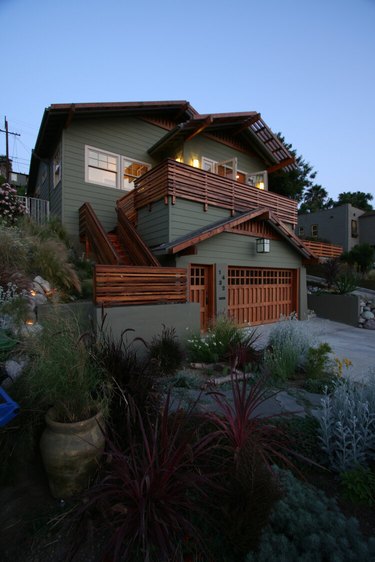 For a craftsman style garage door idea that introduces warmth and character, make like Jeremy Levine and choose a beautiful, rich wood finish to match the rest of the exterior. Punctuate with carved details for loads of visual interest, and complete the look by incorporating petite windows. The apertures subtly reference the iconic style, as well as lighten up the weight of the wood-heavy facade.