Although they don't get the same glory as a home's facade, the everyday garage is more than a dedicated parking spot for cars.With a bit of planning, the door for the utilitarian space can actually make a statement in its own right, and serve as an architectural feature that enhances your home's overall aesthetic and curb appeal.
Garage doors come in a variety of materials — steel, aluminum, fiberglass, wood — and styles, which can be overwhelming. Ensure that whatever you choose, it works WITH your home's aesthetic and doesn't detract from it. For example, while sleek metal garage doors perfectly punctuate a contemporary home, they'll look out of place on an ornate Victorian or Spanish Colonial. On the other hand, wooden garage doors are favored for their customizability, versatility, and beauty. They also impart warmth and texture not easily replicated by other materials. They can be painted, stained, and layered with millwork to enhance a home's architectural style. Plywood, cedar, and redwood are all suitable for garage doors, and the type of wood you select, its thickness, and weight all play a factor in the overall price.
Wood garage doors are definitely not a set-it-and-forget-it choice. To prevent them from succumbing to the elements, they require ongoing maintenance such as biannual sealing, as well as periodic staining or painting to keep them looking new. Curious about how wood garage doors can be incorporated into your home? Read on.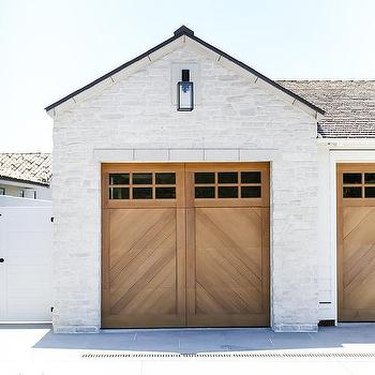 2. Incorporate different materials.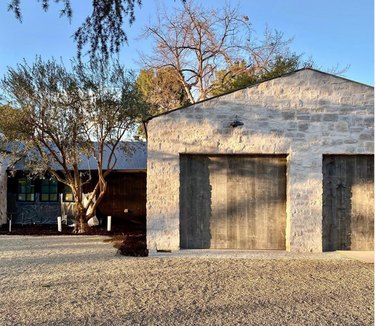 In case you've underestimated the design power of the everyday garage door, behold this sophisticated design executed by Amber Lewis. It flawlessly combines tumbled stone walls, a pebble driveway, and reclaimed wood garage doors for a layered look with European flair.
3. Complement a modern exterior.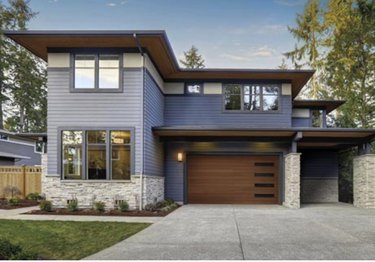 A modern home deserves a wooden garage door that's equally streamlined, such as this minimal design by New Market Garage Doors. A series of horizontal cutout windows are an unexpected feature that keeps the door from feeling too heavy.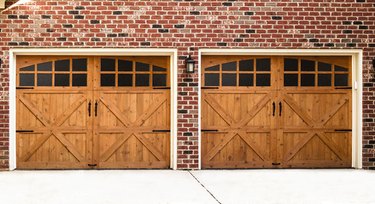 It's all in the details, so don't overlook opportunities to add hardware that can turn a builder-grade wood garage door into a statement piece. For example, adding decorative oil-rubbed bronze hinges and handles, as Wayne Dalton did, infuses this handsome pair of carriage garage doors with a rustic vibe.
5. Consider an arch (or two).
It's hard to resist the soft elegant lines of arches. Luckily, incorporating them into your home is an effective way to enhance the overall exterior. This sophisticated set of arched wood garage doors showcase a dark, rich finish and they're embellished with metal rivet detailing à la Moroccan and Spanish architecture.
6. Double down on symmetry.
Bring style and a sense of history to a traditional home with a pair of symmetrical wood garage doors. This pair by Clopay Door feature a warm brown finish to make them pop against the white exterior, while clerestory windows, bronze hardware, and lantern-style wall sconces add timeless elegance.