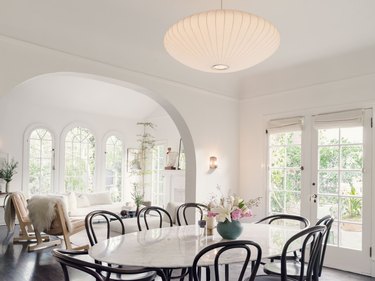 It's fair to say that windows are one of the most coveted features of a home. As functional as they are aesthetically pleasing, they're essential to our happiness and overall well-being. And while there is a whole host of window types to choose from, we have a particular soft spot for the arched variety.
Also known as radius windows, the dramatic style is versatile in the sense that it can seamlessly blend in with modern and traditional schemes. They command attention and have the decorative prowess to elevate the architectural quality of a room. While dramatic and statement-worthy, arched windows do have a few downsides as well. Some models are dubbed "non-operational," meaning they can't open. Window treatments can also be hard to come by, as you may have to take a pricier custom route to find one that fits. But don't let that deter you — as with most things in life, there are a few clever ways to get around the cons.
Read on for 10 arched window ideas suited for every style and space.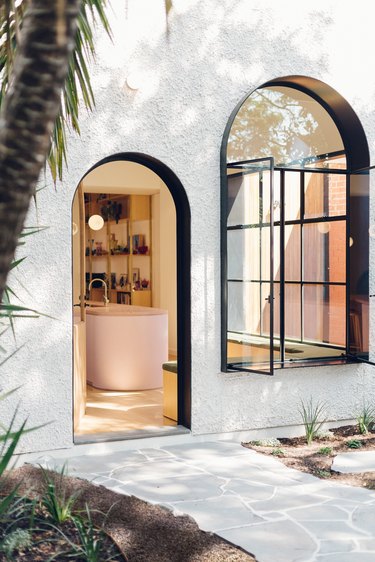 Let your arched windows serve as a precedent for surrounding architectural elements. Cue this Australian cottage, where the steel-framed windows lend themselves as inspiration for the similarly shaped doorway, each streamlined yet impactful. Together, the duo instantly modernizes the home's exterior.
2. Draw inspiration from the past.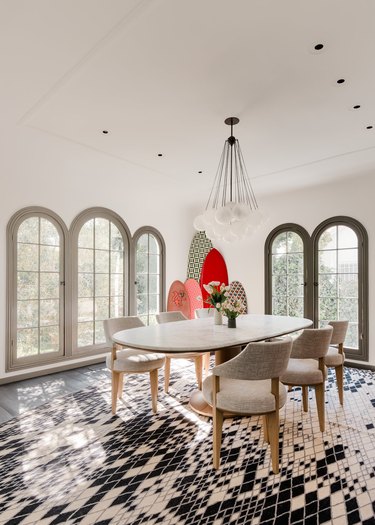 Arched windows are reminiscent of art deco design, especially when positioned side-by-side like the ones in this West Hollywood home. When building from the ground up, designate at least one of the structures as a door for a functional element that balances out the non-operating windows.
3. Create a reading nook.
An arched window in an attic complete with a built-in bench is about as idyllic as it gets. Plus, it's a great way to offset an otherwise low-set ceiling. Follow Claire's lead from Centered by Design and install a seat cushion and throw pillows to transform this perch into a cozy reading nook.
4. Let the windows do the talking.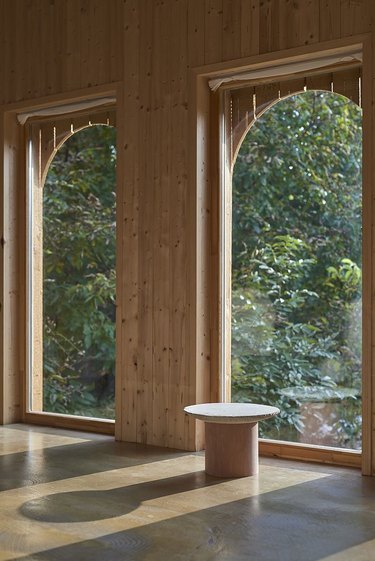 When designing a home with minimalism in mind, allow the architecture to serve as the decor. Floor-to-ceiling windows not only let an abundance of light in, but they form an impactful finish you'd otherwise be hard-pressed to create. But look closely and you'll notice the windows in this home aren't actually arched, rather the exterior architecture is. Budapest-based studio Architecture Uncomfortable Workshop used wood detailing to mimic the look of an arched window, resulting in the best of both worlds.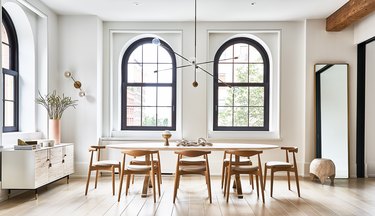 Skip out on the window treatments altogether for a modernized finish that focuses on the structural character of the arches. In this New York City-based apartment designed by Sissy + Marley, the two windows are encased in a rectangular frame that accentuates the depth of the overall pair.
6. Or, take them floor-to-ceiling.
When it comes to contemporary arched window treatment ideas, allow this grand living room by Tracy Hardenburg Design to serve as inspiration. Hang a streamlined curtain rod above the window, as close to the ceiling as possible, to visually expand the height of the room. Match the finish of the drapery hardware to the window trim for a cohesive look.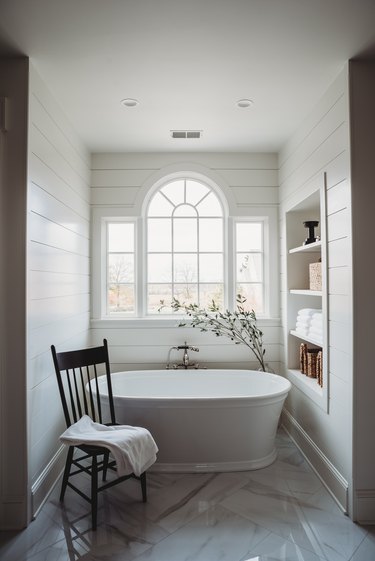 Studio Onyx knows that an arched window in a bathroom nook sets the ultimate backdrop for a freestanding tub. If you're short on vertical wall space, opt for a Palladian window, which is essentially an arched window flanked by two rectangular ones. It maximizes the amount of natural light inside and makes ample use of the wall as well.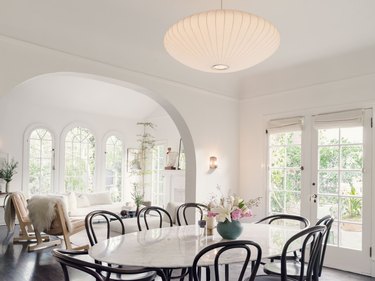 If you're going for a combination of arched windows and the standard variety, the key to making it work is all about keeping things consistent. In Mara Roszak's LA home, the structures all feature the same sleek white trim, which also happens to complement the light and airy aesthetic throughout the home.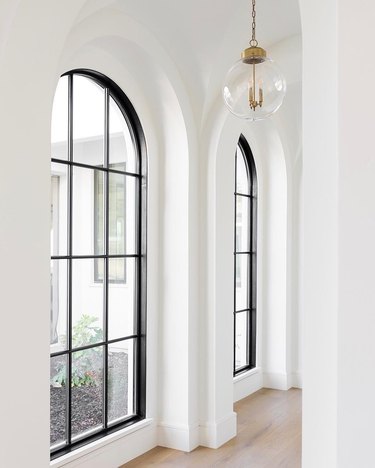 Adding a steel frame to arched windows not only helps define it, setting it apart from the outdoors, but it also contributes a modern dimension that's primed to contemporize even the most traditional spaces. This hallway by Studio McGee shows just how prominent the detailing can be, adding a dose of bold contrast and interest to an otherwise all-white space.
10. Complement your architecture.
Unless you're going for a wall-to-wall installation, a basic set of rectangular windows in an A-frame room can leave a lot of surface area unused. A rounded shape, on the other hand, can fill it out quite nicely as proven by the massive arched window in Chris Loves Julia's living room.