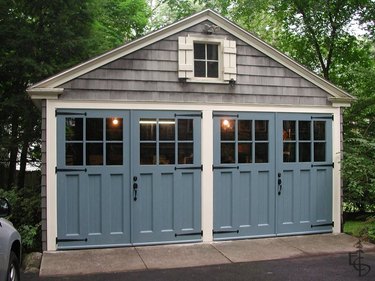 The famous saying "don't judge a book by its cover" certainly has its place in the world, but we can't lie, it's not all that applicable when it comes to exterior home design. While there are plenty of components that can create curb appeal (modern house numbers, a colorful front door, and great landscaping, to name a few) there's one attribute you may have overlooked. Enter the garage door.
Yes, it's easy to write this exterior element off as merely functional, but there's actually a simple way to turn it into a bona fide design feature. Rather than choosing a predictable neutral shade, opt to bring in one of our favorite hues for a fun pop of color — blue! With options ranging from Mediterranean-inspired to classic navy, you won't run into any trouble finding something you love from this round-up of blue garage door ideas.
1. Add architectural interest.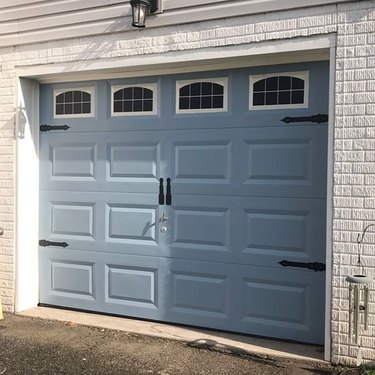 If you're on a tight budget, borrow this brilliant garage door idea from Wren Gifts on Etsy and add vinyl decals to mimic the look of arched windows and high-end hardware to create the effect of a carriage door. Those admiring your home's exterior from the street will never be able to tell the difference!
This Arizona home captured by Maryal and Chris of Love and Specs gives off dreamy vibes thanks to light blue garage doors that complement peach floral landscaping and a creamy white exterior. To recreate the look, add barn-style wall sconces above the doors to bring in an extra layer of dimension and character.
3. Or, opt for a blueish-green hue.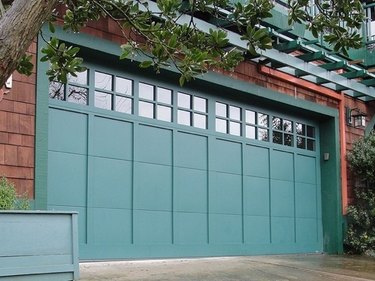 If a nature-inspired look is more your speed, channel blue-green vibes that will feel right at home when paired with wood shingles and lush climbing vines. The added molding by Martin Door elevates the entire design and leaves the facade feeling extra luxurious.
4. Pair a muted exterior color with a complementary shade.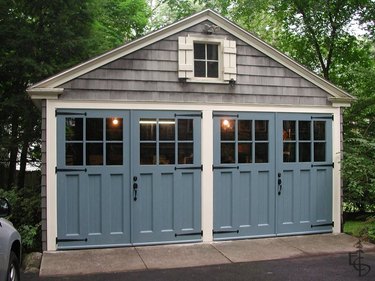 These blue garage doors by Evergreen Carriage Doors are the perfect muted shade to complement the gray siding. The windows allow natural light to flood into the space, making it the perfect locale for a home office or quiet refuge.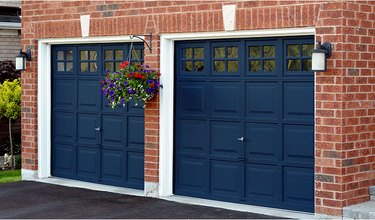 When it comes to color ideas, it's nearly impossible to go wrong with navy. This classic shade from Sherwin-Williams brings understated elegance to a traditional red brick home, easily setting it apart from the rest. To allow your blue garage door to make an even bolder impact, paint the trim a bright shade of white — the crisp, clean contrast will make your home exterior feel oh-so-refreshed.
6. Highlight modern farmhouse details.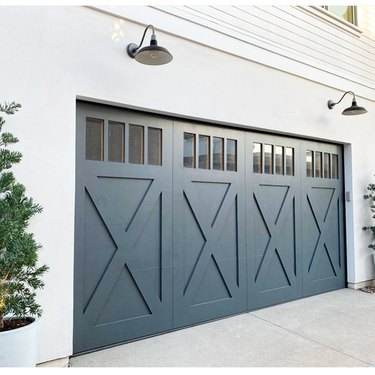 While the design of these garage doors by Caroline Kohls feels inherently farmhouse, the refreshing steel-blue hue makes them feel decidedly modern. To recreate this look, pair with a bright white exterior for plenty of contrast, and symmetrical potted trees for a splash of sophistication.
7. Add subtle interest to a neutral exterior.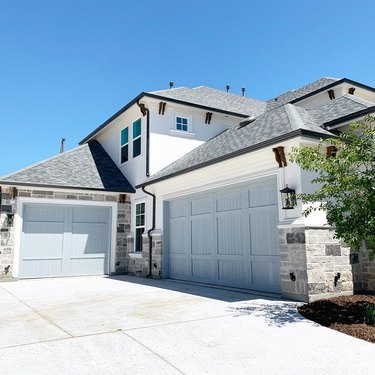 If a blue garage door appeals to you for its subtle nature, look no further than this drop-dead gorgeous design from Kimberly Anne Interiors. The light blue-gray doors offer just enough variation to make an impact without feeling overbearing or harsh.