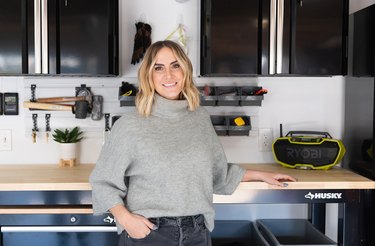 Living that DIY life means you have equal amounts of accent pillows for last-minute styling and power tools for...everything else. And while it's easy to find a home for all the eye-pleasing elements that make up your personal style, all of the actual tools of the trade often end up tossed somewhere into the blackhole that is your garage.
DIY expert and The Home Depot partner Alexi Politis Parry can relate. Since moving into her Seattle fixer upper—dubbed the Beam House for its star architectural feature in the airy living room—her garage has been a refuge for all of the materials needed to pull off renos in other areas of the house. But with a lot of elbow grease, we teamed up to transform the once-neglected space into a shrine of organization.
Watch the video below to get some inspo to take into your new favorite room of the house, and scroll down to shop the video.