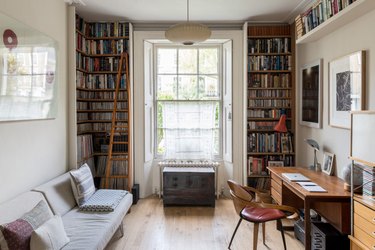 Home office built-ins aren't the heavy, stodgy bulks of wood they used to be. These days, they can be sleek and especially useful in a remote workspace — the place where clutter and paperwork abound. If you want to revamp your own built-ins, consider adding bright paint, wallpaper, and functional decor. Then style your shelves with as many books as possible, and you'll go from outdated to on-trend in a flash.
We especially love these eight built-in ideas, and we think you will, too.
1. Infuse new life into traditional built-ins with bold paint.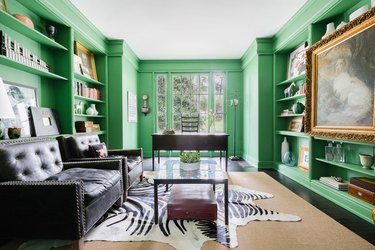 With bright green paint, a zebra print rug, and a large-scale dog art piece, this design is not for the faint of heart. Jessica Davis of JL Design brightened up a historic Nashville home office with a few coats of Sherwin-Williams Grasshopper on the built-ins. The verdant hue creates an unexpected but welcome energy, while family heirlooms and antiques grace the shelves to bring on even more charm.
2. Design something long and low.
Designer Zoe Feldman has so many creative storage solutions, including this low, built-in unit that serves as a mini library. Fill it with books to add visual weight to an office with high ceilings and multiple windows. The only problem? You may want to do less work and more lounging in this office.
3. Fill symmetrical built-ins to the brim.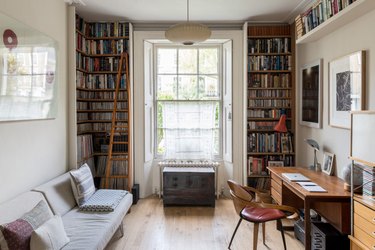 No inch is left untouched in this home office's beautiful built-in bookshelves. The key is to vary the shelf heights, so you can pair similar-sized tomes together. Then add a wooden ladder for both practicality and style. If you can't stop thinking about this home office (we don't blame you), you're in luck: This London home is for sale at Modern Street.
4. Add wallpaper behind built-ins for a pop of pattern.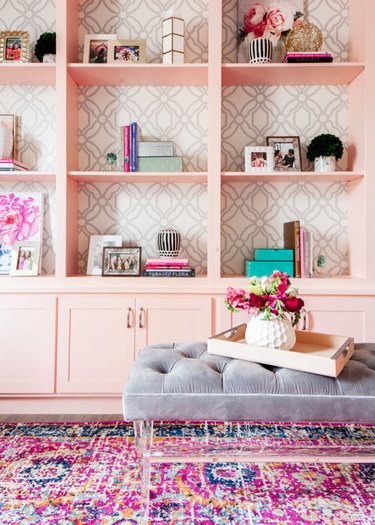 Studio Ten 25 created a sweet and feminine space with a pale pink built-in installed along a wallpapered expanse for a bonus pop of pattern. If you recreate this look, hide unsightly necessities in the cabinets below. And show off a mix of books, framed photos, and meaningful trinkets on the shelves.
5. Line a wall with natural wood.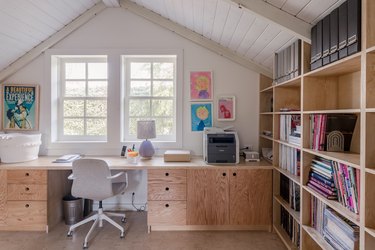 There's nothing too complicated about this attic home office. It keeps things natural with a wall of wood built-ins and a complementary work spot, while children's art adds a bit of color to the otherwise streamlined space. It's unfussy in just about every way, but this office has plenty of desk space and storage.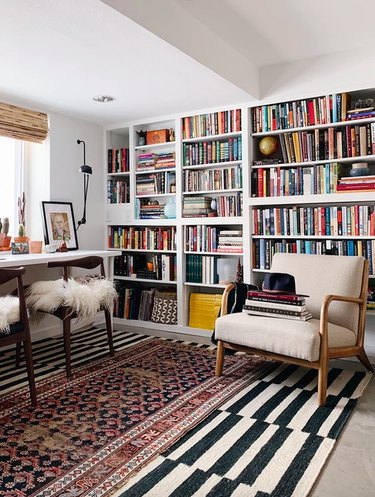 Megan Schlachtenhaufen of Undecorated Home incorporated texture — from pokey cacti to furry chair throws — everywhere in her home office. And the built-in, which spans the wall, has a multitude of gadgets and accessories, too. Instead of feeling fussy, though, the look feels expertly layered. Midcentury modern furniture adds a sophisticated aesthetic, and layered rugs bring everything together.
7. Consider painting them white.
If you're spending a lot of time in your home office, be sure the space is bright and energizing. Brilliant white built-ins (like these ones from Amber Interiors) will do the trick. And a balanced collection of vintage goodies will keep things from feeling bland.
8. Lean into wood paneling.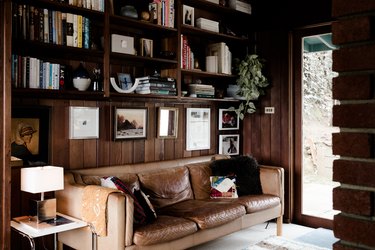 Now this is wood paneling done right! Fine artist Maureen Meyer leaned into her midcentury modern home's brown interior to honor the original design. Make the most of your own vertical space by mounting bookshelves from the ceiling down and covering them in wood panels. Here, a couch sits beneath the built-in, but we imagine a desk would look just as great.